Whenever Ivan and I are faced with a healthy vs. indulgent choice, we ask each other: "What would Hot Vegas Couple do?" It's our running inside joke that began years ago, on our first ever trip to Vegas together, when we were sitting poolside and couldn't help but notice a husband and wife making a big splash in our direct line of sight. They were perhaps ten years our senior; and they were slim, toned, and most importantly, strong and healthy enough to be playing energetically in the water with their three kids. And while it's entirely possible that nothing was as it seemed (maybe their abs were the result of plastic surgery! maybe they were both desperately staying fit for their respective extramarital affairs!), Ivan and I chose to take the situation entirely at face value and make them our tongue-in-cheek idols. Ever since that day, Hot Vegas Couple has been our ongoing #couplesgoals aspiration.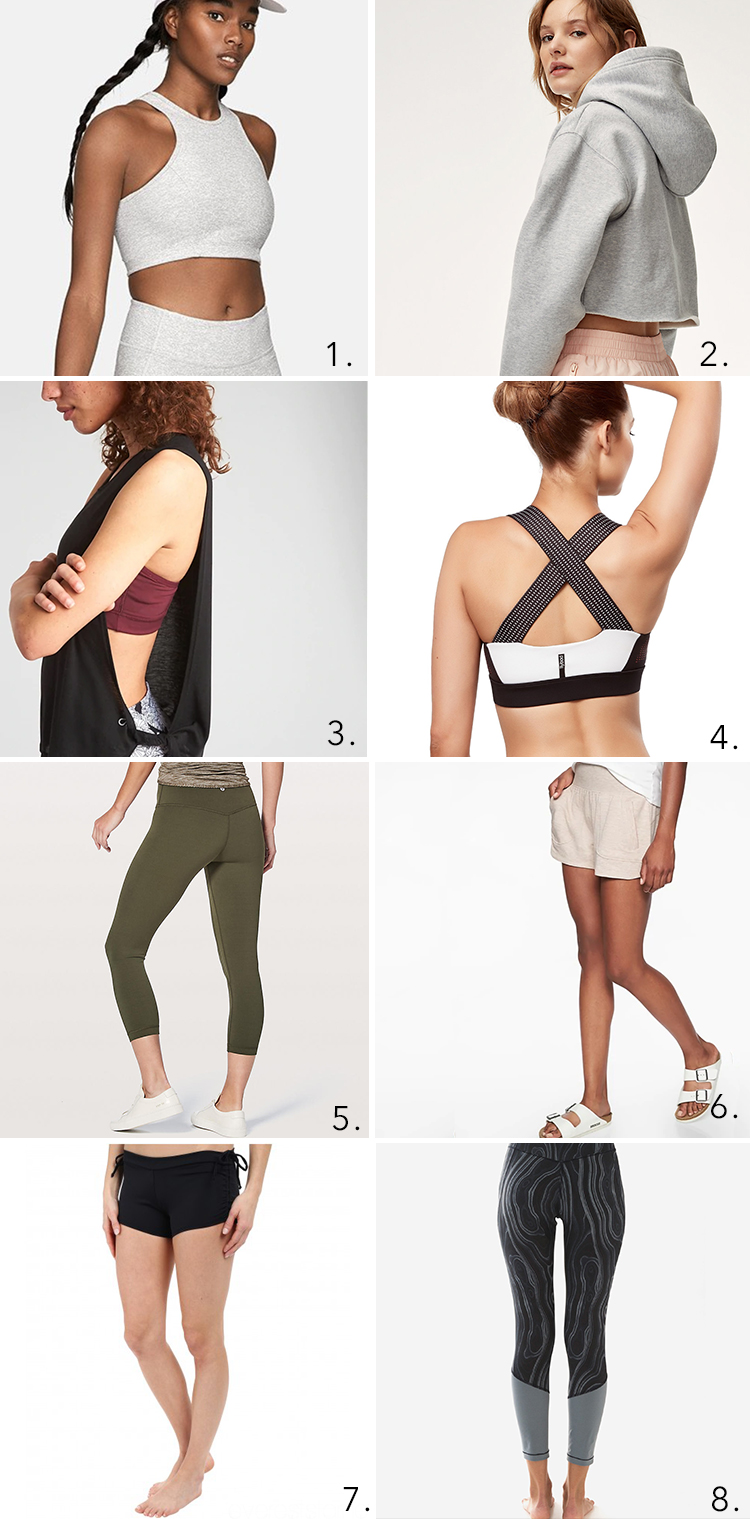 Sometimes, if it's a choice between getting burritos or living like Hot Vegas Couple, we definitely get the burritos. But this summer, with regards to our fitness routine, we've been doing Hot Vegas Couple proud—and it feels great! About half the time our workouts are a shared activity; we'll do a spin class at SoulCycle or a Lagree Fitness class at The Studio (MDR). Then the rest of the time, I'll go to yoga while Ivan does weights at the gym. Our committed routine has not only got me in tiptop shape, it's also made me very picky about my workout clothes. If something chafes or pinches, it's a no-goo! And after much road testing, these are the top players in my closet right now. Let's just say they're Hot Vegas Couple approved!
1. Outdoor Voices Athena Crop Top: For low to medium impact activities, I have so much love for this basic-but-better crop top. It holds me in without constricting, and the length provides perfect coverage for my (frustratingly) long torso. And in a world where workout wear can definitely break the bank, that $45 price tag is pretty sweet too!
2. Aritzia Cropped Hoodie: For morning or evening classes, LA can get a bit chilly, so I throw a cropped sweatshirt on to ward off shivers. Aritzia makes my favorite one: It's well cut, flattering, and versatile, but chic enough that I can wear it to the grocery store or to grab a coffee after class. Plus it comes in a zillion colors!
3. Gap Twisted Muscle Tee: I have an arsenal of tanks like this one in my drawer. The open sides keep me cool, the front and back keep me covered up, and the twist detail keeps me feeling fancy. I throw them on over a sports bra with a pair of leggings for an easy yet fashionable look that gets me out the door fast!
4. Lilybod Cross Back Bra: This is the high impact sports bra of your dreams—the one for running without bounce or tapping it back without spillover. Nice wide straps flatter the shoulders and support The Girls, and the cross back design is a cool statement too!
5. Lululemon Align Crops: These are the style I'm wearing in the header photo for this post, and they're the leggings I reach for most often. The material is ridiculously soft, and a high, flat waistband supports my tummy (for days when I choose burritos over Hot Vegas Couple life).
6. Athleta Modal Short: If you're looking for the anti muffin top short, look no further! A smooth, wide waistband on these means they sit right on your hips without digging into them. Plus they're so breathable that they're great for sporting after class while you're still cooling down.
7. Onzie Side String Shorts: I love doing hot yoga in the summer; it makes the outdoor temps feel positively balmy by comparison! And the comfortable adjustable ties and second-skin feel of these shorts makes them just what the hot yogi ordered for a distraction-free class.
8. Crane & Lion Marble Print Leggings: These leggings strike a happy medium between holding you in without making you feel squished. Plus I love the subdued marble print as an alternative to a solid color!