Now that I've shared the details on the envelope of Ivan's home office makeover (did you catch my post on the California Closets built-in bookshelves and desk, as well as the wall art from Saatchi Art?) it's time to hone in on the modern seating and lighting that I selected from the space. For those components, I looked no further than Design Within Reach.
Since I first started becoming interested in interiors, Design Within Reach has been the ultimate for me. Their selection of iconic modern design pieces is unparalleled, and each item in their catalog is destined to become a cherished heirloom. Due to the nature of my job, furniture tends to come and go in my house; but the modern seating, lighting, and accessories that I've gotten from Design Within Reach over the treasures are the things I'll never part with!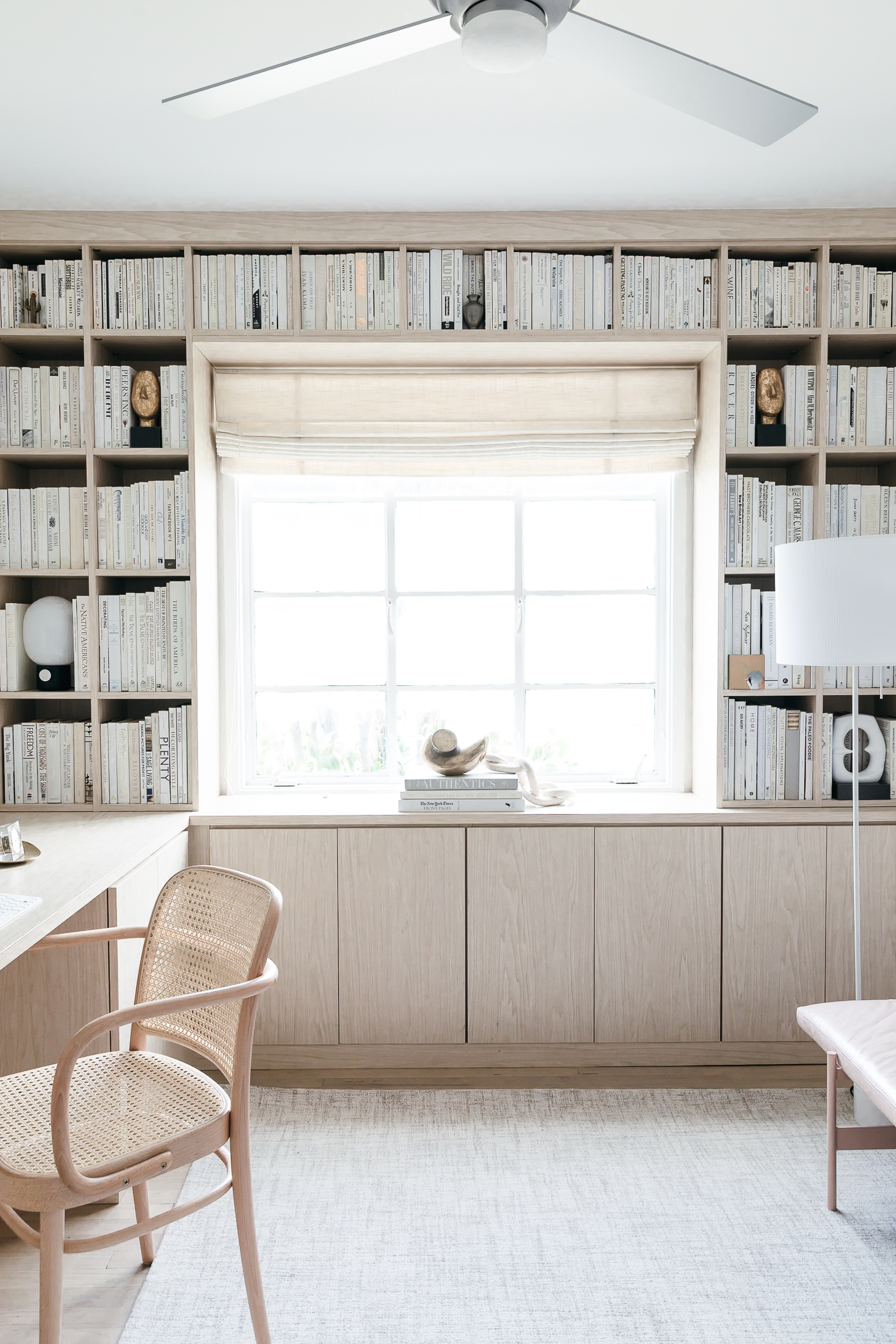 For Ivan's desk chair, I knew I wanted a pale, blonde wood that would slip seamlessly into the monochromatic palette I'd established with the built-ins. For functionality, Ivan requested a chair with arms, since he works at his computer for pretty long hours. The Hoffmann Chair is a style that I've had my eyes on for a while, so I was delighted when I tried it in my design direction and it worked beautifully! First crafted in 1925 by the Austrian architect and designer Josef Hoffmann, it's still made today in the Czech Republic at the Thonet bentwood factory—just as it was all those years ago.
The chair's sinuous lines contrast beautifully with the hard angles of all the shelving. The cane seat and back add texture for a sense of dynamism in an otherwise quiet space. And in terms of comfort, Ivan happily in it all day without a peep of complaint! (Well, at least without complaints about the chair! His conference call schedule is another story…)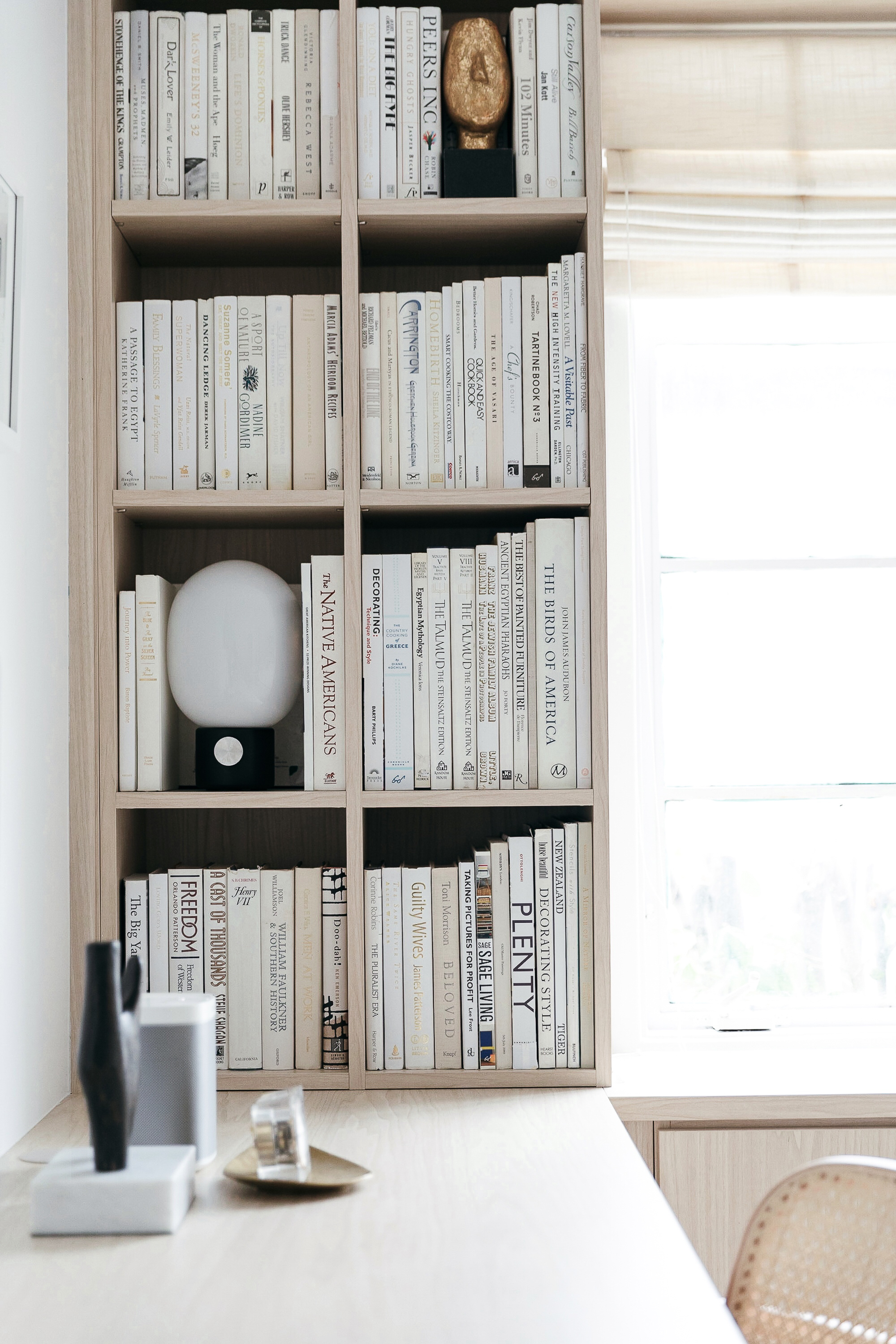 As for the lighting, the room previously had a ceiling fan with a light. Ivan prefers overhead light for work, and the room can get stuffy, so we definitely needed a direct swap. We have a black Altus Ceiling Fan with LED Light in our bedroom and have always found it to be both stylish and unobtrusive, so we created some nice continuity by choosing the brushed aluminum version for the office.
Then, for added illumination, the Pleat Drum Floor Lamp we used to have in our bedroom got called into service for the corner of the office. It brightens things up on grey days when just the ceiling light doesn't suffice. And even better, it filled a gaping visual hole in that corner with its handsome, oversized shade!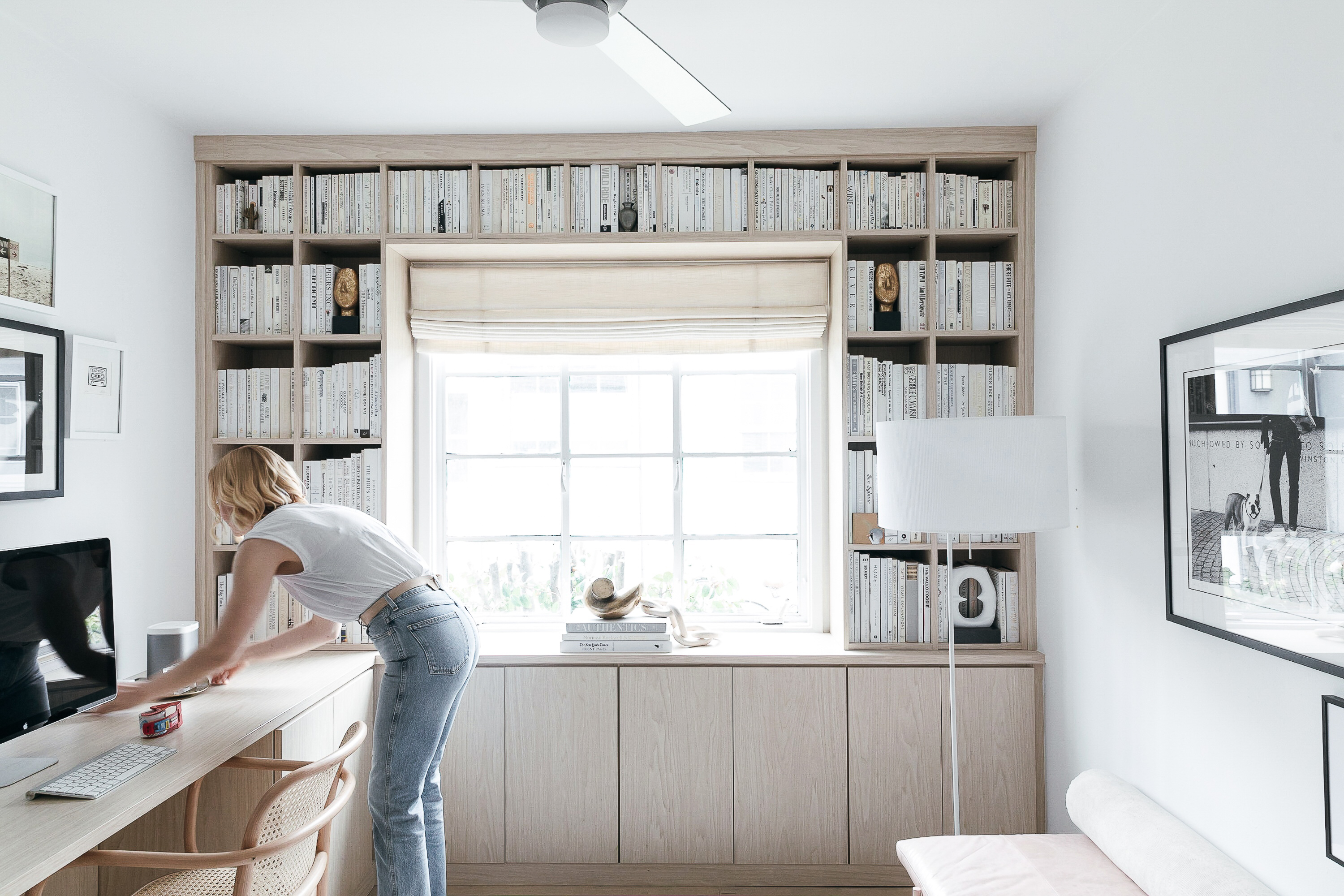 As for that cutie-patootie globe lamp on the shelf, the JWDA Table Lamp is another icon I've had on my bucket list. Its shape has such quirky personality! As well, the black base adds a punch of contrast to break up the sea of white books on the shelves.
In a project like this, where I really wanted each piece to elevate the overall design but also make a statement in and of itself, Design Within Reach was the no-brainer choice to shop. Truth be told, most of my Pinterest board for the room was populated with pins from their online store—including tons more faves to get the look below!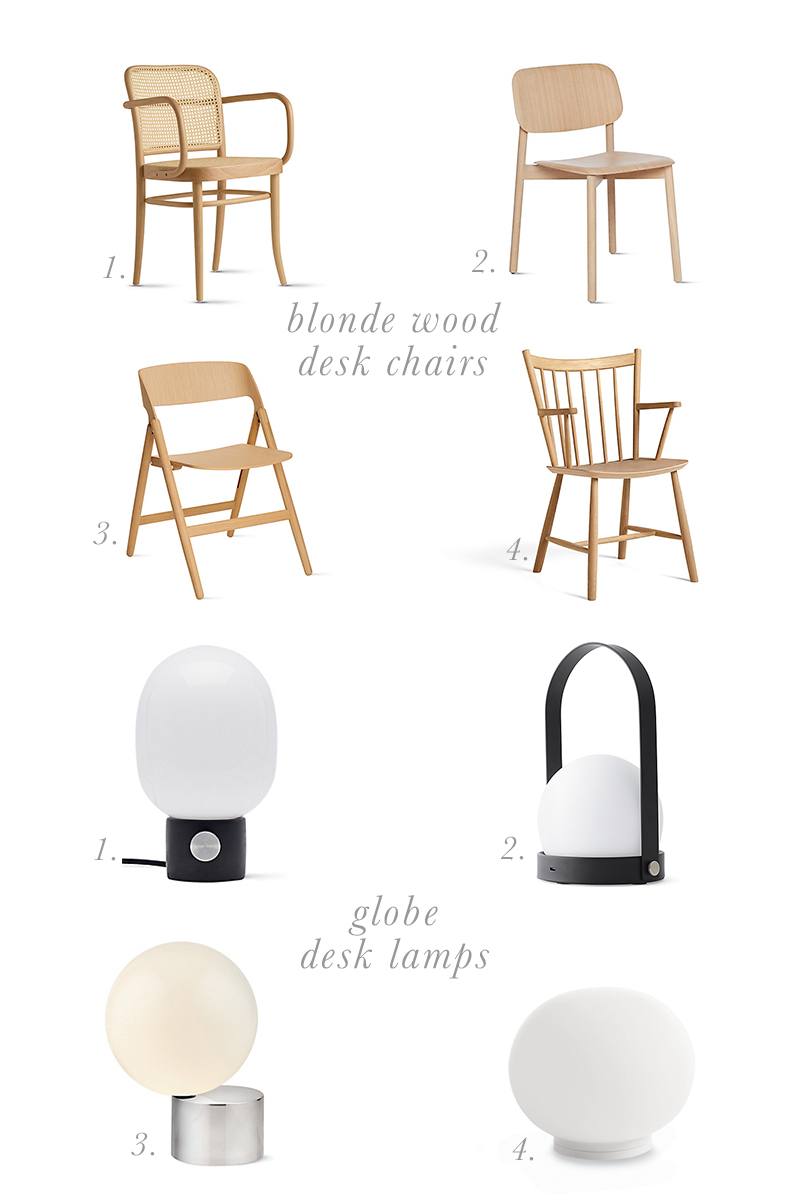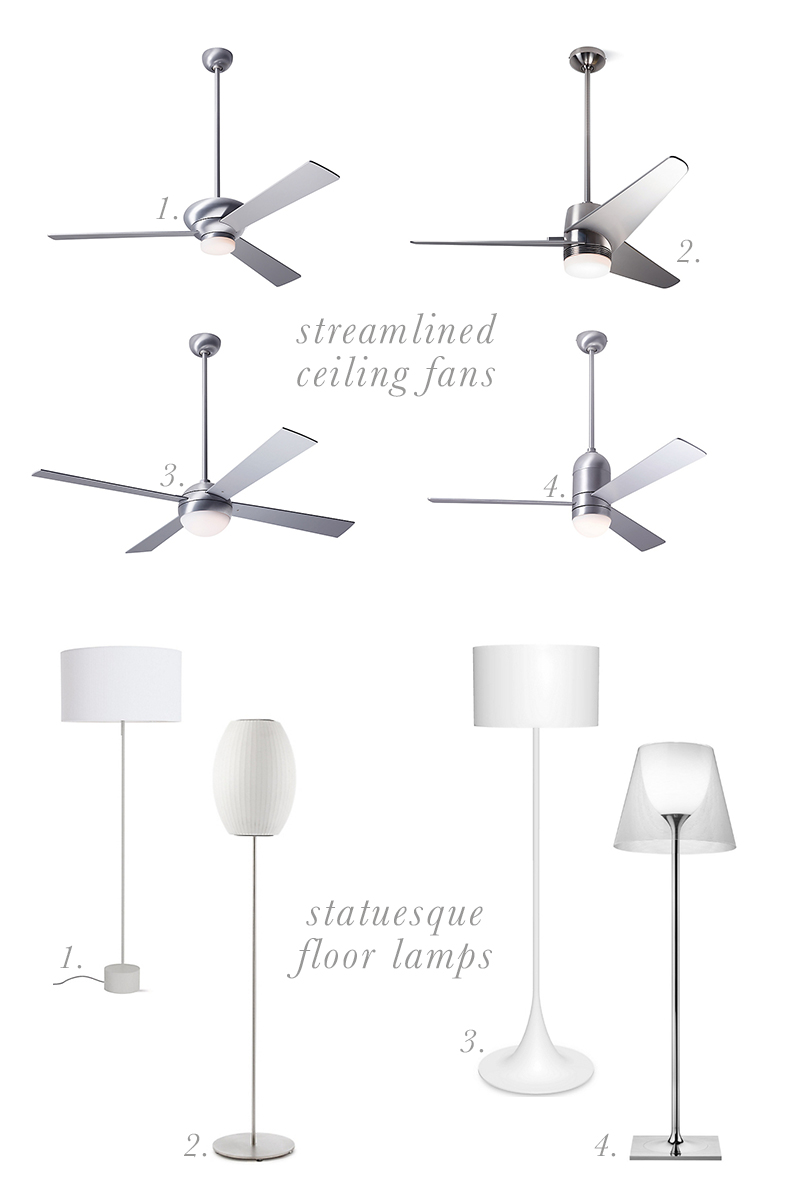 Shopping Guide: Desk Chairs 1. Hoffmann Armchair 2. Soft Edge 12 Side Chair 3. Narin Folding Chair 4. J42 Armchair Globe Lamps 1. JWDA Table Lamp 2. Carrie Portable LED Lantern 3. Tip of the Tongue Table Lamp 4. Glo-Ball Mini T Table Lamp Ceiling Fans 1. Altus Ceiling Fan with LED Light 2. Velo DC Ceiling Fan 3. Ball Ceiling Fan with Light 4. Cirrus DC Ceiling Fan with LED Light Floor Lamps 1. Pleat Drum Floor Lamp 2. Nelson Cigar Floor Lamp 3. Spun Floor Lamp 4. Ktribe F2 Floor Lamp Photos: Monica Wang Photography