Here it is, the fourth and final post in my series of fall fashion week looks worth wearing! As you'll recall, I've been rounding up this season's best street style trends. I've deemed them so for their approachability, comfort, and longevity. And I've saved my favorite for last! Because as my pregnancy has progressed, I'm reaching for voluminous maxi and midi dresses on the regular. Partly because I love the look. But mostly because nothing else in my closet fits!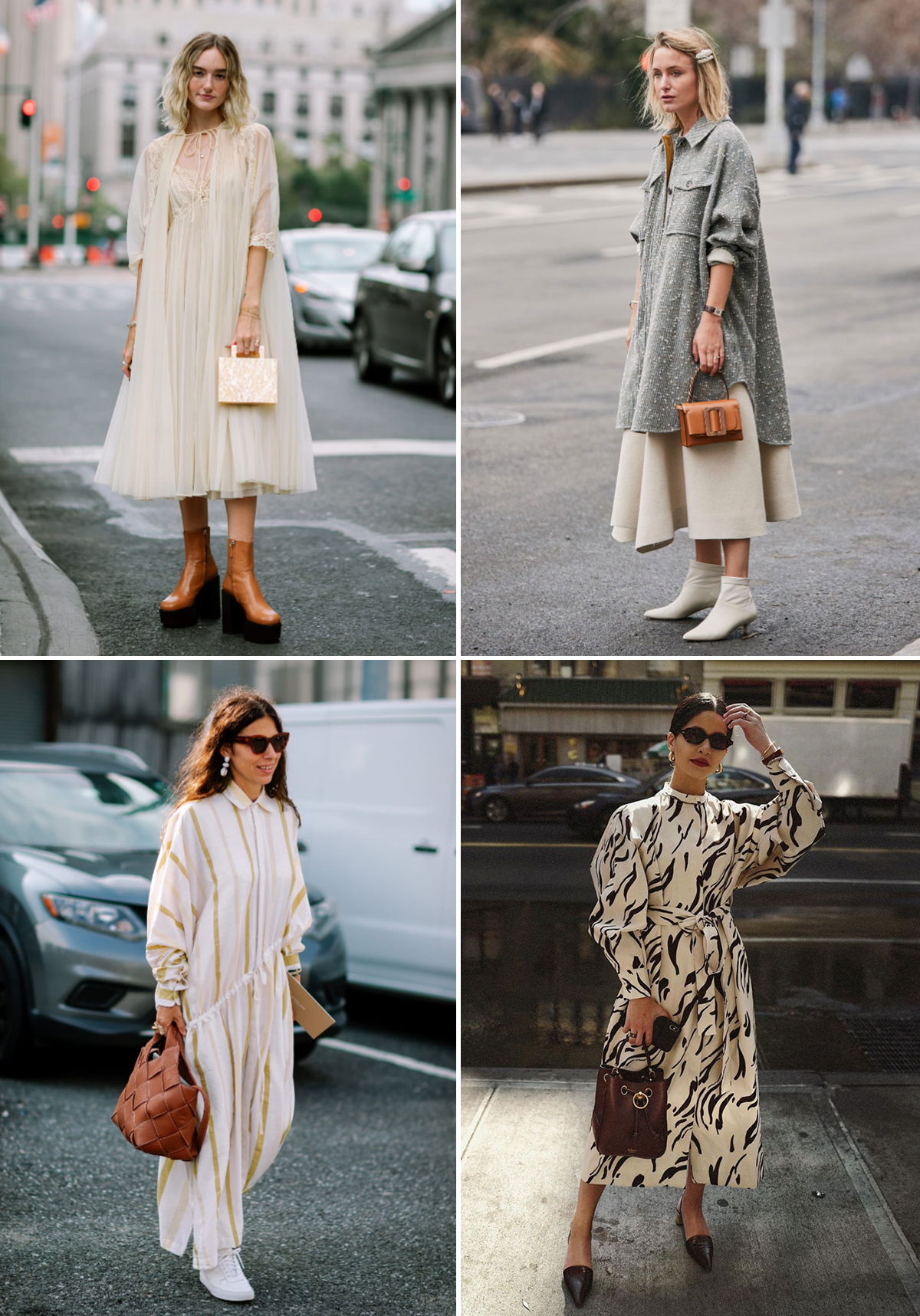 Baby bump or no, everyone can get behind the versatility of these dresses. They're full in shape, yes, but can be belted if you'd like to slim things down. Solids in white, black, or tan lend themselves to fancying up with a fantastic coat. Patterns like animal print and florals speak for themselves. Accessories wise, you don't need much to complete the look. A great pair of shoes (sneakers, boots, mules, they all work!) and a bucket bag or cross body bag will add simple flair.

When shopping for voluminous dresses, head first for brands that are doing this silhouette really well. For example, Free People, Ganni, and Rachel Comey are all nailing it. I've also spotted a lot of great swingy dresses in vintage shops on Etsy, and from labels that make caftans and swim cover-ups. Hone in on fabrics with plenty movement to them. Much of the pleasure in this style is the way it moves when you do. Then brace yourself for all the questions you'll get about where you bought your dress, because this vibe is an eye-catcher for sure!
Fashion Week Looks Shopping Guide: 1. Floral Midi Dress 2. Art Deco Print Midi Dress 3. Tiger Print Shift Dress 4. Leopard Print Midi Dress 5. White Linen Midi Dress 6. Polka Dot Midi Dress Header Image. P.S. For more fall fashion trends worth wearing, be sure to check out previous posts on statement leather, how to wear plaid, and monochromatic earth tones!