There's nothing like the start of a new year to inspire a fresh start! Especially with a baby on the way, I've been working hard at getting organized in 2020, in every area of my life. That doesn't just mean I'm cleaning out the linen closet and labeling all my spice canisters; it applies to my professional practices too. As a creative, it can sometimes feel counterintuitive to implement systems for keeping my business running smoothly, even though I know that having those systems in place is exactly what allows me to create with ease—and to make a living doing so!
Up 'til now, for example, the way I track client design projects is haphazard at best. Each one is a maze of countless email and text threads, mood boards and Google docs. I waste tons of time, brain space, and earning power trying to make sense of it all, and it certainly doesn't look very professional in my clients' eyes, either! So in the interest of getting organized in 2020 and taking my business to the next level, I'll be managing my projects exclusively using Houzz and Ivy. The two design-centric platforms, when used in concert each other, enable a truly streamlined and collaborative workflow process that's both designer and client friendly!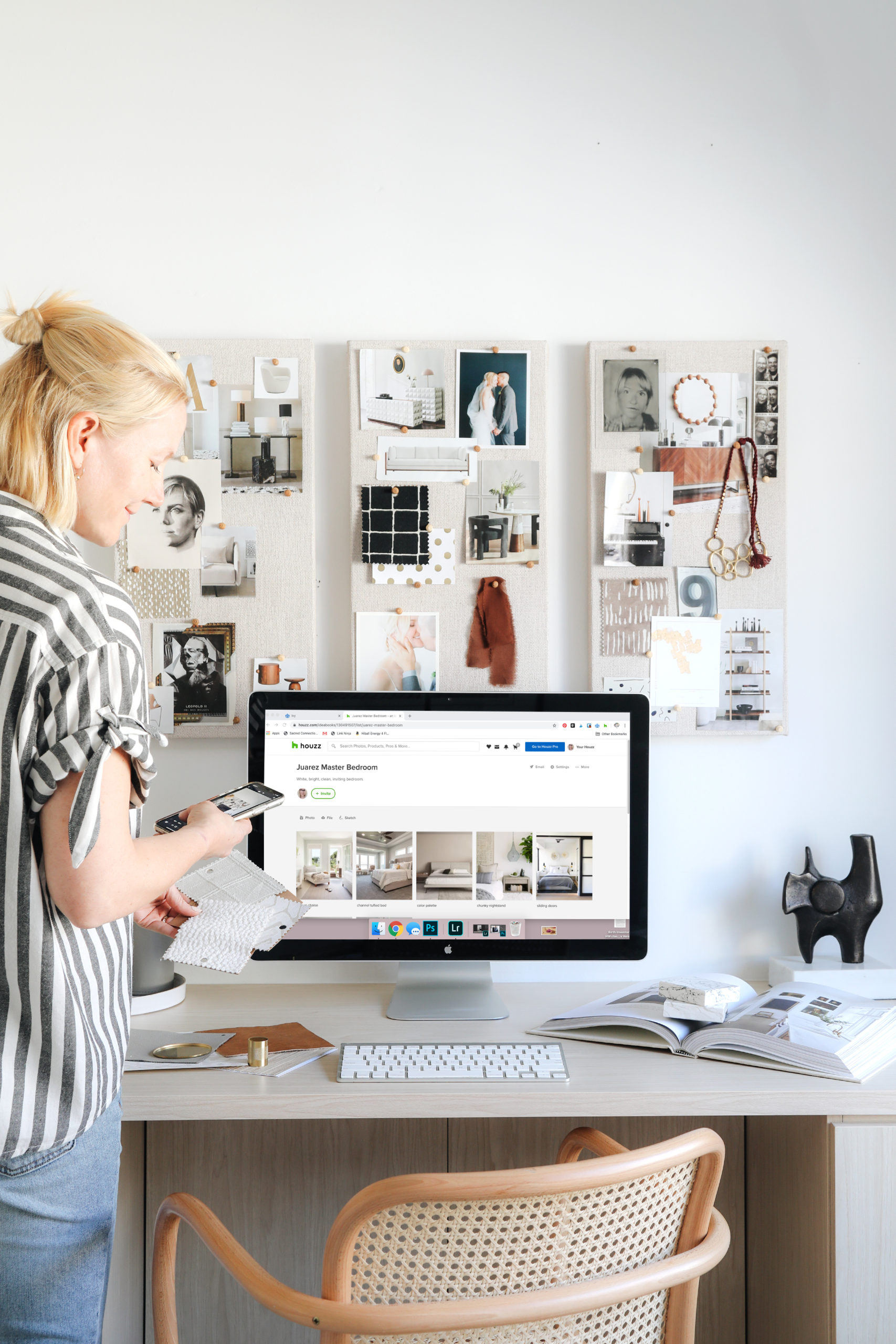 Everything begins on Houzz, which is an online community of over 40 million homeowners and 2.5 million home design and remodeling professionals. Thanks to Houzz's tools for pros, it's easy for homeowners in my area to find and hire me. I can create a fully fleshed-out profile that consists of everything from my style to my recent projects, and from the services I offer to the average price I charge per job. I can even boost myself in search results for my geographic region, making it more likely that my profile will be viewed! Potential clients get a 360 degree view of my work before they even make an inquiry; and because they know a ton about me before even reaching out, I can reduce the time-consuming back-and-forth that usually comes with determining whether I'm the right aesthetic and budgetary fit for them. And of course, the extensive listings on Houzz are useful for me as a designer too. Whether I'm on the lookout for a great general contractor or a skilled carpenter, I can vet potential pros based both on their reviews and on photos of their past work!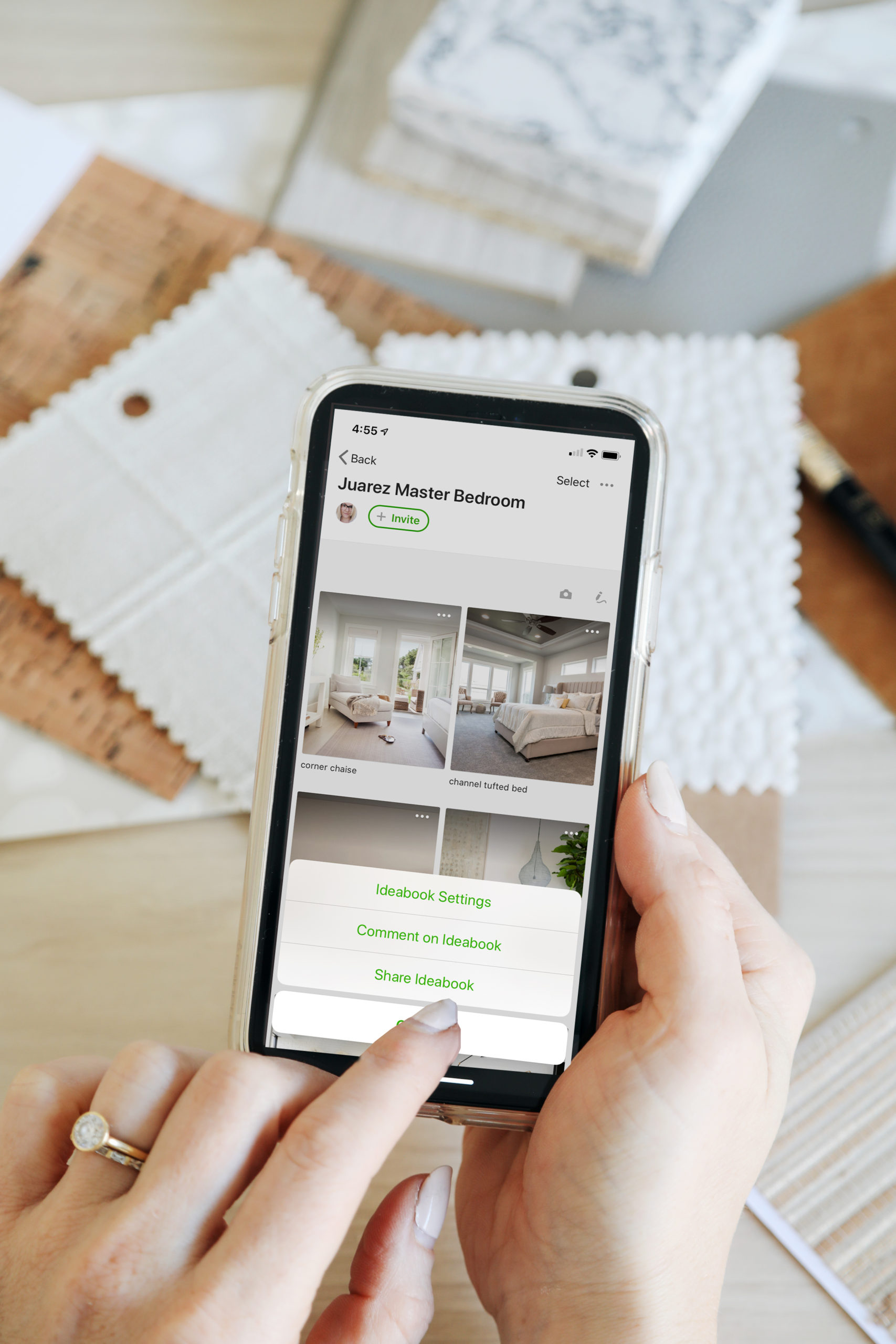 Once the client relationship is secured, Houzz is then instrumental in kicking off the design process. With over 20 million images on the site, all of them searchable by incredibly detailed filters, it's a breeze to start fleshing out a vision for a space. A recent search for contemporary white bedrooms with light hardwood floors yielded over 5000 results, which I could then browse and save to my own project ideabook. That ideabook can then be shared with the client, and we can both add commentary and feedback in order to hone the design vision even further. 
Not only are those 20 million images on Houzz searchable and savable, they're also shoppable! That means I can start sourcing furnishings and finishing touches even when I'm in the ideation phase, making for a more holistic and integrated approach to my design process. Plus Houzz offers a trade pricing program that gets me exclusive pricing from top brands like Bernhardt and Kohler. Best of all? With the Houzz Trade Program, a dedicated account manager supports me with ordering, fulfillment, and shipping on everything purchased through the program. It's like having an on-call member of my team, someone to handle logistics in an area of my business that can often be a huge headache!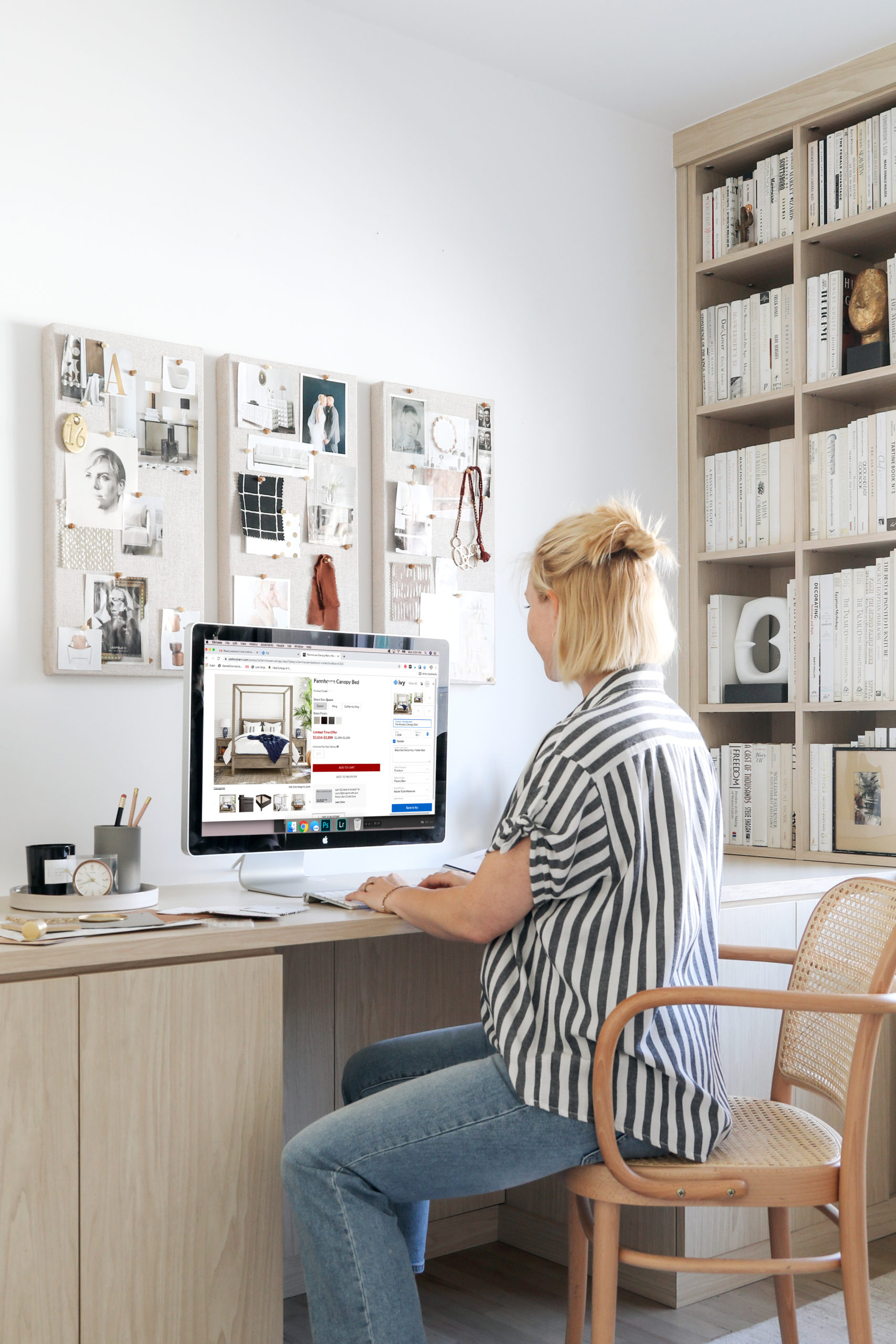 At this point in the design process, it's also time for Ivy to step in with its roster of highly comprehensive and intuitive workflow management tools. When I first onboard a client, I input them into my Ivy along with their contact info, project description, budget, and the scope of work I'll be doing for them. Each client's dashboard allows me to track everything from our project schedule and upcoming action items to billing and payments. I can upload and share attachments like floor plans and swatches, and everything is housed under the single umbrella of my Ivy account. Bye bye, endless email and text threads!
My favorite Ivy feature for getting organized in 2020, though, is the Ivy Product Clipper: a browser extension that turns every product website into an extension of my design business! The Product Clipper enables me to add furnishings, rugs, accessories, and more to my personal product database—a database that I then use to populate a project's Room Board for a visual snapshot of the product recommendations I make to the client. Each item listing has information such as price, dimensions, materials, and even a customizable markup percentage. As soon as I flesh out a Room Board, I can send it directly to the client, and on receipt they can approve or decline my recommendations. Even ordering through Ivy is seamless, since each product listing also includes the relevant vendor details. Once I've interfaced with the vendor to acquire a client's approved pieces, Ivy also tabulates how much to charge for items that have been purchased on a client's behalf. That way, when it comes time to invoice, there's no need to hunt down purchase orders and receipts in my records!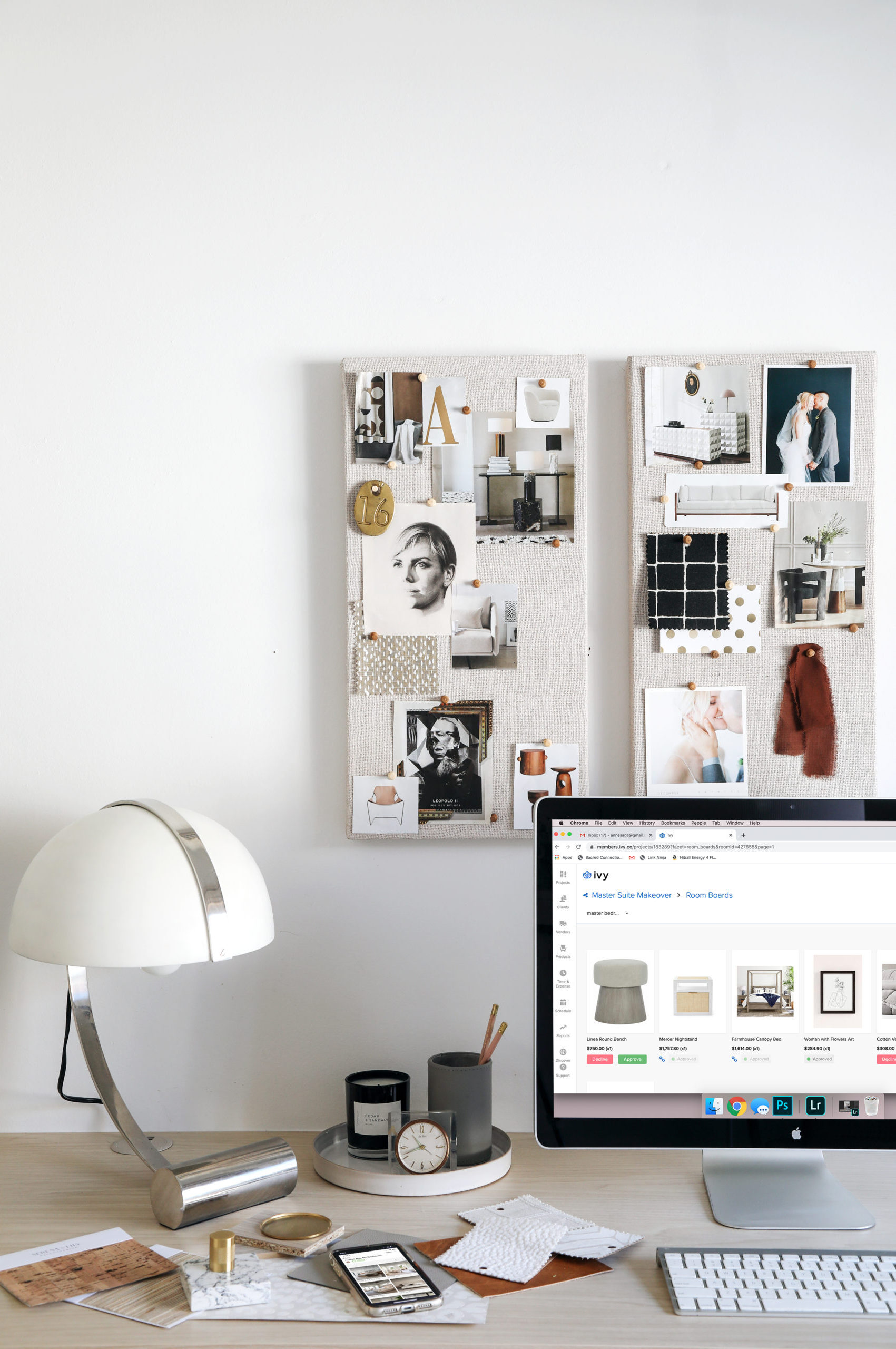 Speaking of invoicing, that step is definitely my least favorite part of running a business—something that I think holds true for many creatives. I'm a designer, not a number cruncher, after all! Yet Ivy makes all the backend administrative tasks palatable since it does most of the work for me. I can monitor every hour I spend on a project using Ivy's time tracking tool, so my total hours are automatically accounted for and tallied according to the hourly pricing I've set. Then, I can then feel confident that I'm charging the client for exactly the services rendered (rather than lowballing, as I tend to do when tracking my time manually). I can also schedule payment reminders for unpaid invoices, which is a total dream for me because nothing feels more uncomfortable than chasing someone down for a check!
Last but definitely not least, once a space is finished I can run a full set of reports to suss out any inefficiencies or opportunities for improvement. Case in point: Because I'm able to track not only my total work hours but also specific tasks within those hours, I've noticed I spend a disproportionate time sourcing product and really eat into my bottom line. With my goal of getting organized in 2020, I'm looking at future projects with the aim of capping my sourcing time, and also delegating more to an assistant, so that I can refocus my hours on activities that garner new business—like adding new photos to my Houzz profile and starting the process all over again!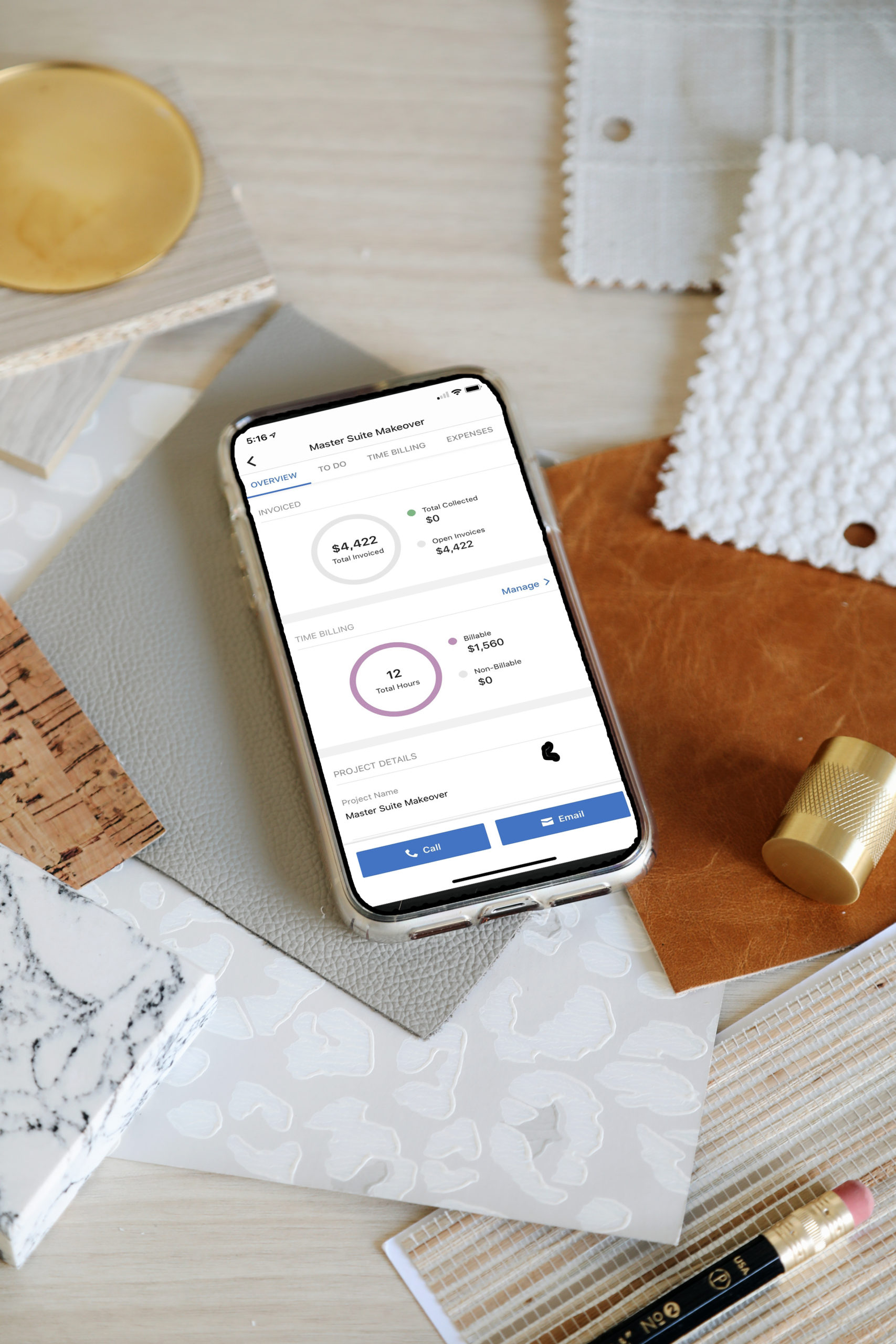 Of course, this is just how I'm using Houzz and Ivy for getting organized in 2020. One of the greatest aspects of both platforms is how customizable they are to each professional's business needs. When you subscribe, you receive a dedicated account manager to help you learn the ins-and-outs of maximizing the system for your own workflow. Both sites also have integrated mobile apps that offer the full functionality of the web versions, so you can stay productive on the go. And they offer other community resources as well, including helpful articles for designers with business tips and industry trends, and educational webinars too. I myself have even taught an Ivy webinar on using social media to grow your design business!
With Houzz and Ivy you not only get a complete set of tools to streamline your day-to-day, you get a community packed with resources for budding and experienced pros alike. The result is the confidence and peace of mind you need to focus on growing your business, delivering work you're proud of, and doing what you love most: bringing your design vision to life!
Disclosure: In the interest of getting organized in 2020, partnered with Houzz and Ivy to concept, style, shoot, write, edit, and share this post. All opinions are and always will be my own. Thank you for supporting the brands that enable me to bring you fresh inspiration daily!