There's no labor of love quite like decorating a space to welcome a new baby! That's why I'm so excited to delve into my modern girl nursery design with you guys. Each and every decor choice was one I poured my whole heart into. We created our nursery in partnership with Crate and Kids, and the process couldn't have been easier or more fun. From the biggest furnishings to the smallest accents, they had tons of sweet, special options to choose from!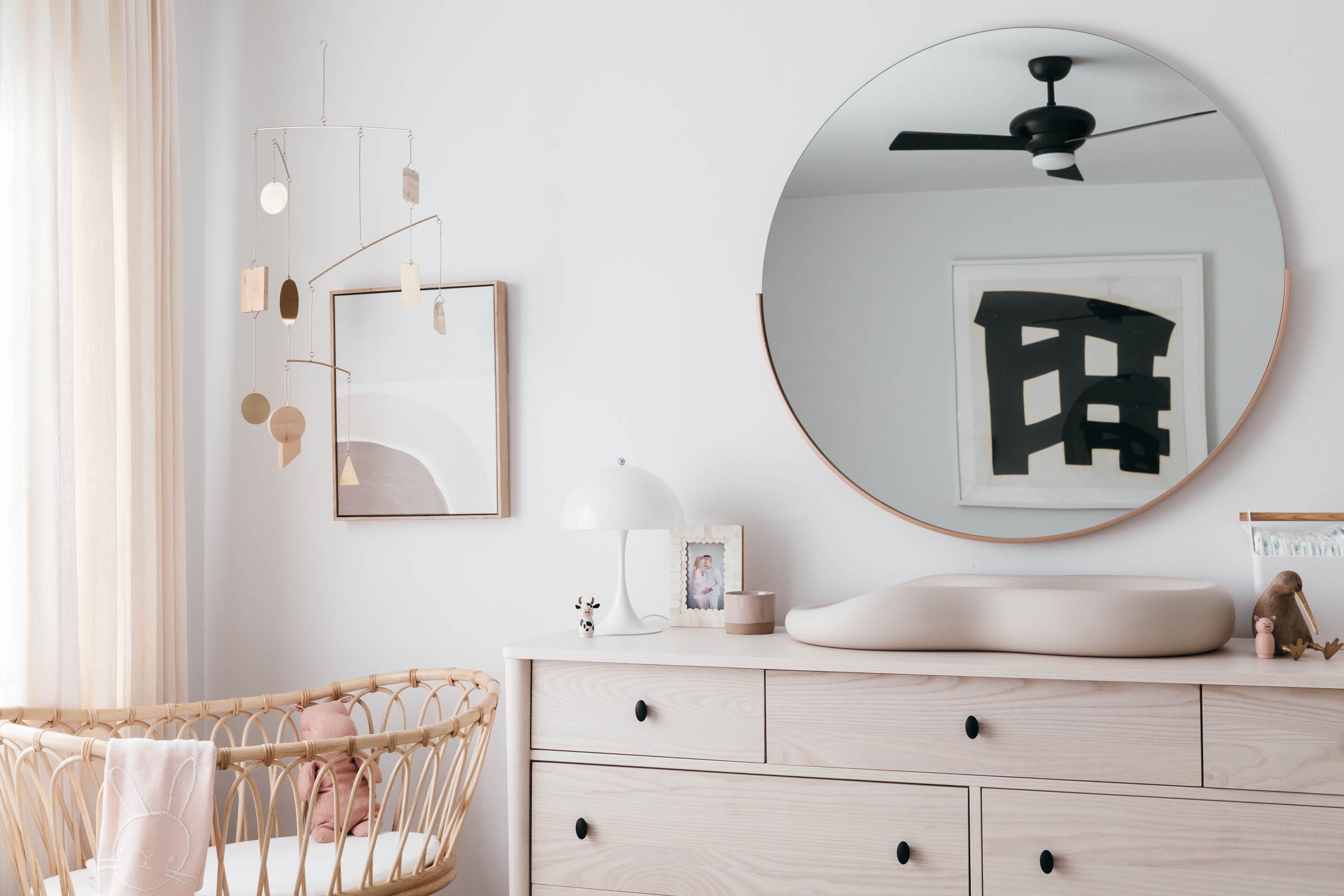 As I've shared with you guys on Insta, our house is quite petite—only 800 square feet! Plus, with both Ivan and I working from home, we didn't have a single room to dedicate to a nursery. So instead, I identified the three functional zones I wanted to carve out throughout the house. In our bedroom, I put a bassinet and a changing station atop our dresser. Since we'll sleep her in our room for the first few months, it just made sense!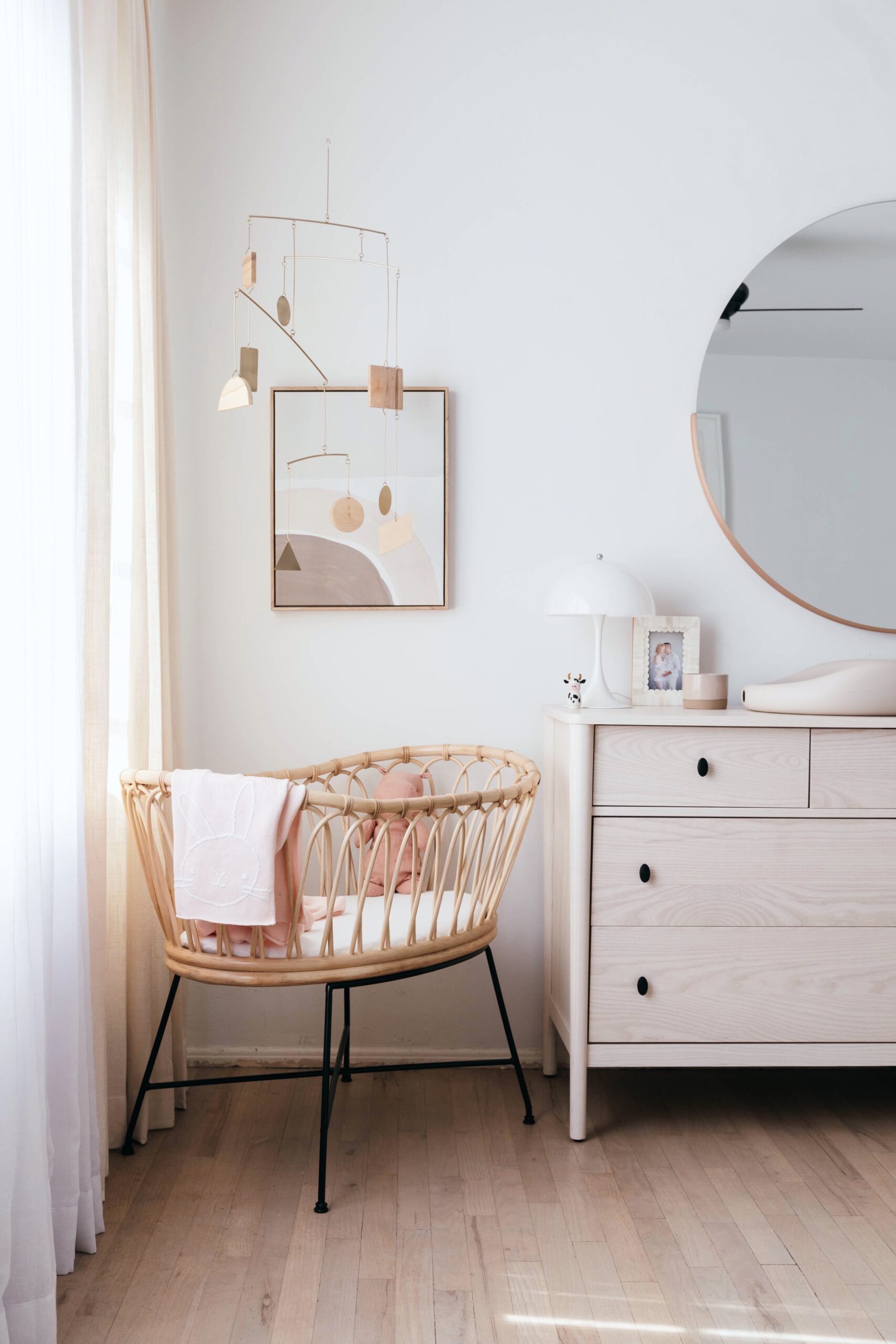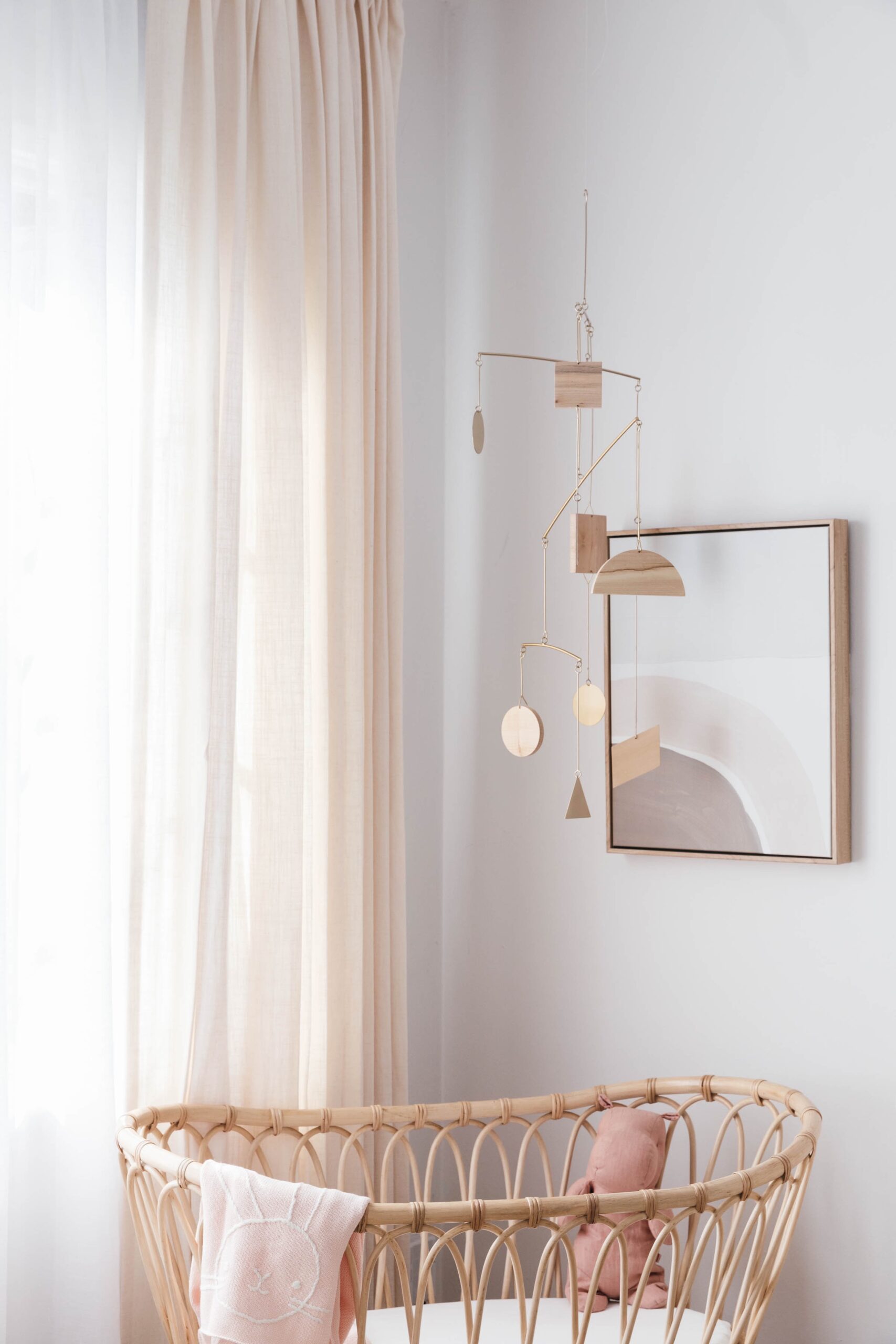 The rattan bassinet itself is a stunner, and possibly one of my favorite pieces we've gotten for baby. It's exclusive to Crate and Kids and has an heirloom-quality feel thanks to its beautifully constructed lines and natural materials. The brass shapes mobile that hangs over it sways delicately in the breeze when I open the window. It has a vibe that's at once modern and earthy!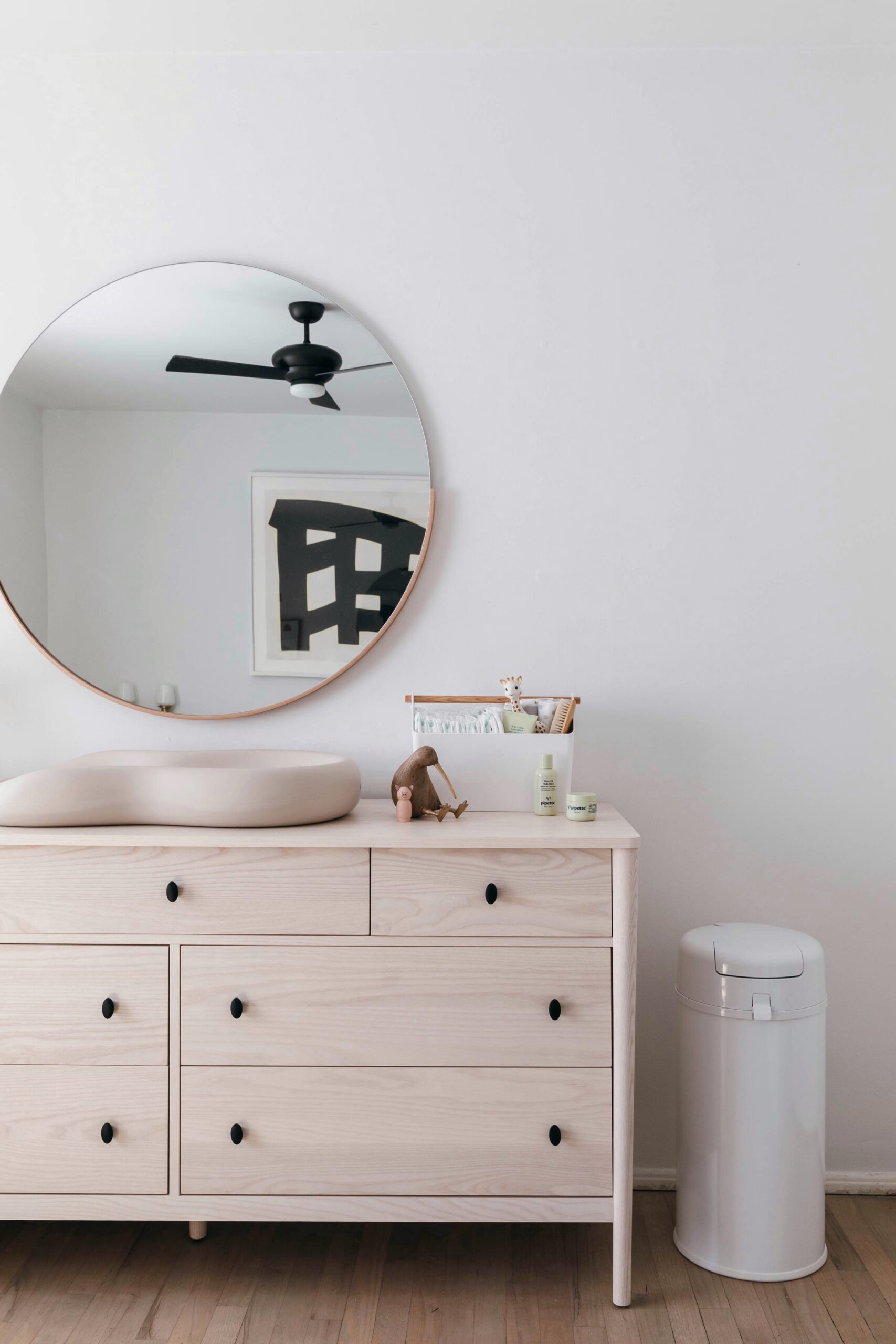 As for the changing station, I used this opportunity to switch out our existing dresser for one that was taller and deeper—though only slightly so, since I didn't want the new one to overwhelm the space! This swap not only affords us more storage, it also creates a more ergonomic diapering situation. We'd have been hunching over the changing pad if I'd kept the old, lower dresser!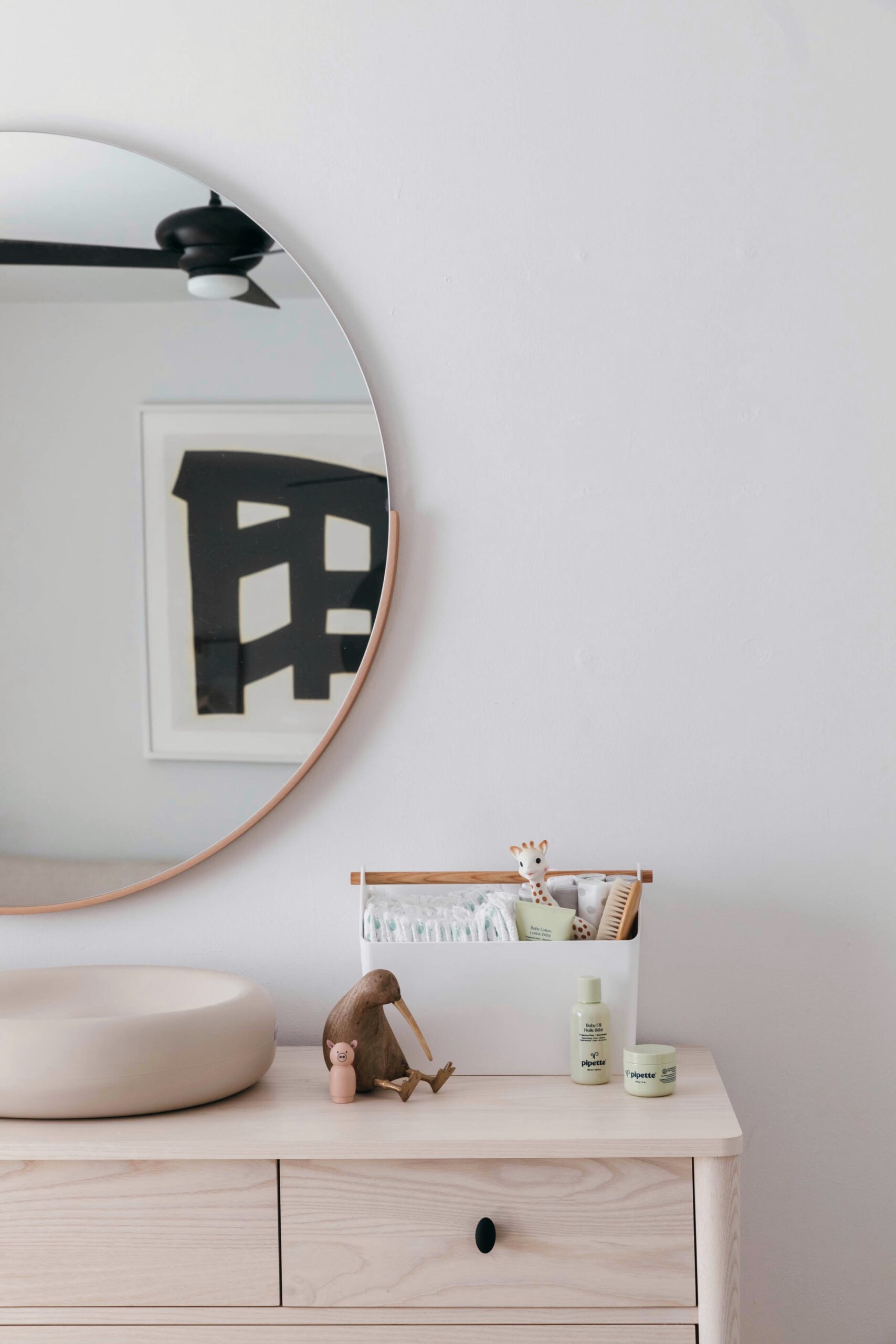 Aesthetically, it was a no-brainer to choose this gorgeous ash wood dresser in the prettiest white-wash treatment. I was mindful of tying in any new pieces with the decor in other rooms (that's how you keep a small house feeling cohesive instead of chaotic!), and the finish of this dresser brilliantly complements the built-in shelving in Ivan's office. The black hardware adds such an elegant touch! I've been over-the-moon with the quality of this piece, too. The drawers glide smoothly and the joinery is top-notch. It's hard to find great casegoods at an accessible price, but this dresser is proof that it's not impossible!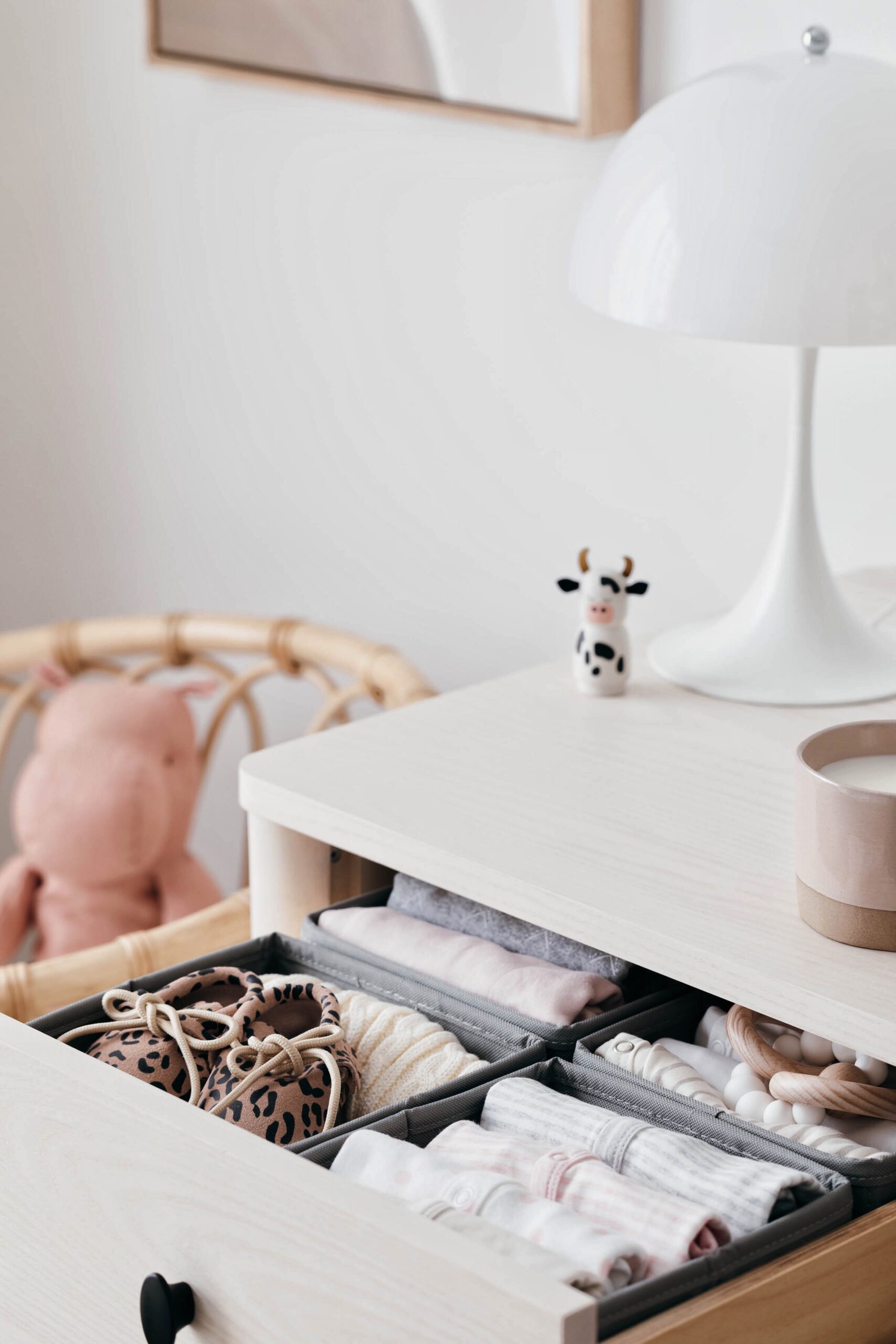 As for the finishing touches on this setup, I hung an extra large brass mirror over the dresser to make the room feel larger and to echo the curves of the bassinet. Additionally, Crate and Kids was a fantastic resource for stylish versions of the practical items every new parent craves. A white diaper pail tucks sleekly into the corner, a white and wood storage caddy holds diapering supplies, and canvas drawer organizers keep baby's essentials in order.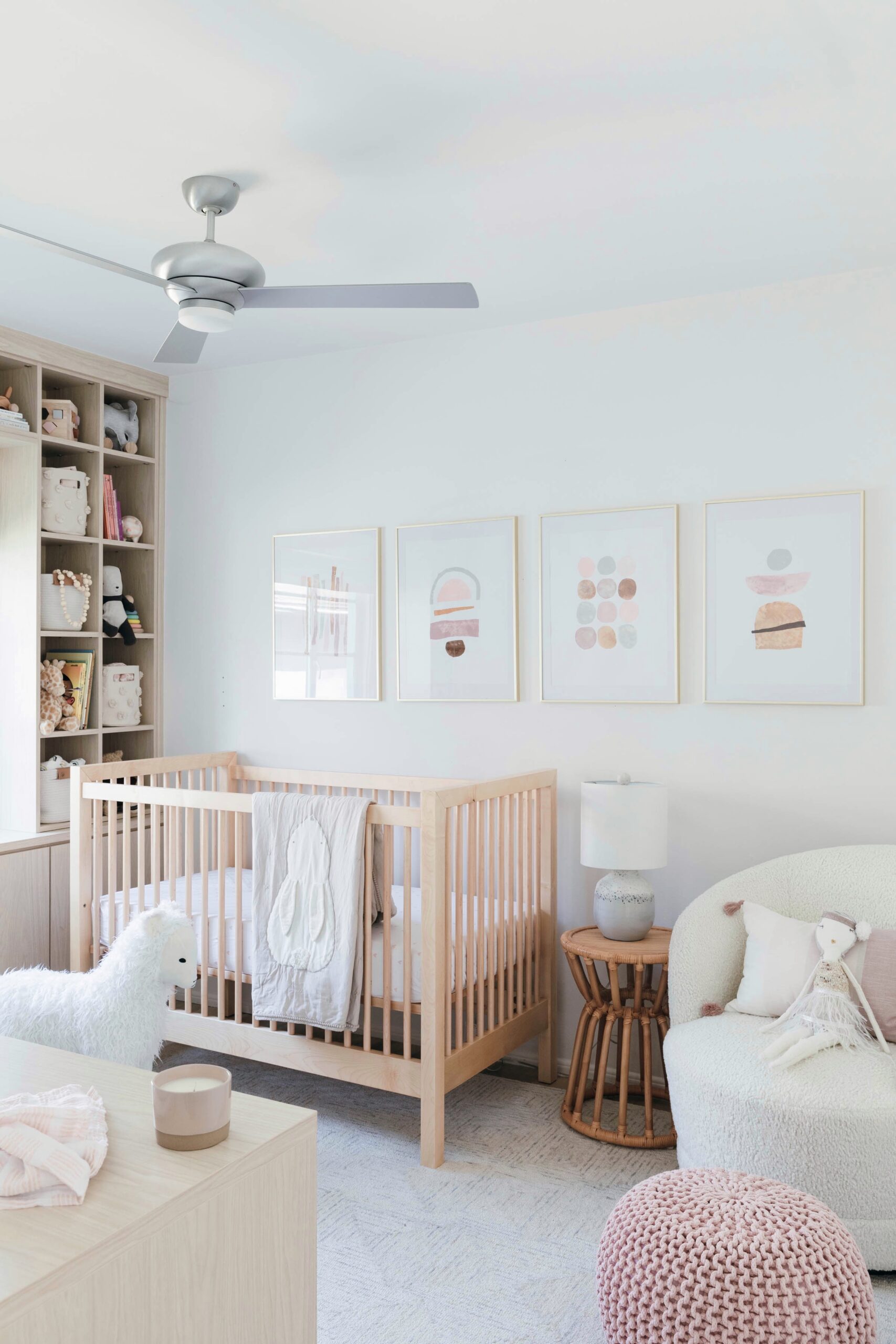 As for the second functional zone, I turned my sights to Ivan's office. It's technically the second of our home's two bedrooms—but we so recently completed the installation of his desk and shelves that I was loathe to replace that setup altogether! Instead, I put the leather daybed that was previously across from his desk into storage. A modern crib (another Crate and Kids exclusive!), whose clean lines echo the built-ins, took its place. It's just right for when baby outgrows her bassinet!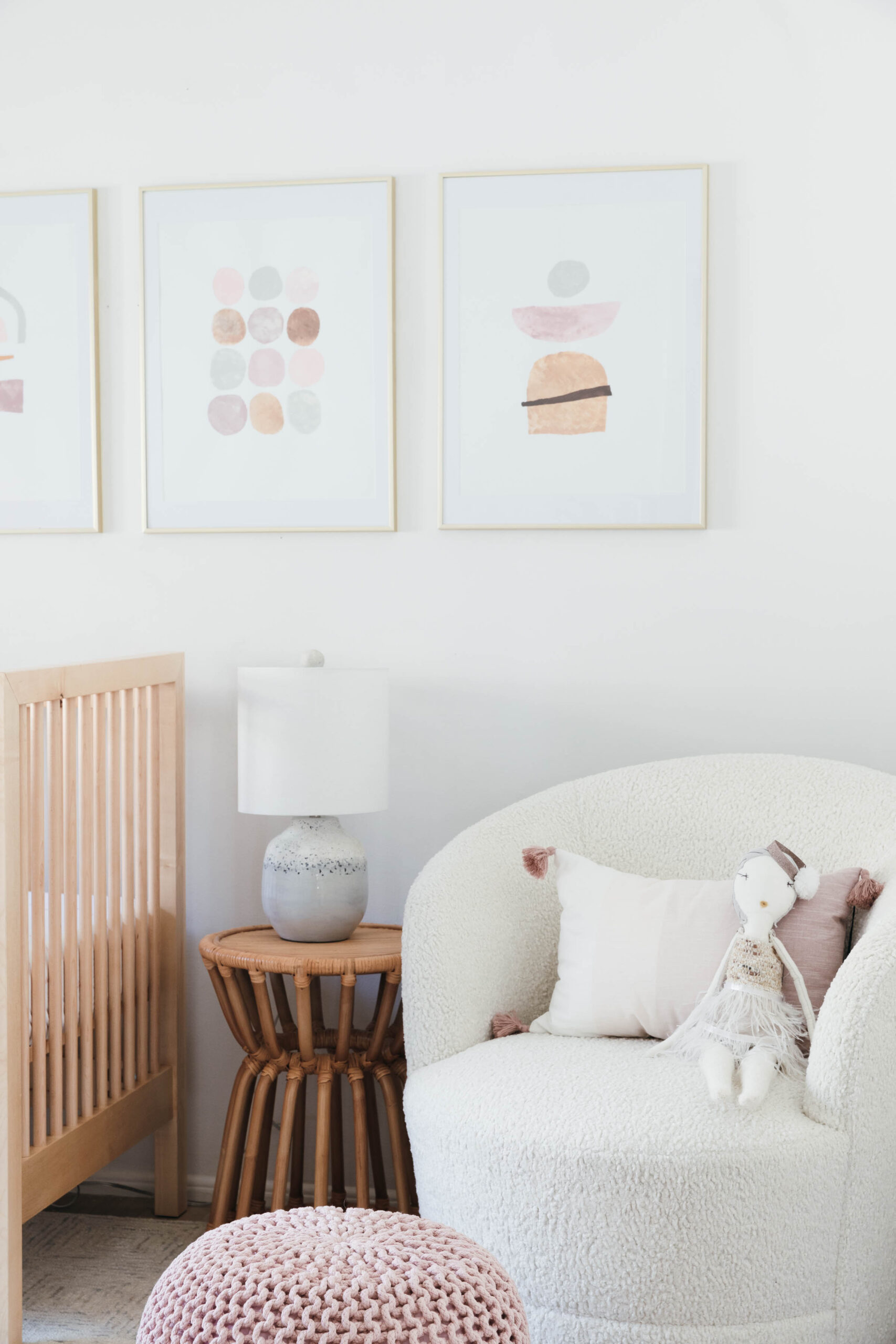 Of course, no nursery is complete without a comfy nursing chair! This cozy, curvy swivel chair is just what the lactation consultant ordered for long hours of baby snuggles. It's only available at Crate and Barrel and comes in a seemingly endless range of custom fabric choices; we had ours upholstered in a so-chic-right-now white boucle. When I polled moms about their nursery essentials on Instagram, everyone recommended a table and lamp right next to the nursing chair. This rattan accent table is reminiscent of the bassinet in the other room, while a speckled ceramic lamp injects organic texture.
Although we didn't have a strict theme for the nursery, I couldn't resist sprinkling cheerful animals throughout. Crate and Kids bedding offered a veritable menagerie of options! I fell hard for the appliquéd bunny on this linen crib quilt. I also stocked up on fitted crib sheets in a variety of patterns for mixing and matching, including an organic cotton crib sheet with soft pink hearts. Beneath it lies a GREENGUARD Gold certified crib mattress, so I can rest assured that we're minimizing baby's exposure to chemical emissions.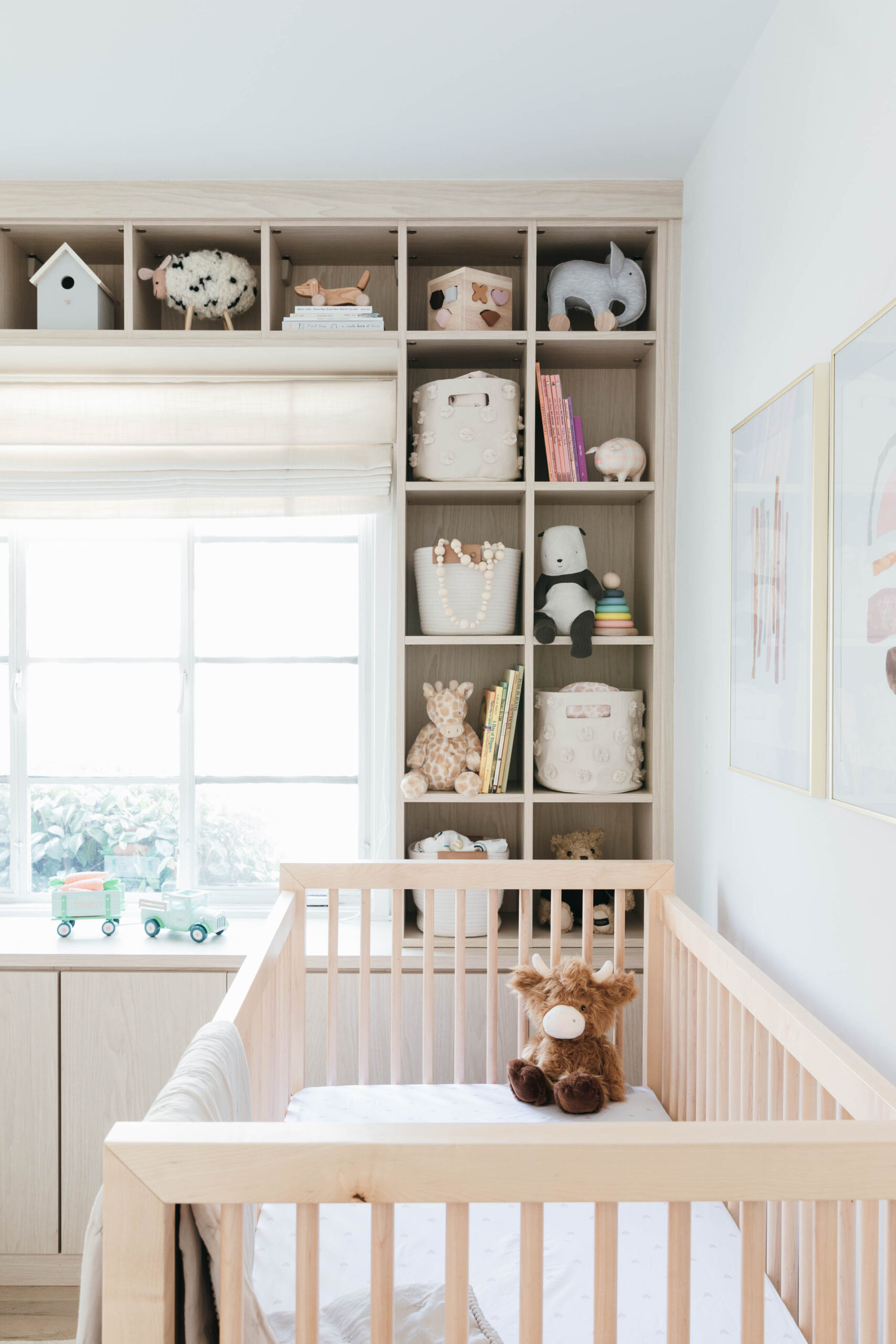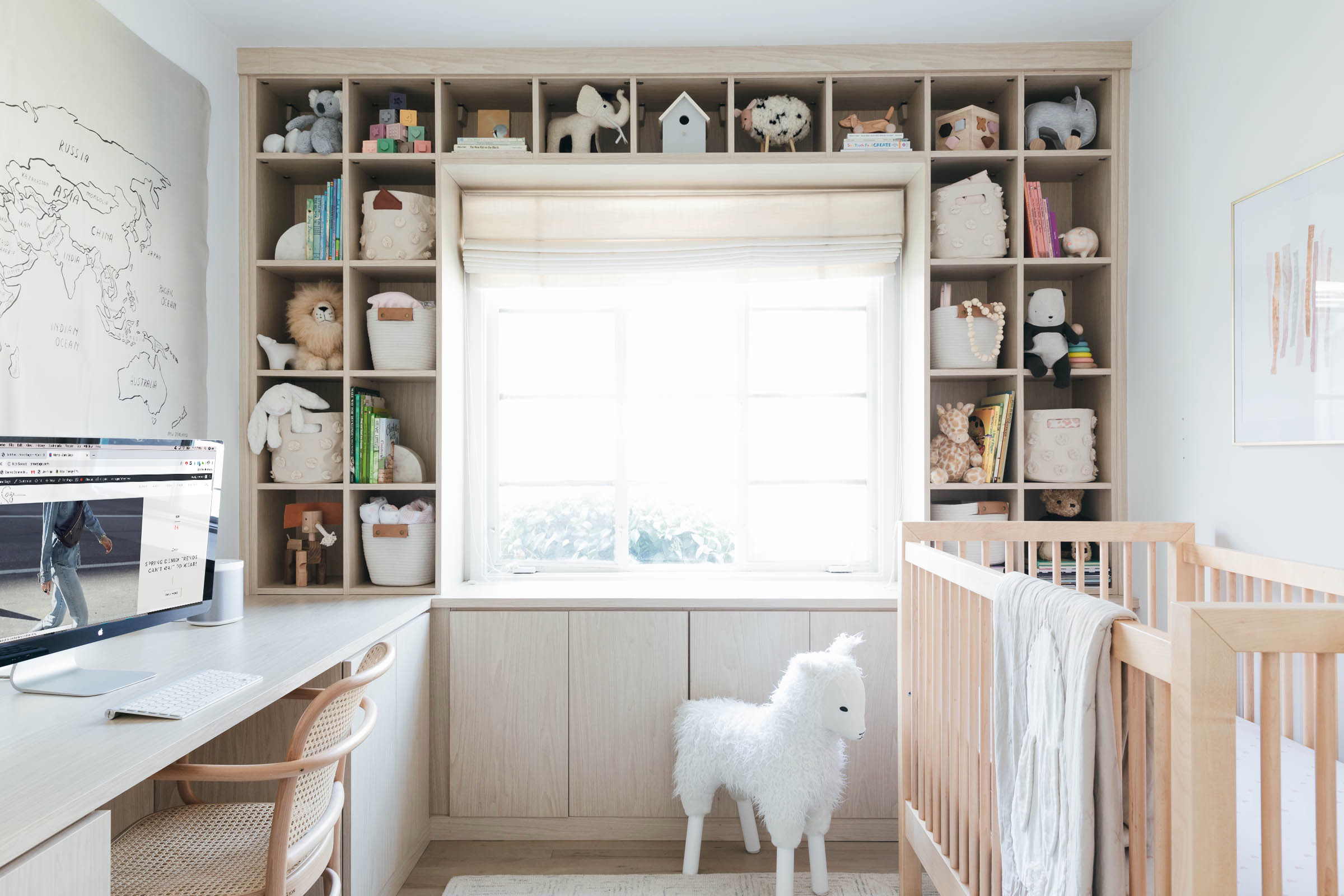 Probably my most poignant moment in the design process for our modern girl nursery was saying goodbye to the all-white wall of books I'd collected for Ivan's office. The blow was significantly softened, however, by the opportunity to fill those cubby shelves with cute baby goodies! Crate and Kids has a terrific edit of stylishly curated toys and books, so I drew from their selection for items like stacking rings, an elephant pull toy, and a handsome stuffed giraffe. I also put a few of the cubbies to actual practical use (imagine that!) with some pom pom storage bins. They nicely keep swaddles and small playthings within easy reach!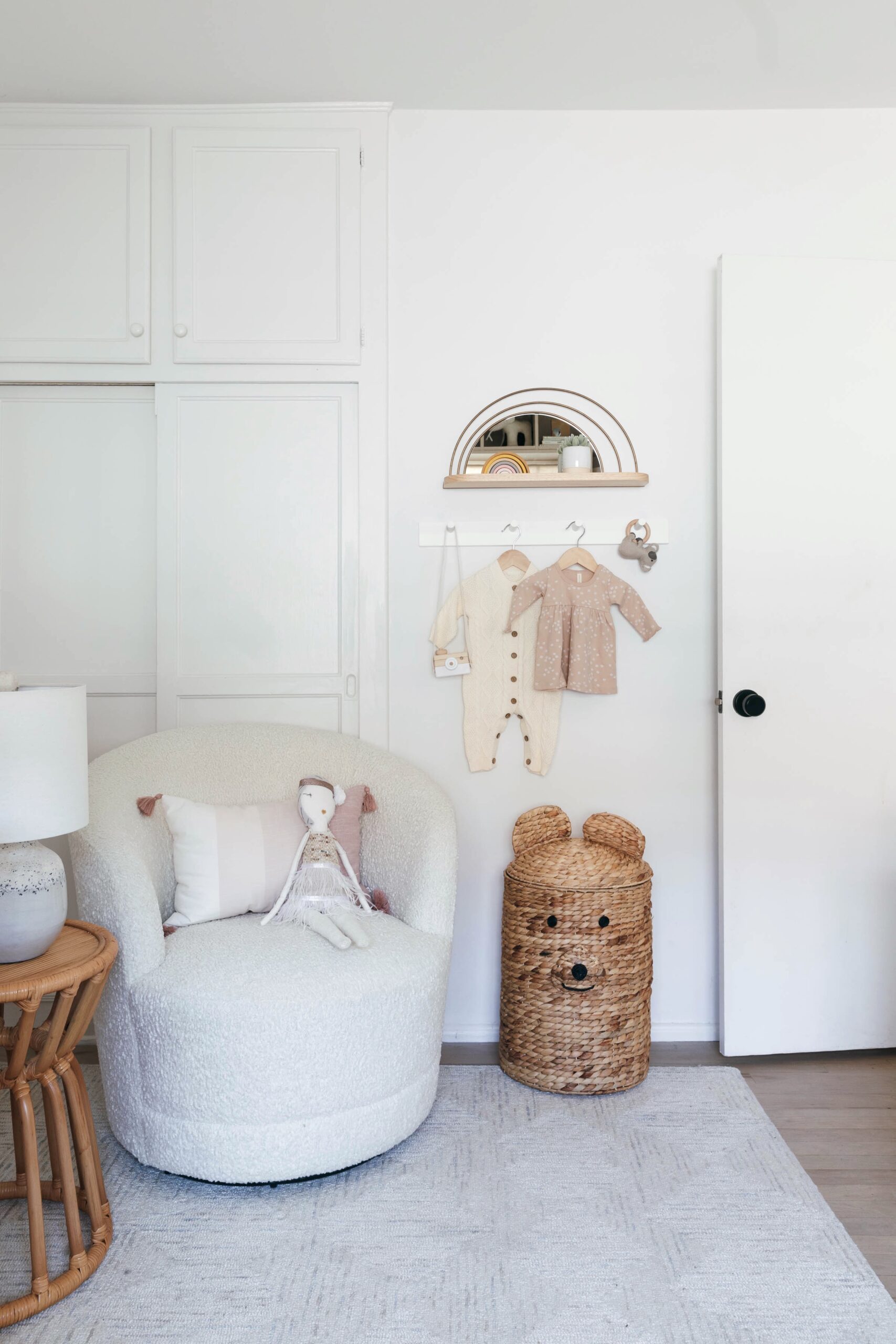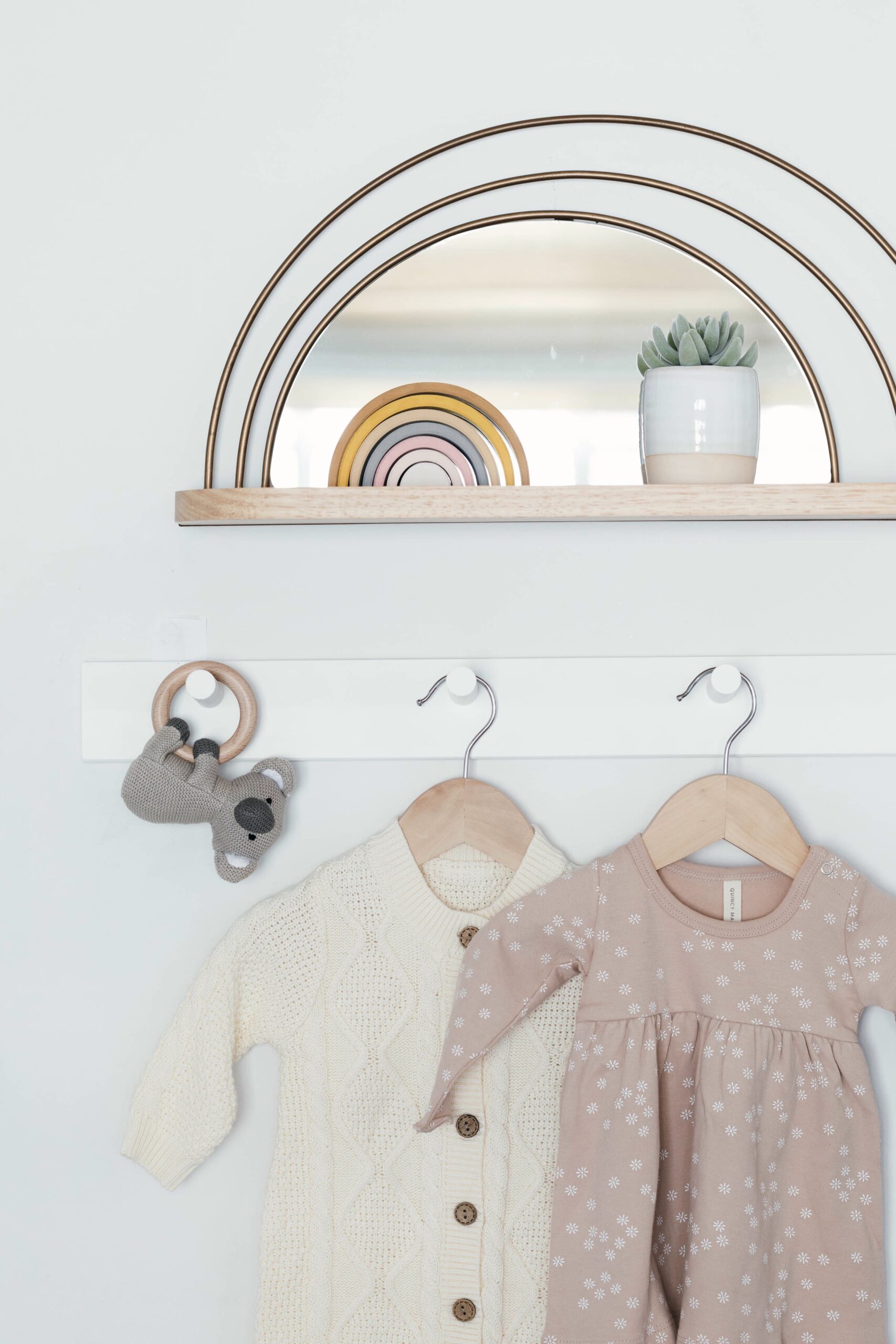 I couldn't resist adding a darling display moment on the opposite side of our modern girl nursery. It will be fun to switch out the decor and baby clothing I place on this brass and wood wall shelf and mirror and the peg rail beneath it. As for that woven bear hamper, he packs a ton of personality as well as provides a spot to toss laundry!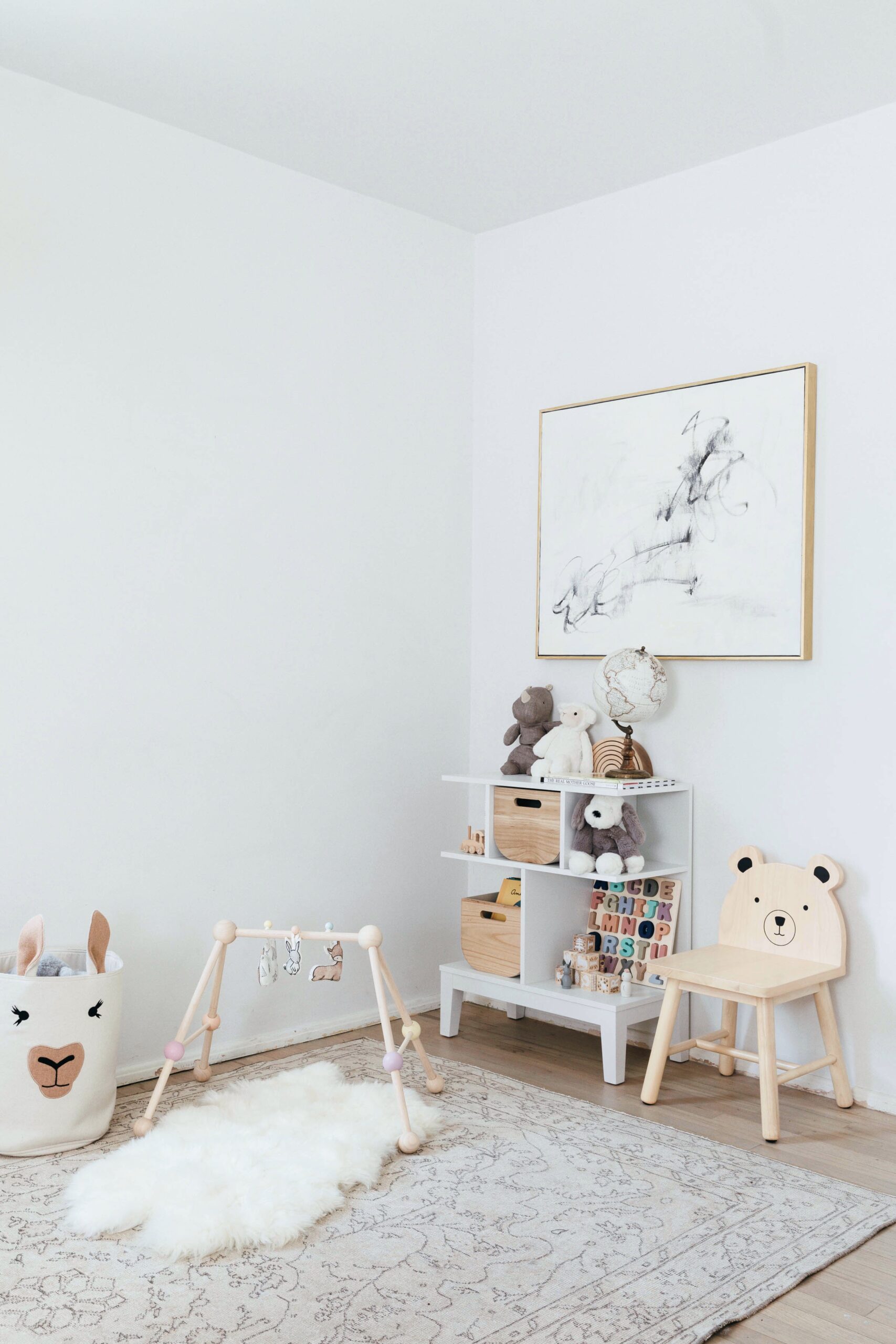 Last but certainly not least, it was important to me that we have a play nook in our open-concept living/dining area. We spend most of our time in that room, so setting aside some of that space for baby felt critical. It will be a while before she puts the wood blocks and storybooks in this modern kids' bookcase to use. And that little bear chair anxiously awaits the day when she's big enough to sit in him. But for now, he sets the scene for tummy time and stimulating moments with a tasteful wood baby gym. Every room is all set for our family's most important houseguest ever!
Shop All Our Modern Girl Nursery Resources! Master Bedroom/Changing Station: Dresser: Gia 7-Drawer Dresser in Cream. Bassinet: Rattan Bassinet. Mobile: Simple Shapes Geometric Baby Mobile. Brass Mirror: Gerald Large Round Wall Mirror. Blanket: Pink Bunny Stroller Blanket. Diaper Caddy: Yamazaki Favori White Storage Box. Diaper Pail: Bubula Diaper Pail. Giraffe Toy: Sophie La Giraffe Teether. Drawer Organizers: Canvas Grey Square Drawer Organizer. Bird Figure: Wood Kiwi Bird. 
Office/Nursery: Chair: Infiniti Swivel Chair, Upholstered in Lammy Winter White Boucle. Crib: Andersen Maple Crib. Side Table: Kids Rattan Nightstand. Table Lamp (on rattan side table): Quinn Grey and White Table Lamp. Crib Mattress: Naturepedic Classic 150 Organic Crib Mattress. Crib Sheet: Pink Hearts Fitted Sheet. Quilt: Hoppy Tails Pom Pom Baby Quilt. Rug: Presley Neutral Heathered Rug. Rainbow Shelf: Wall Shelf and Mirror. Peg Rail: Beaumont Peg Rail. Storage Bins: Pehr Pom Pom Bin in Natural. Stuffed Llama: Ride-On Llama. Hamper: Woven Bear Hamper. Hanging Koala: Koala Teething Rattle. Pastel Wood Stackers: Small Baby Stacking Rings. Elephant Toy: Elephant Pull Toy. Bookends: White Marble Bookends. Stuffed Bunny: Jellycat White Bunny. Stuffed Giraffe: Jellycat Medium Puffles Giraffe. Stuffed Koala: Jellycat Grey Medium Koala.
Play Nook: Bookshelf: Maze Small Bookcase. Bear Chair: Bear Animal Kids Chair. Felt Storage Bin: Llama Storage Bin. Puppy Toy: Jellycat Grey Smudge Puppy. Baby Gym: Plan Toys Play Gym. Hanging Animals: Woodland Animals Baby Rattles. Blocks: Etched Wood Blocks. Sheepskin: Ivory Sheepskin Throw Rug. Disclosure: I partnered with Crate and Kids to concept, style, photograph, write, and share this post. All opinions are and always will be my own. Thank you for supporting the brands that enable me to bring you fresh inspiration daily!