I've been meaning to share this post on the DIY balloon garland from our baby shower for months! But maybe the fact that I'm only now getting around to it means that for someone out there in quarantine land, it's coming at the exact right moment. After all, there are still birthdays to celebrate, home school crafts to invent, bored kids to entertain…you get the gist. The good thing about this project is that it's not only easy, but it requires products not sold out on Amazon! And if you don't need a DIY balloon garland in the near future, you can bookmark this post for the future when it's time to decorate your first post-pandemic party.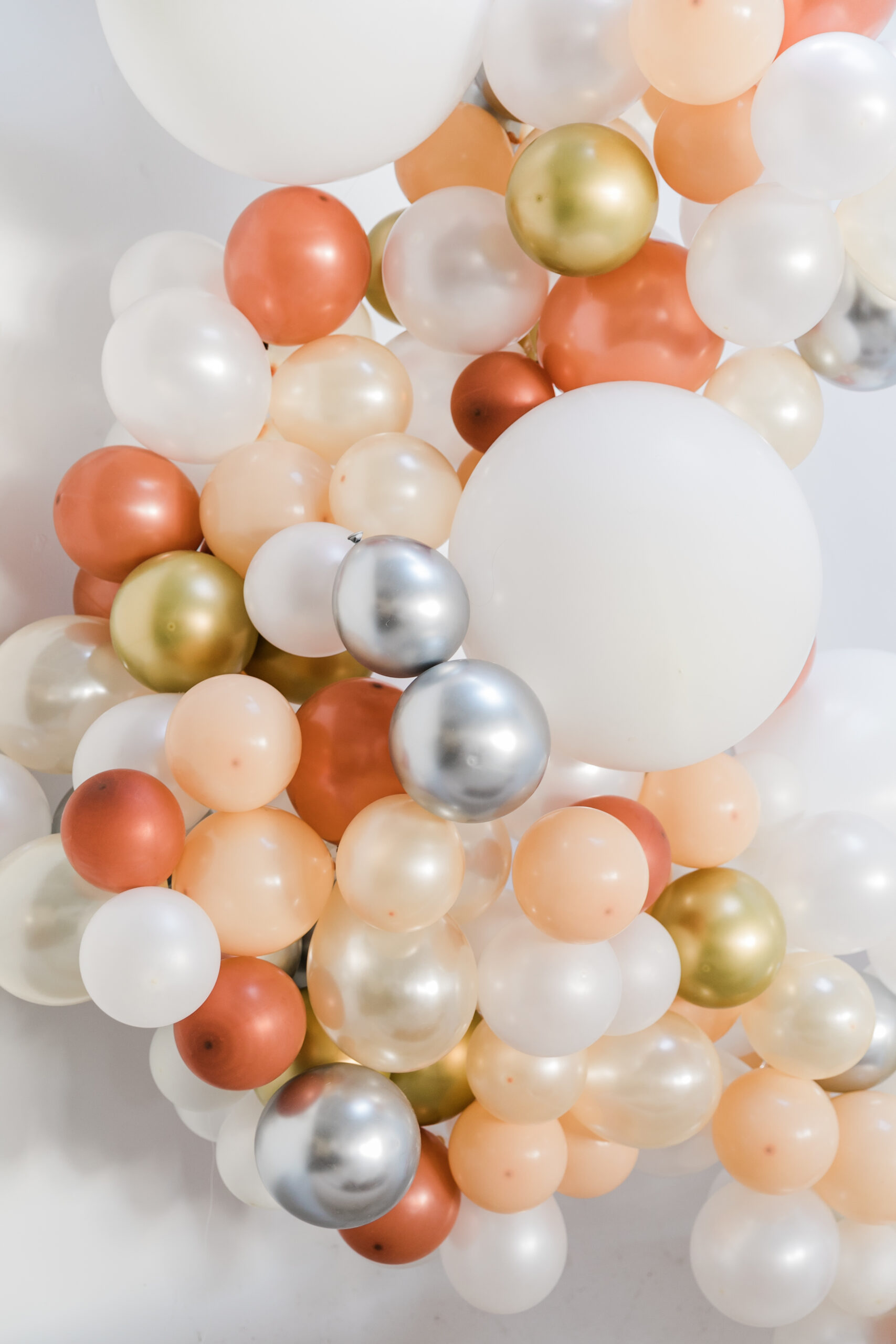 Gather Supplies: Back in January when we had our baby shower, we decided on this DIY balloon garland when we learned it was going to cost $1300 to pay someone else to build and install it for us. As it turns out, it's not the supplies that ring up the price tag, it's the labor—because a balloon garland is quite time-intensive. (Making it a perfect distraction for those aforementioned bored kids!) All you really need to spend is about $75-100 on balloons, balloon garland tape, and an electric balloon pump.
The tape is ingeniously designed for stringing the balloons together without needing any fancy skills on your part. And the $18 for the electric pump is so worth it, because you don't want anyone passing out while blowing up balloons! As for the balloons themselves, you could easily cut your costs even more by purchasing only one or two colors of balloons. I ordered several colors to create the warm neutral palette I was envisioning, and we had tons of leftover balloons because we only used a handful of each color. Each pack of 100 balloons costs about $10—and a garland this large uses about 200 balloons total—so you can see how inexpensive it would be to use all one color!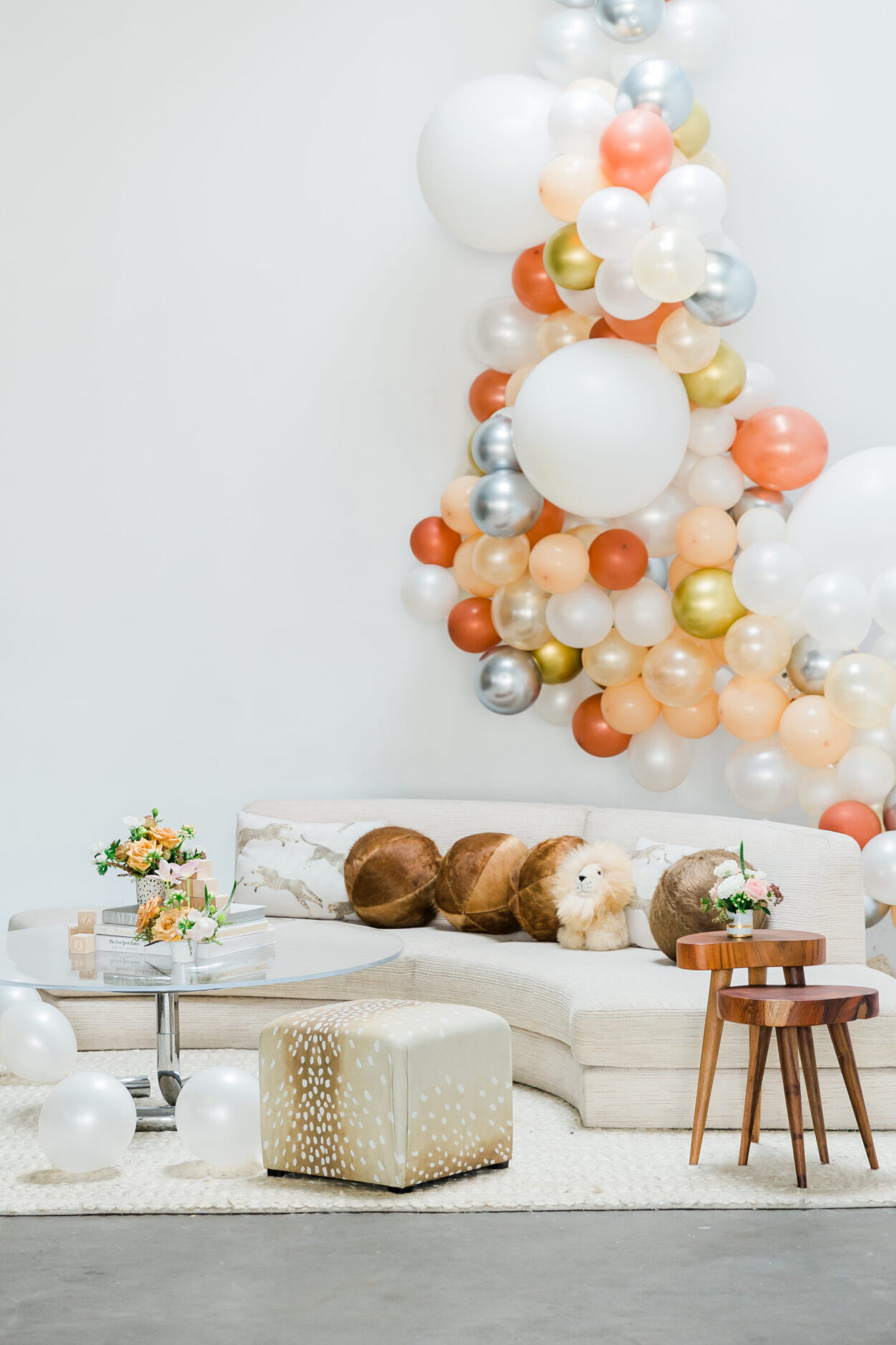 Enlist a Team: Here's where your troop of quarantine buddies comes in handy. (Or post-quarantine we can just call them helpful friends and family.) When we assembled our DIY balloon garland for the baby shower, we had four people and it took us about three hours to complete the installation you see here. We divided the labor, assigning two people to blow up and tie balloons while the other two strung them on the tape. Could one person create a balloon garland by themselves? Absolutely. There's nothing about this that's physically demanding or complicated. It would just take that much longer.
I will say that for safety's sake, it was nice to have someone hold the ladder while the other suspended the garland from the ceiling. (We tied a loose end of the garland tape to our rafters to do so.) However most people don't have 25-foot ceilings to contend with as we did! A mom decorating a standard 8-foot high dining room for a little one's birthday could certainly do this on her own, fueled by coffee and cupcake frosting. Just loop the end of the garland tape around a curtain rod, a chandelier stem, whatever's handy. The completed garland won't be heavy, making the risk of damage to your house low!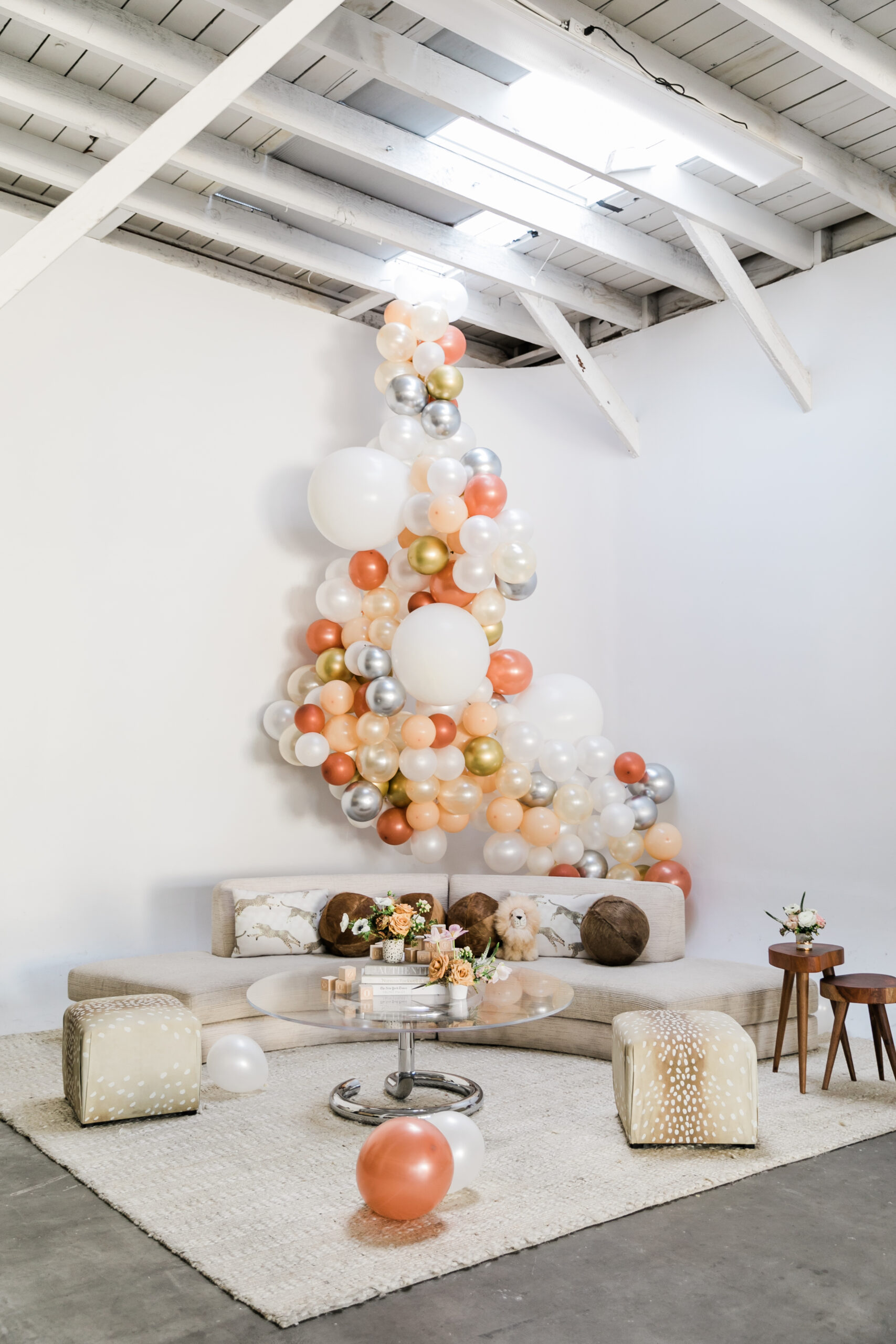 Go with the Flow: We wanted our DIY balloon garland to have an organic, amorphous shape—so we didn't use any kind of plan or design. We simply started stringing balloons together and varied colors as we went along. Once we had a long, central strand that reached from ceiling to floor, we added a shorter arm onto each side to fill space horizontally. Where there were any gaps, we used glue dots to attach one-off balloons to balloons that were part of the strand.
To get the varying sizes amongst the smaller balloons, simply inflate some less than others. Oh, and those extra large balloons? As you can see from our DIY balloon garland, you really only need two or three to anchor the whole construction. Any more than that and it starts to get quite unwieldy. I love how the end result looks as though it has grown from the wall. It reminds me of a distant star nebula. Glorious!
Here are the links for everything we used in our DIY Balloon Garland! 1. Balloon garland tape 2. Electric balloon pump 3. Glue dots 4. Extra large white balloons 5. Silver balloons 6. Small white balloons 7. Peach balloons 8. Rose gold balloons 9. Metallic brown balloons 10. Metallic gold balloons Images: Vanessa Tierney Photography.