Finding the perfect combination of pieces for a living room is a journey! In our home, I started with timeless basics. A cream colored sofa, plush Moroccan rug, and classic midcentury chairs lay a versatile foundation. But things didn't really start to jive until I layered in mix and match side tables. They really elevated the space from basic to brilliant!
Knowing how to mix and match side tables can be tricky. You want each of your tables to have its own personality, yet also complement the others as well. Plus, of course, they need to serve a function in addition to looking great!
I found all of the side tables in our living room at AllModern—which has long been one of my go-to's for their perfectly curated selection of stylish, versatile, and well made finds for the home! They've just opened the very first brick-and-mortar AllModern store in Lynfield, MA, and I'm dying to go see it in person.
But for now, I'll keep happily shopping at AllModern.com as I did for our living room. Here are the tips I kept in mind as I was picking out the perfect mix of end and side tables for our space!
How to Mix and Match Side Tables to Add Personality to a Room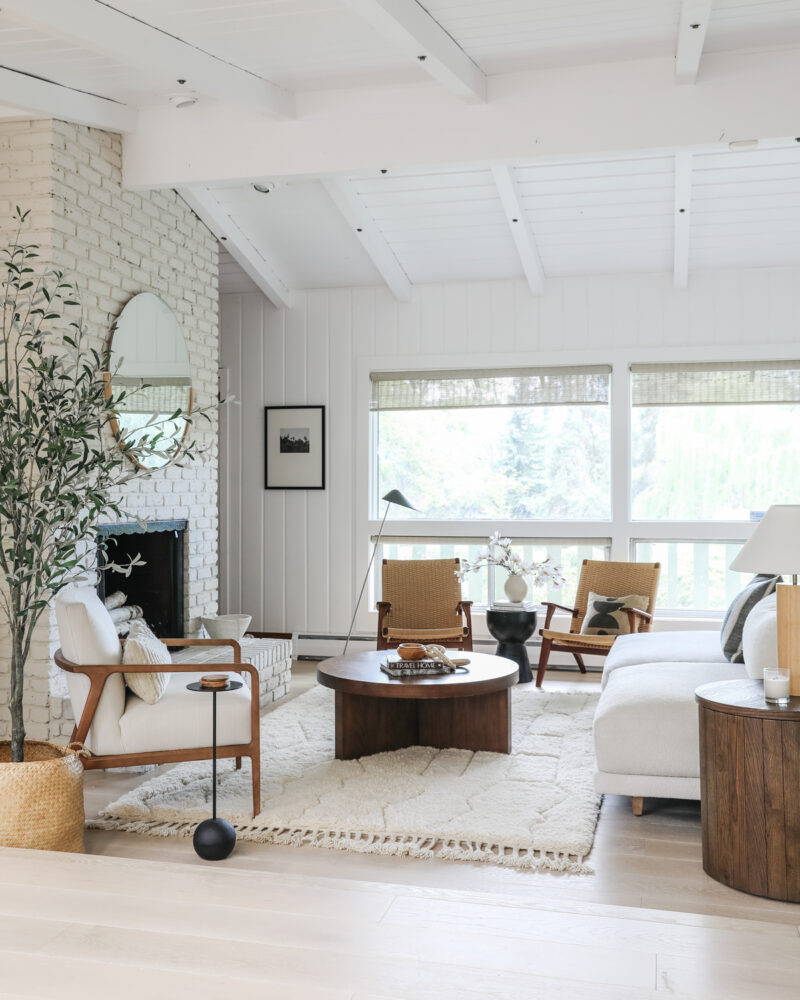 INCORPORATE THE THREE DIFFERENT TYPES OF SIDE TABLES
Side tables come in many different sizes, of course, but generally can be broken down into three main types. Choosing at least two of these three types ensures that you have an eye-catching variety. It also ensures that all your functional needs will be met.
1. Large side tables are sometimes called cocktail tables (not to be confused with the tall cocktail tables you see at parties!). They average 20-24″ wide and 20-24″ tall. The solid wood end table I chose for next to the sofa is a perfect example of how this style can be used to anchor a floating piece of furniture. This type of table often also has shelves or drawers, making it great for storage and display. A large side table can also be a good spot for a sculptural table lamp, since it won't be overwhelmed by its competing scale.
2. Sized anywhere from 12-18″ wide and 16-19″ high, medium end tables are the workhorses of the room. Like the gorgeous black drum table between my woven arm chairs, they tie together paired seating—but also make a single chair feel less like it's just floating. This style of end table is sometimes labeled as an accent stool, an apt descriptor since it can be called into service as extra seating when you have guests! I've shown it styled here with flowers in a ceramic vase. But when our living room isn't in "photo mode", we place a bluetooth speaker on top of it. Talk about versatile!
3. Martini tables or pull-up tables are the party animals of the bunch! Their small size—usually 8″ in diameter—means they can play the field and be moved wherever they're needed in the moment. They also tend to offer the most opportunity for adding an artful touch with unusual shapes and materials. The playful outline of the black steel martini table I placed next to our upholstered midcentury armchair makes me smile every time I see it!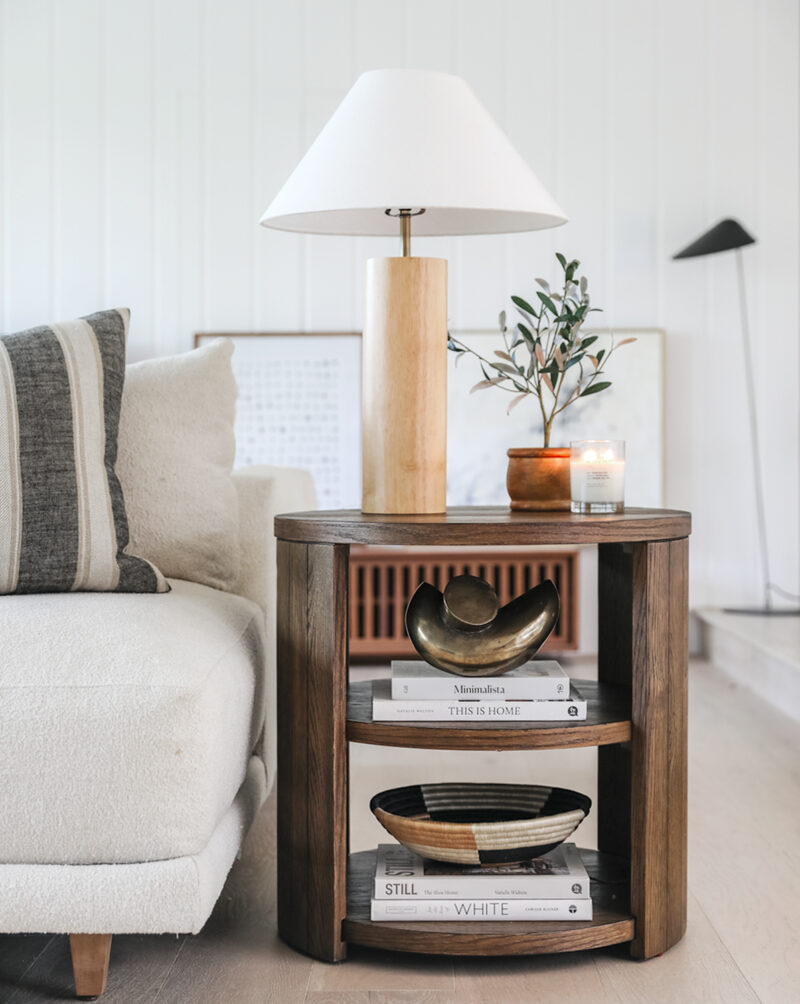 CHOOSE COMPLEMENTARY FINISHES AND SHAPES
When deciding on materials and silhouettes for your end tables, anything too matchy-matchy feels contrived. However, too eclectic of a mix will feel chaotic! As with all design choices, the key is balance.
For finishes, I like to keep the number two in mind. In our living room, I've got the two black side tables and two larger walnut tables (including the coffee table). The combination provides just enough variety to move the eye around the room while still creating a sense of harmony. (Of course, rules are made to be broken, but this guideline is a good starting point at least!)
As for shapes, rectangular and round accent tables can be combined in the same room. However, the safest bet is to stick with one or the other for all of your tables. Since our furnishings and our fireplace hearth have a lot of strong, angular lines, I opted for a mix of curved tables to soften the space.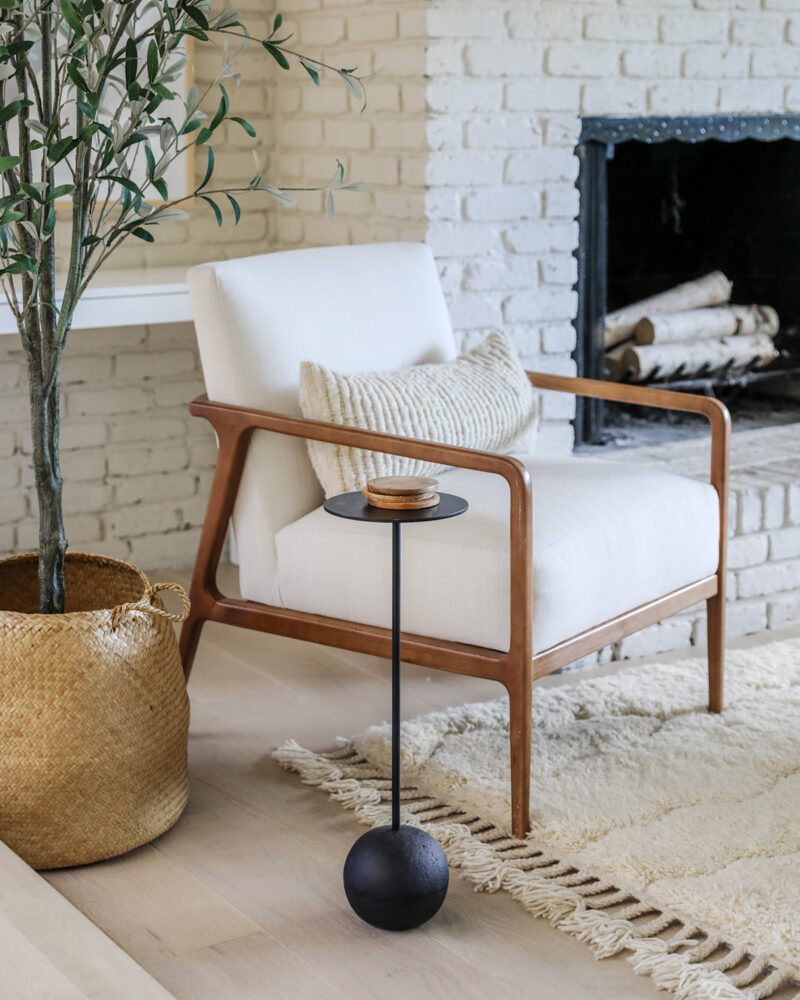 LOOK FOR INTERESTING DETAILS TO MAKE A STATEMENT
Paying attention to the small details will take your mix and match side tables to the next level! Take, for example, the quirky shape of this martini table. Not only is it charming in and of itself, but the spherical base echos the half-sphere top of the drum table across the room. And its single skinny leg mimics the stem of the slim black floor lamp over the woven chairs!
With a table that petite, the corner was feeling insubstantial compared to the rest of the room. So I gave that area extra substance by using a woven storage basket to house a faux olive tree. A woven lumbar pillow cozies up the corner even more. And a year after beginning our renovation, the living room really feels like it's complete!

If you're in the Boston area, be sure to check out the brand-new AllModern store for tons of in-stock finds similar to the ones I used in my living room. They're offering complementary design services too, which is an amazing opportunity to tap the expertise of the pros. And of course, you can shop AllModern.com at any time. Their shipping is so fast that everything I ordered had arrived a week later.
If you loved this post, be sure to check out how my guide to decorating an awkward space using more fab finds from AllModern's beautifully curated selection!
Disclosure: I partnered with AllModern to concept, style, shoot, write, edit, and share this post. All opinions are and always will be my own. Thank you for supporting the brands that allow me to bring you fresh inspiration!