My kitchen holds so many special memories for me. It originally belonged to my grandma, who designed it in 1965. It was the heart of the house, where my family always gathered, and it's a joy to watch my kids form their own experiences in this space. But despite its sentimentality, the kitchen's mid-century design and boring color palette didn't exactly give me that warm and fuzzy nostalgic feeling when we moved in. The kitchen just felt dated, dark, and heavy.  A kitchen refresh was needed!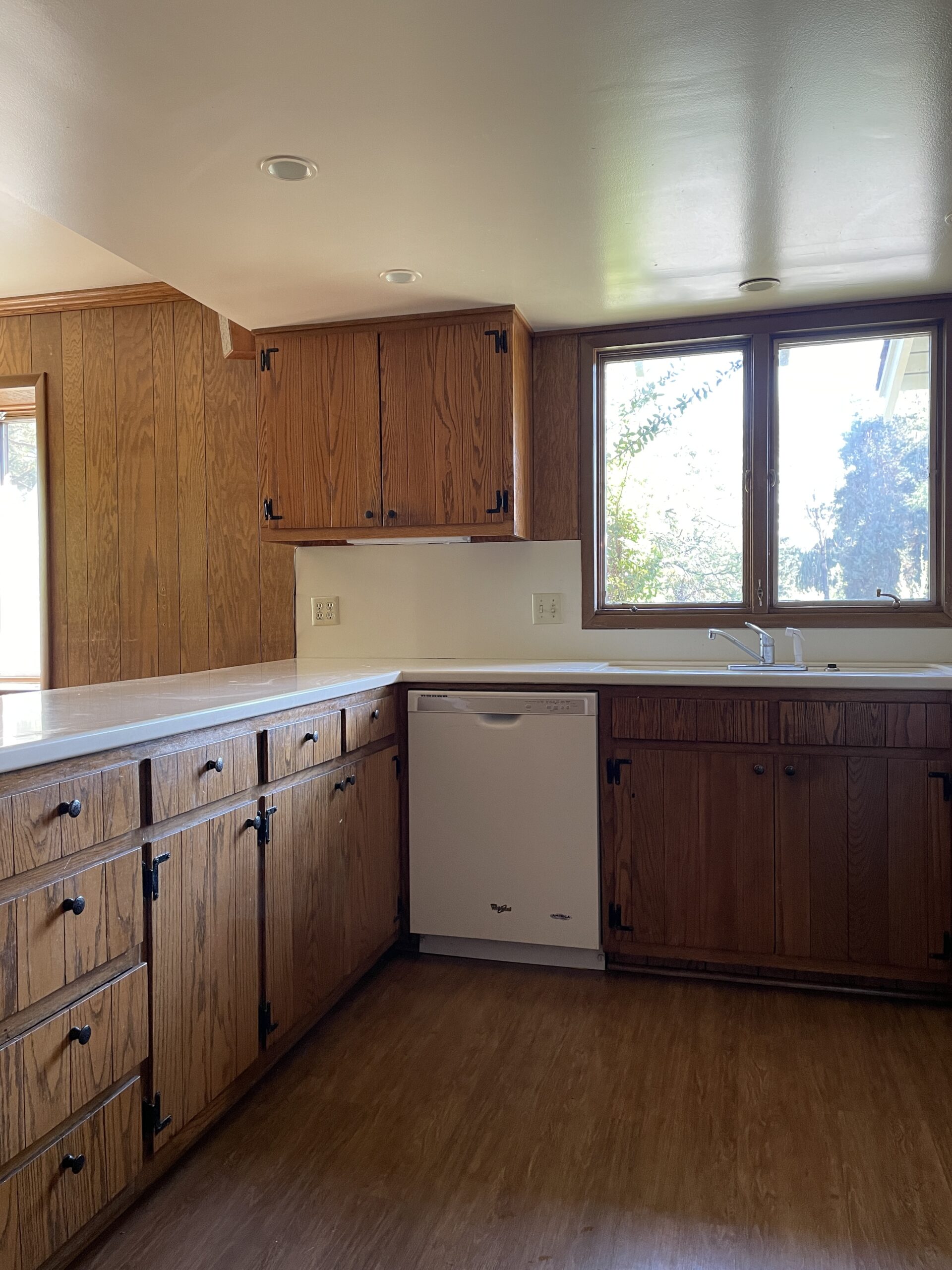 Truthfully, I would have loved to remodel the kitchen and replace everything right away, but we had other projects to tackle first. So after some deliberation, we decided to save up for a full renovation and give the kitchen a facelift in the meantime. 
A few design tweaks completely revitalized this dreary room. If you can't stand the sight of your kitchen but aren't quite ready to spend big, try this DIY kitchen refresh to make your outdated space more livable and pleasurable while you're saving up for a renovation.
Budget-Friendly Ways to Refresh Your Kitchen
Let me start by warning you that this is not a project for the faint of heart. Though it's not a full-blown kitchen remodel, it's still very labor-intensive. However, with a little preparation and elbow grease, you'll leave visitors wondering why you want to remodel at all!
Remove some upper cabinets. Our kitchen had its own journey before its most recent revival. In the past, it had even more upper cabinets. But when we first moved in, the kitchen felt too dark, partly because the upper cabinets blocked sunlight from the one window over the sink.
To let more light in and improve functionality, we removed the uppers to the left of the sink. (Taking those cabinets out revealed a gap in the wood paneling, which we patched with a few spare pieces that my grandparents kept in storage.) In their place, we added super affordable open shelving to display my favorite treasures. Yep, that's right, all you open shelving haters. Let a girl live!
Slap on a fresh coat of paint. I can't wait to replace our cabinets—they are literally falling apart at the seams. But that's a costly project that'll have to wait for the full renovation. For now, a fresh coat of paint completely modernizes the space and gives it life again.

But to be completely transparent, I actually painted the cabinets twice. The paint itself was fantastic—I used Beyond Paint, which adheres to virtually any surface without the need to sand or prime. I particularly enjoyed the thickness of the paint, as it has the consistency of pudding and leaves no drip. A little bit goes a long way, which is everything when you're trying to stay on budget.
My mistake, though, was committing to a color before testing a few options. Why do I continually neglect to follow my own advice? Always test first, people! The first color I chose, Beyond Paint's Pebble, was just a smidge too deep. But then once I started painting, I couldn't stop, and before I knew it, the kitchen cabinets were much darker than I wanted.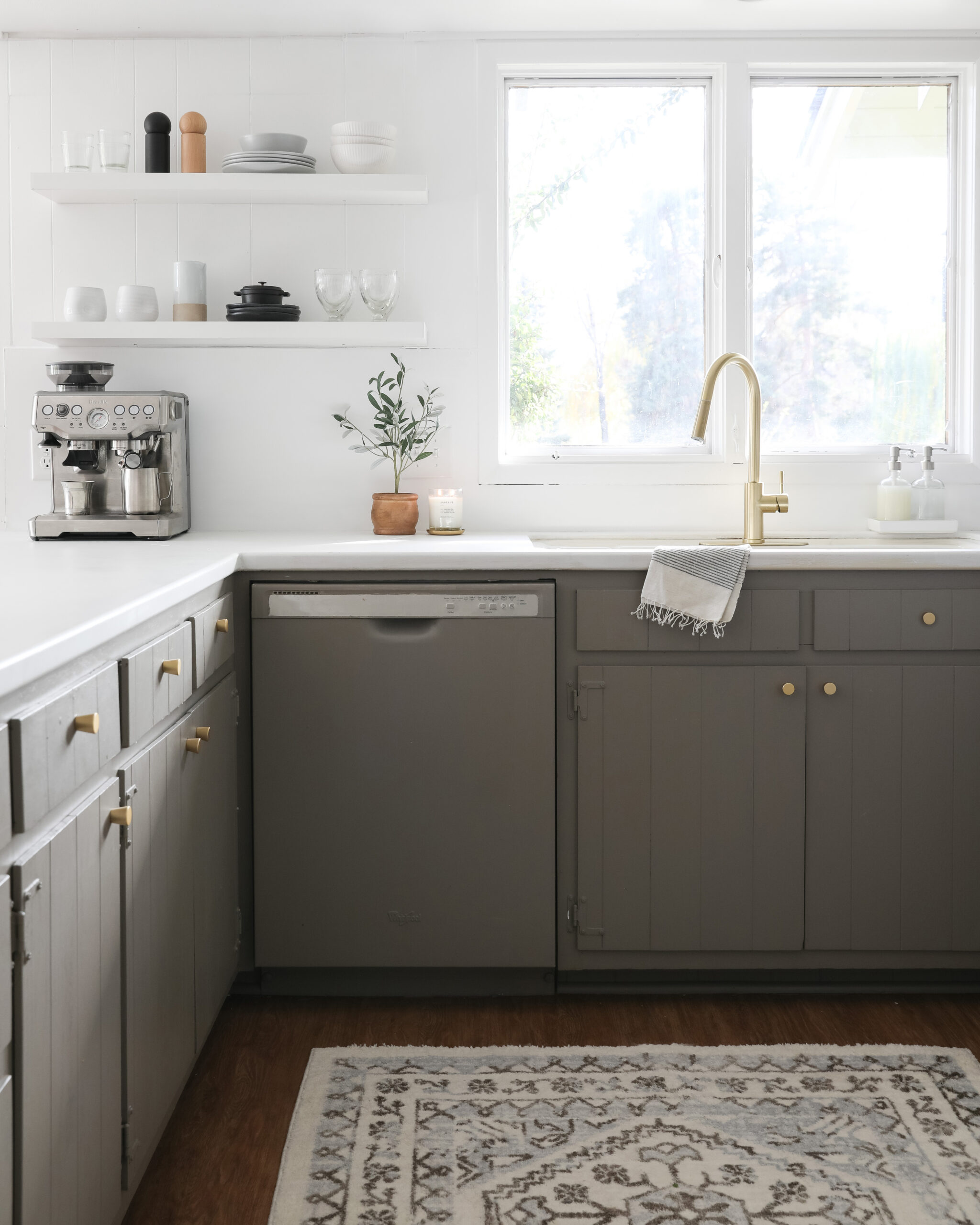 Not only was the color problematic, but my method was too. Certain paints might suggest that you don't have to clean your cabinets before using, but even a miracle paint couldn't do the trick. I mean, think about all the grease and grime that's built up on those cabinets over the past 50 years! Let my mistake be your warning, and clean your cabinets before you paint. 
After my first failed attempt, I ran to Dunn-Edwards and tried a couple samples then placed them in a few spots throughout the kitchen to see how they looked under different lighting. Ultimately, I chose Shady by Dunn-Edwards, a light, neutral greige much softer than the first color, and spent yet another weekend repainting everything I had already done. 
Pro tip: If you use a brand like Beyond Paint, you can paint your dishwasher to match your cabinets! 
Hide unappealing hinges. Isn't it funny how design trends have changed over the years? When my grandma designed this kitchen, she chose hefty, dark, pounded iron hinges that gave a colonial effect. It's definitely not my style, but I was able to minimize their appearance by carrying the cabinet color over them.
Most DIY kitchen cabinet paint guides will tell you to remove the doors altogether before painting hinges. And that's great advice if you can actually detach yours. But my decades-old hardware and teetering cabinets wouldn't have held up, so I just painted them as I did the wood cabinetry. 
Pro tip: As the paint dries, make sure you open and close the doors every so often to prevent the paint from sealing the hinges shut. The only hinge that's suffering from paint flakage is located over the fridge, a spot I couldn't easily reach. 
Give your counters a new life. To keep costs as low as possible, I painted our tiled backsplash and countertops with Beyond Paint's Bright White, then topped it off with a sealer to give a slight sheen so they didn't appear matte.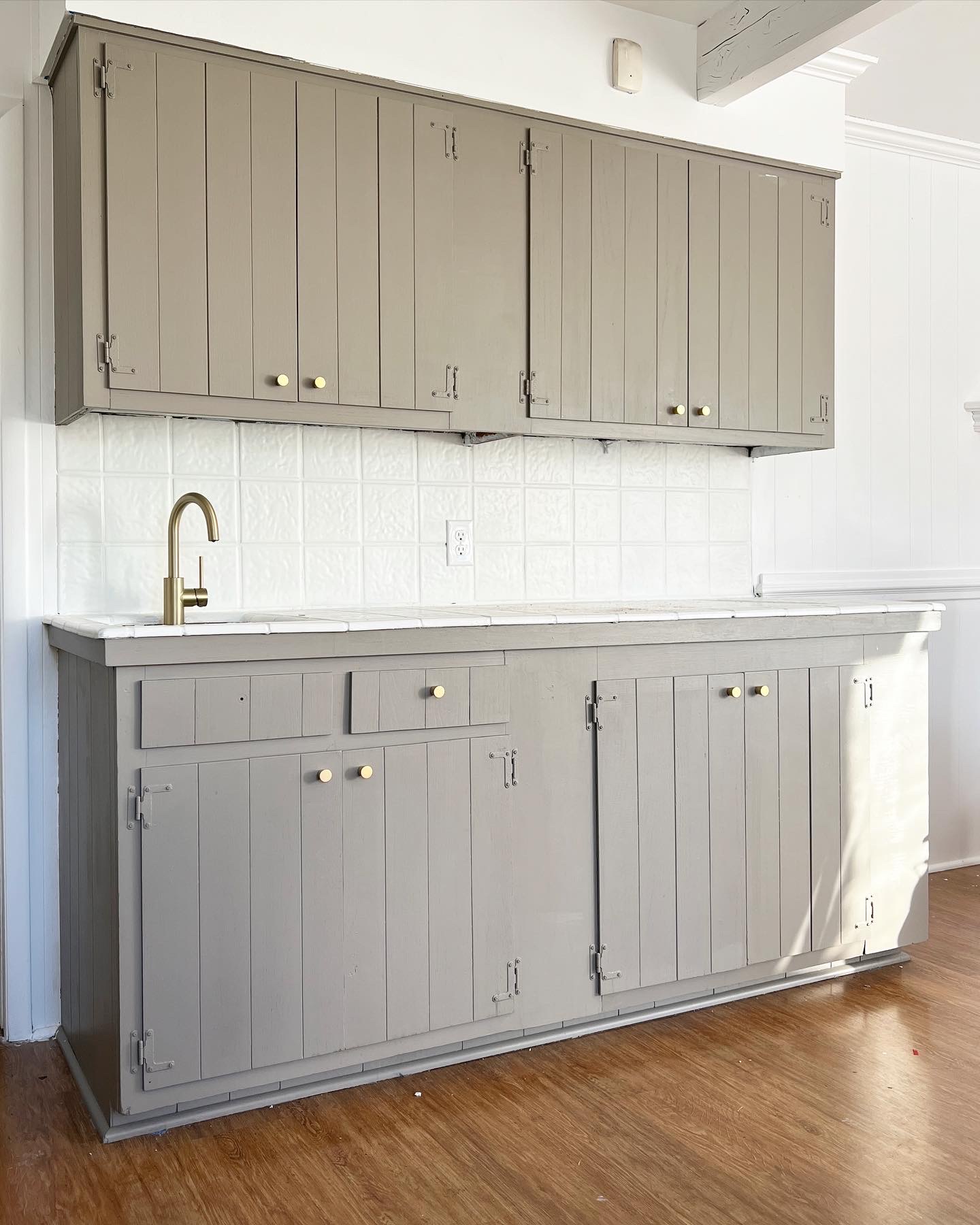 But alas, another problem arose. The counter was cracked, and frankly, no amount of paint will cover that. So we decided to spend a little extra for new counters. We found a local supplier with a beautiful quartz slab that we can later repurpose around the house once we're ready to fully commit to a kitchen renovation (I'm thinking of doing a laundry room refresh!). 
Swap hardware and fixtures. I'll preface this kitchen refresh tip by reminding you that you get what you pay for. Our kitchen and bar sinks desperately needed a facelift, but there was no way I was willing to fork up hundreds of dollars for a temporary faucet. So we chose a sleek, inexpensive faucet for the kitchen sink and an incredibly affordable, coordinating faucet for the bar. Essentially, we prioritized appearance and sacrificed on functionality—the faucet certainly doesn't feel as weighty and sturdy as a more expensive option, and the spray hose doesn't completely retract. But we can live with an imperfect faucet while we save up, then donate to a local Habitat for Humanity when we're ready.
One of the easiest kitchen upgrades you can make is swapping out your old cabinet knobs for new ones. Just make sure you purchase a few options before buying anything in bulk. If you have an older kitchen like mine, you might be surprised at how hard it is to find modern knobs that fit smaller-scale cabinetry. New knobs tend to look chunky and take up a lot of real estate on petite, vintage cabinets. These fun knobs from Amazon worked perfectly in our kitchen.
Changing a few elements in your kitchen can make a massive impact. My dad grew up in this house and didn't even recognize the photos I showed him of the kitchen refresh! It goes to show that you can have a kitchen you love without spending a ton of money. 
Are you considering a kitchen refresh in your home? Share what you plan to change first in the comments!