Years ago, I shared some snaps and experiences from our honeymoon stay at the Hotel San Cristobal in Baja, Mexico. Then recently, I returned to Todos Santos for a grand 40th birthday celebration. We clearly adore traveling to Baja, and it appears many of you do, too! Every week I get new requests to share the best food in Todos Santos.
A while ago, I put together a Google doc to easily share my faves at the click of a link. But a Todos Santos travel guide is so much better when big, juicy photos accompany it, right? So without further ado, here's what to hit (and what to miss) when you head to Todos Santos!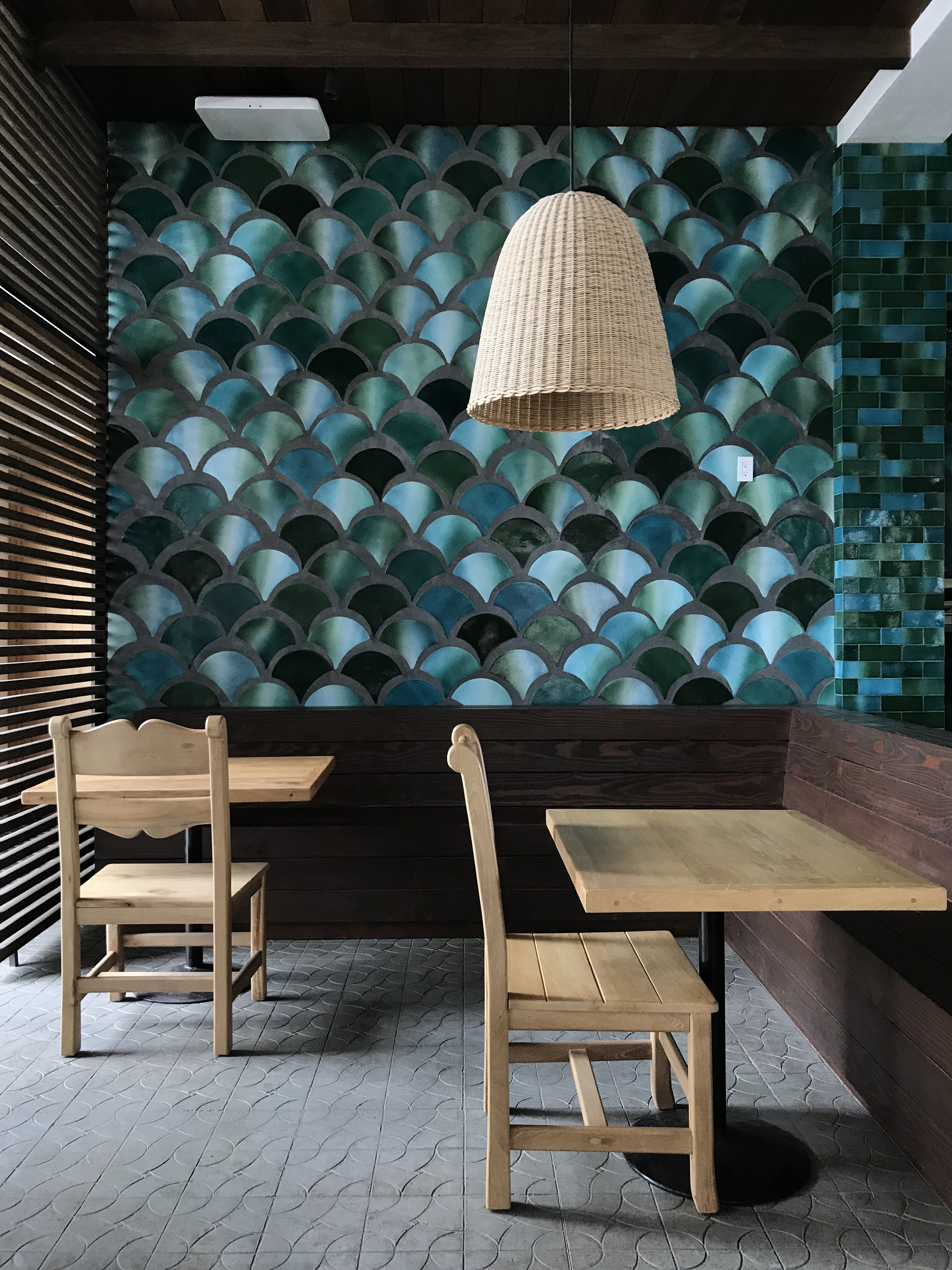 One thing we learned very quickly: Yelp reviews are not the most reliable resource for ensuring you get a good meal in Todos Santos. We tried a few restaurants that received four stars on Yelp only to find that they catered largely to tourists who valued 'cheap and fast' over 'flavorful and authentic'. Instead, our top dining experiences came from asking locals where they like to eat. So don't be shy about chatting with hotel proprietors, shop owners, and other locals about where to find the best food! Oh, and another thing to note is that each cafe and shop is closed on one or two unique days of the week, so check online or keep your eyes peeled for posted hours before heading to a particular spot.
Best Breakfast in Todos Santos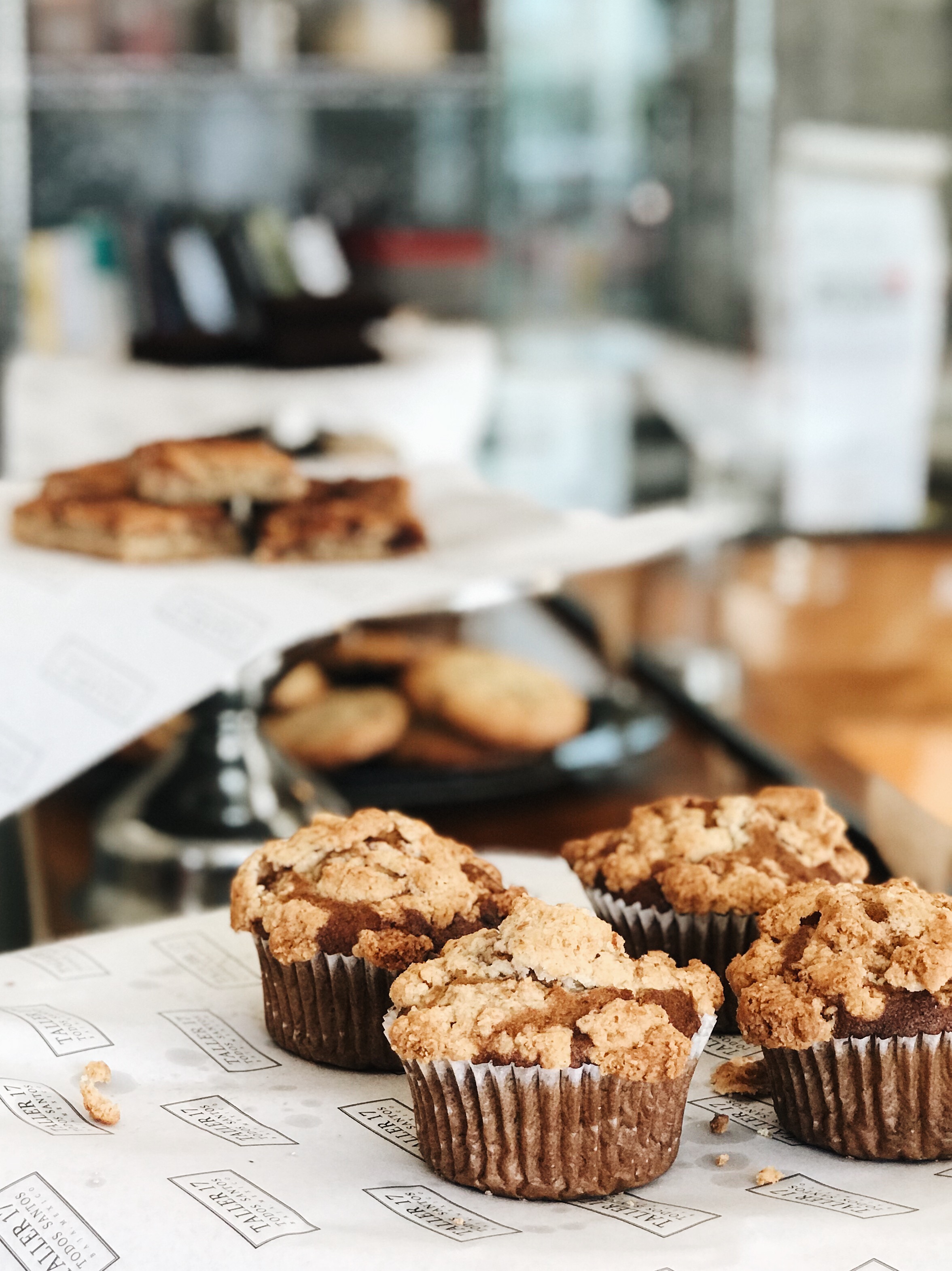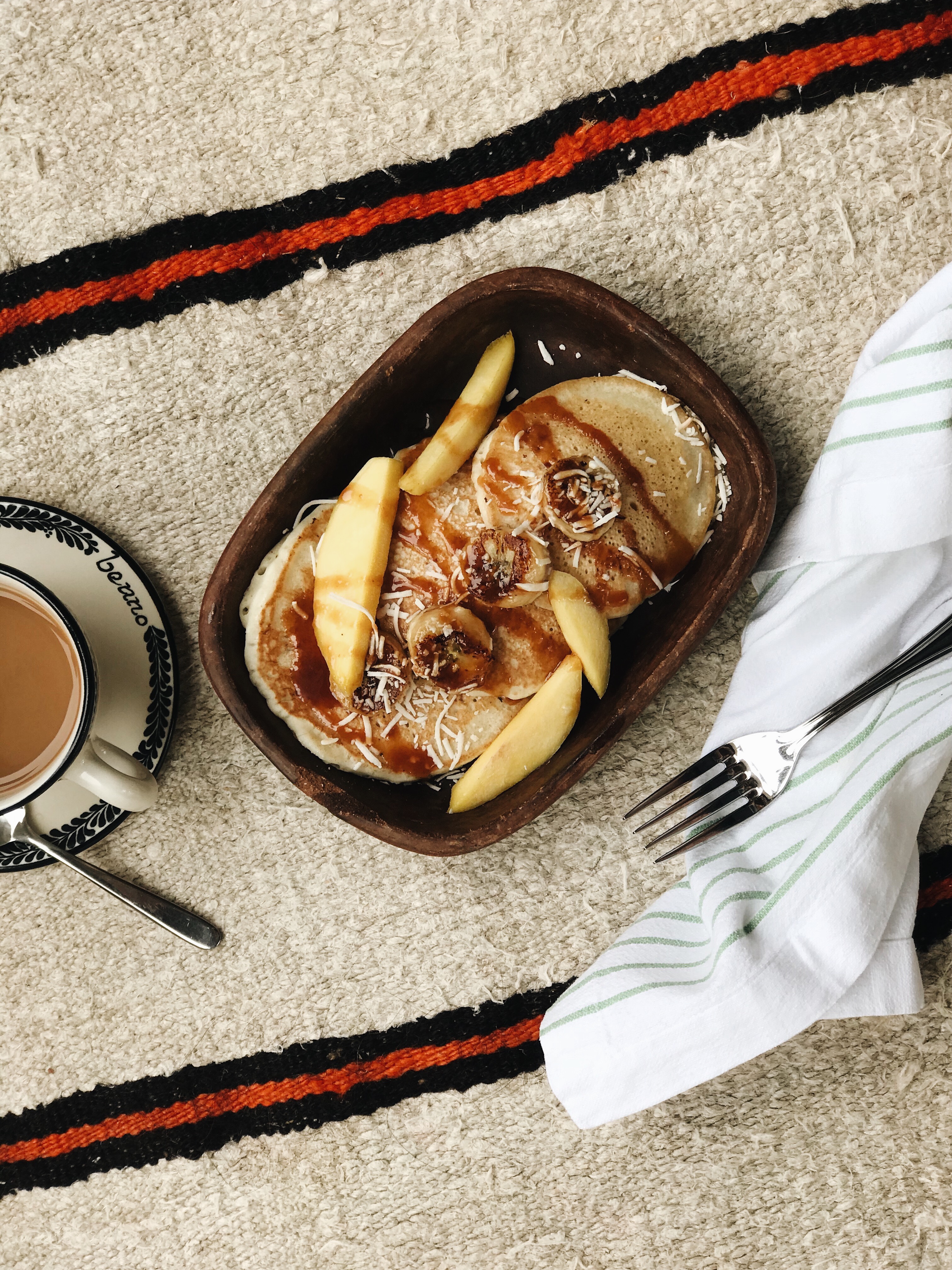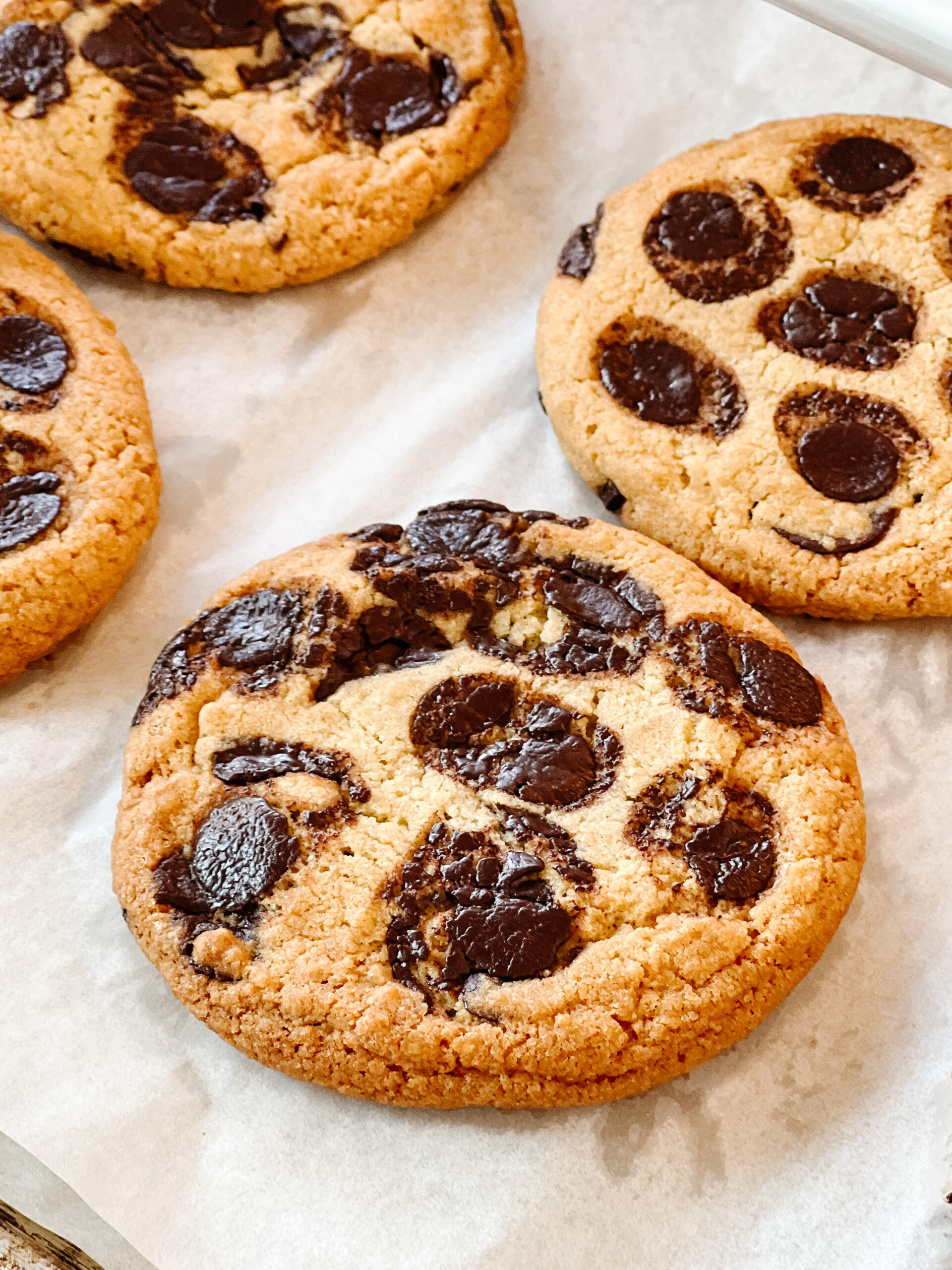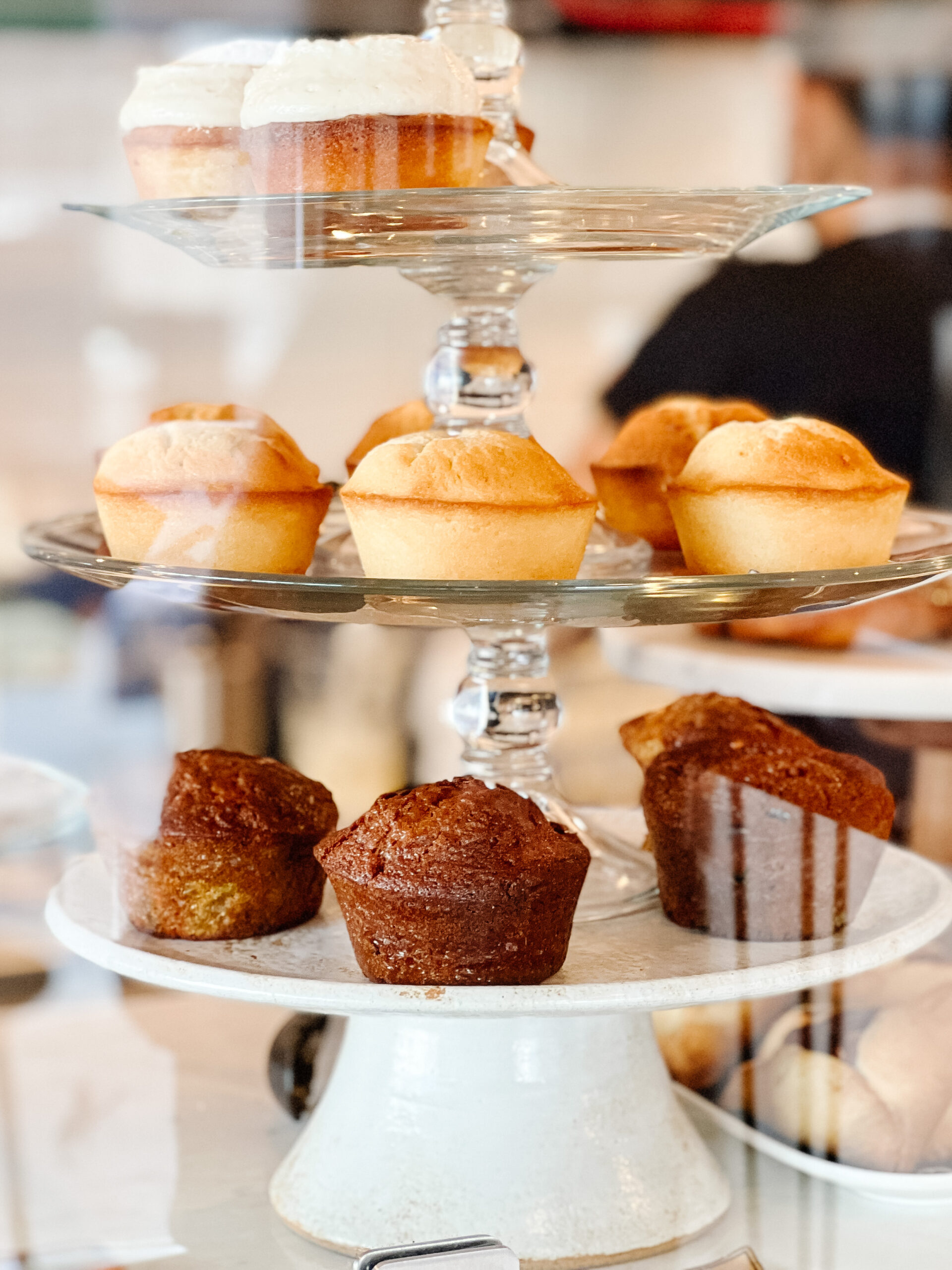 Taller 17. Without a doubt, you can find the tastiest pastries and coffee (with lots of alternative milk options, like oat, almond, etc.) at Taller 17. If you're lucky, they'll just have pulled a batch of muffins or cinnamon buns from the oven, filling the whole cafe with the aroma of fresh rolls. The breakfast pastries, like the carrot muffin, blueberry scone, and ham + cheese pastry, are amazing. But the biggest insider tip I can share is to buy a chocolate chip pecan cookie and save it for later (if you can wait to eat it, that is).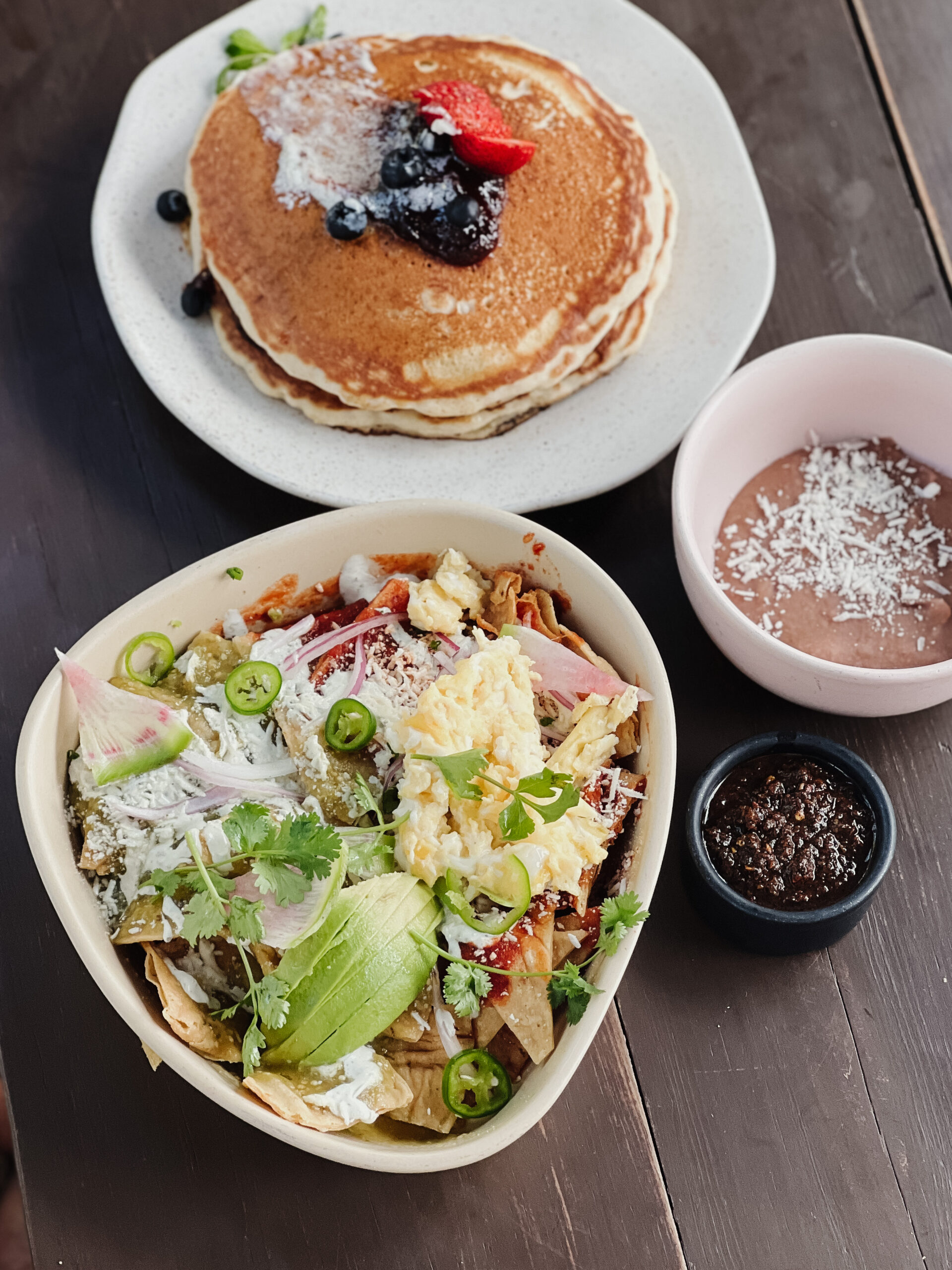 Jazamango Cafe. Owned by local celebrity chef Javier Plascencia and conveniently located downtown, Jazamango Cafe is a casual spot that's ideal for lunch, brunch, or breakfast. We had mother's day brunch here, and it was some of the best food in Todos Santos! I'm not sure if they typically take reservations, but they let us make one for Mother's Day. If you have a big group and want to book ahead, go ahead and ask at the host's station. Can't hurt to try! Almost everyone in our group ordered the chilaquiles and couldn't get enough. The sweet corn pancakes are also delicious—reminiscent of a sweet corn tamale but not too sweet. Plus, Jazamango Cafe has plenty of outdoor garden space perfect for the kids to explore when they get antsy. 
Cafelix. For heartier fare, Cafelix does scrambles, omelets, and a killer Americano (they're also fab for lunch). 
Benno. Whether you're staying at the Hotel San Cristobal or somewhere else, don't leave Baja without trying the fruit and granola bowl at the hotel restaurant, Benno.
Take a Pass: We had breakfast at Caffe Todos Santos, which got 4.5 stars on Yelp. The best thing I can say about it is that it was edible. Baja Beans also gets tons of accolades online. It's passable, and perhaps some people find the garden atmosphere charming, but I found the coffee was mediocre and the setting was hot and dusty.
Best Food in Todos Santos for Lunch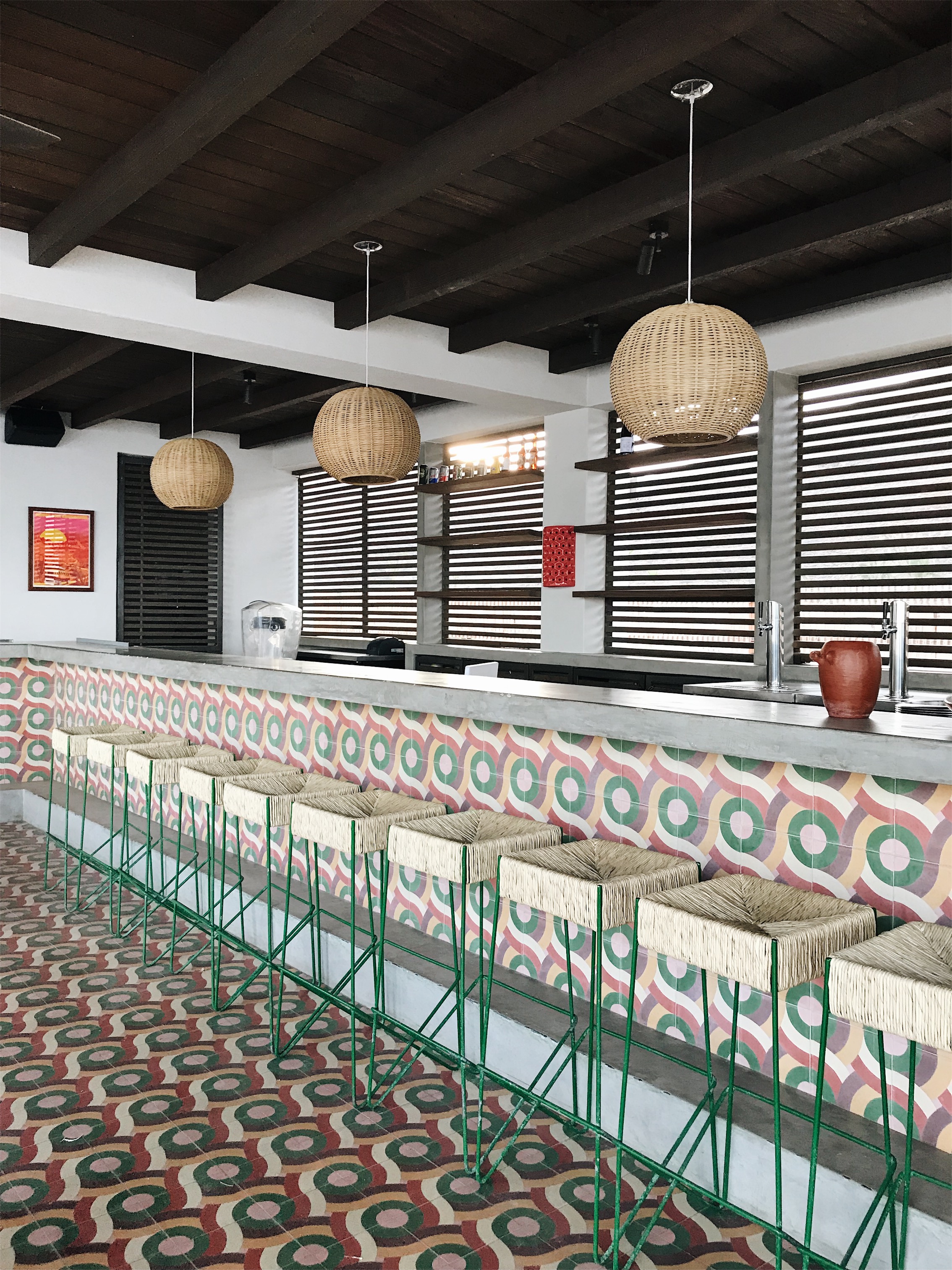 San Cristobal pool. Full disclosure, we eat most of our lunches poolside at the San Cristobal. Try ordering a couple of our favorite dishes, ceviche and huarache, a big flatbread loaded with mouthwatering toppings. Then, wash it all down with homemade ice cream sandwiches and a cocktail (the Baja Bird is my fave!).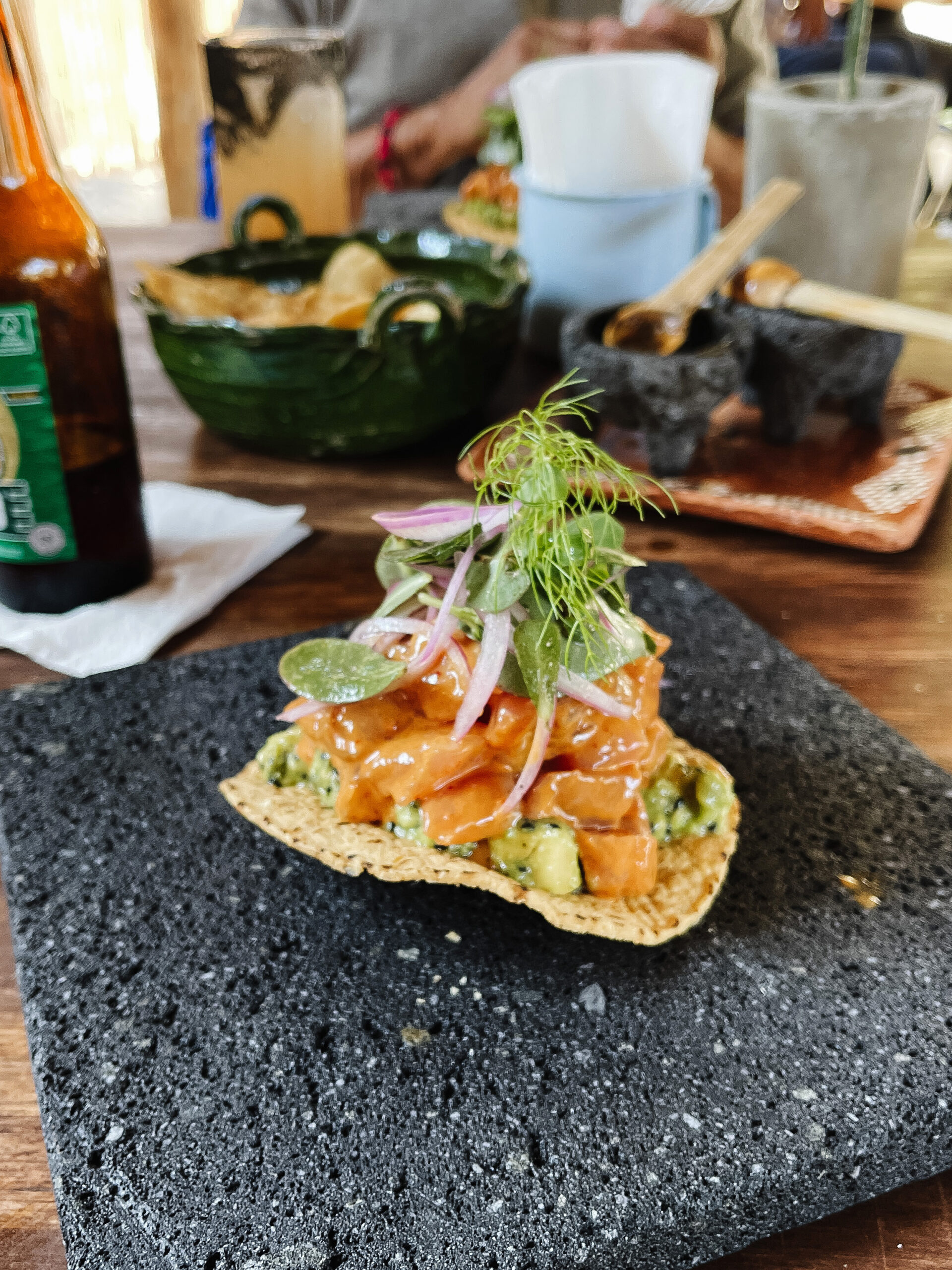 Tiki Santos. Don't let the hole-in-the-wall setting deter you from trying Tiki Santos! Seafood is a way of life in Baja, and Tiki Santos is a great example of all the unusual from-the-sea foods you won't have anywhere else. Best for lunch or an afternoon snack, Tiki Santos' ceviche tostadas are unlike anything my husband's family had eaten before (they're all Mexican born + raised and ran restaurants themselves). They absolutely raved about every bite! Tiki Santos also has a changing roster of weekly specials: fun things like squash blossom quesadillas. Wash it all down with cold beers, spritzes, or pulque, a drink made from fermented agave sap.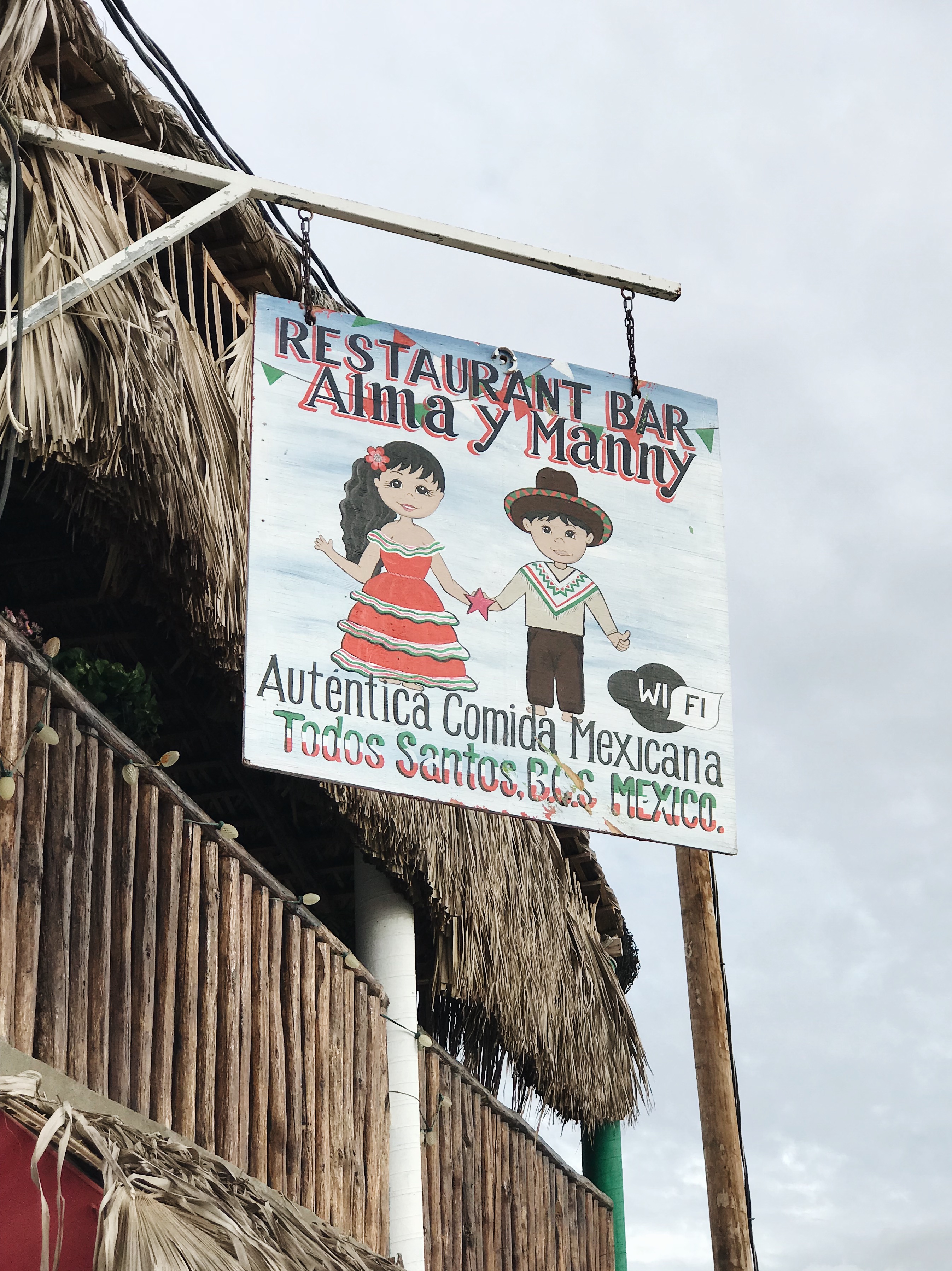 Alma y Manny. If you're craving gooey enchiladas, crunchy tacos, and other Mexican soul food favorites, Alma y Manny is the place to go. The tortilla soup made me swoon with delight!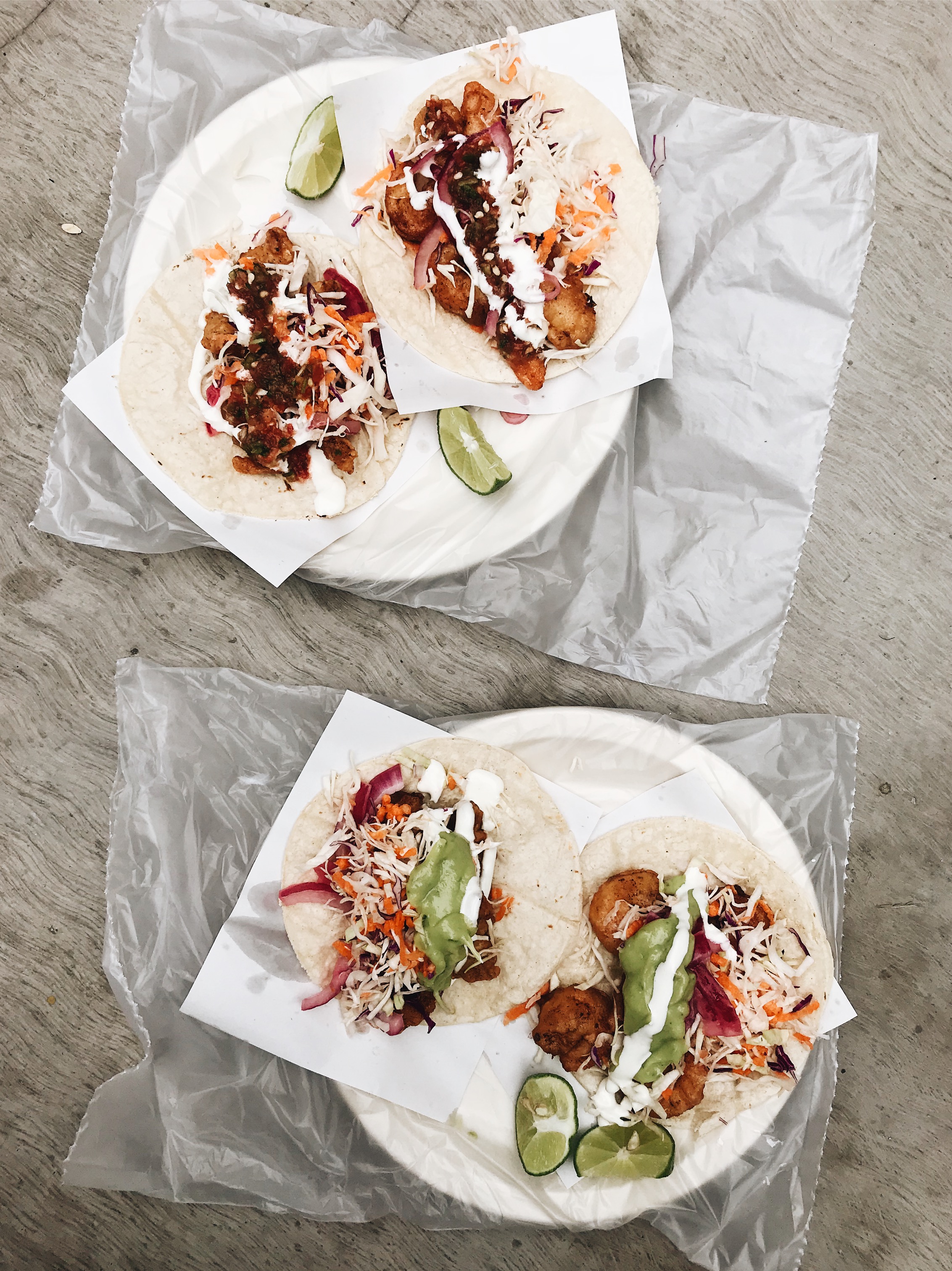 El Parguito. For traditional Baja-style fish tacos, El Parguito is definitely deserving of its 'best in town' reputation. I'm not even a seafood eater, but I went ape for their crispy battered fish tacos with all the trimmings. 
Hierbabuena. When you want a break from Mexican food, Hierbabuena is a safe bet. Their roast chicken and veggies platter really hit the spot when my stomach rebelled from all the cheese and corn chips I'd been eating on our honeymoon. Plus, you get to eat your meal surrounded by the garden where your food was grown!
Take a Pass: Mi Pueblito is a quintessential example of the overrated tourist-y places I mentioned earlier. It's one of the top-rated Todos Santos restaurants on Yelp, but based on the service and the quality of the food, it wouldn't survive more than a month here in LA.
Best Dinner, Drinks, & Dessert in Todos Santos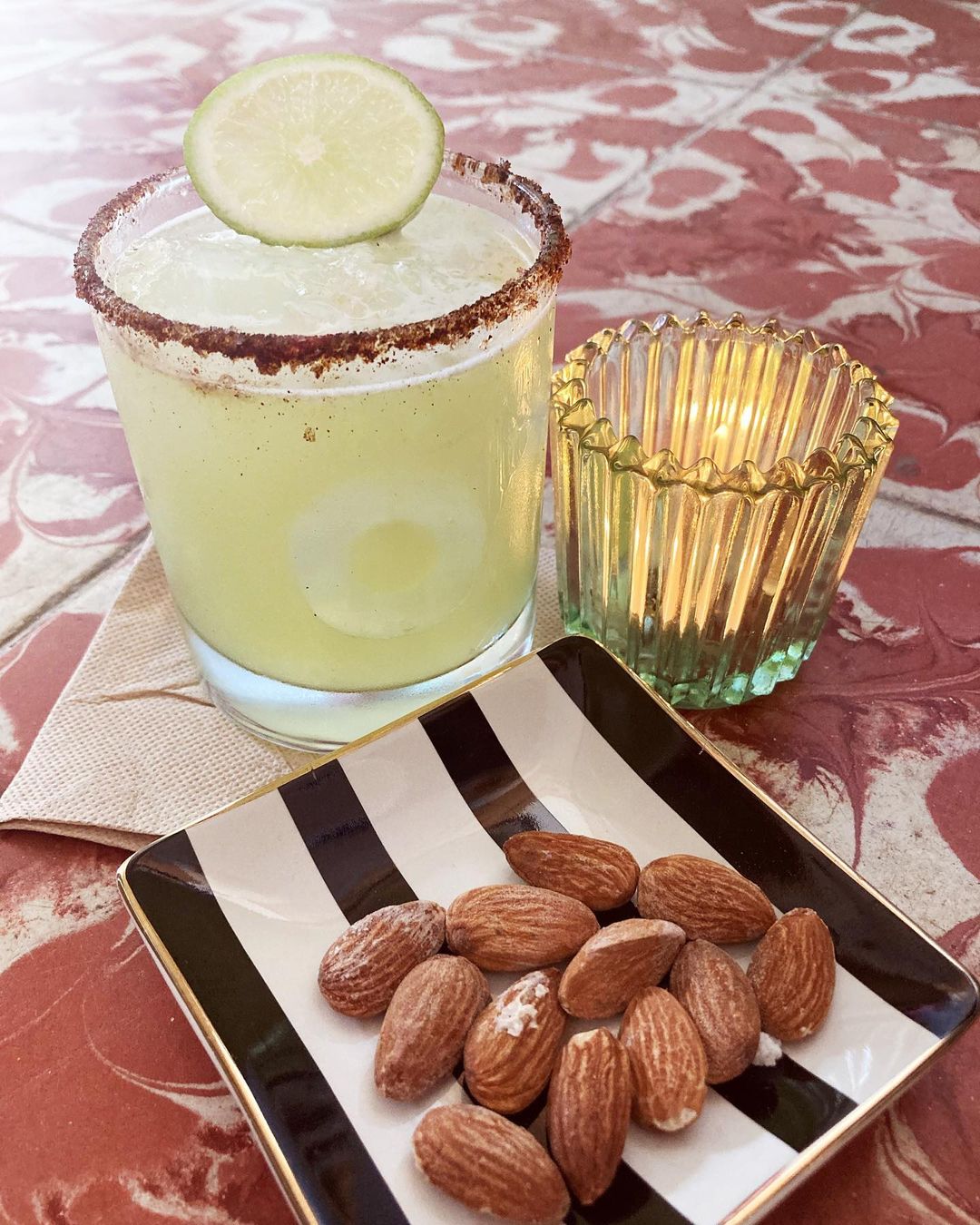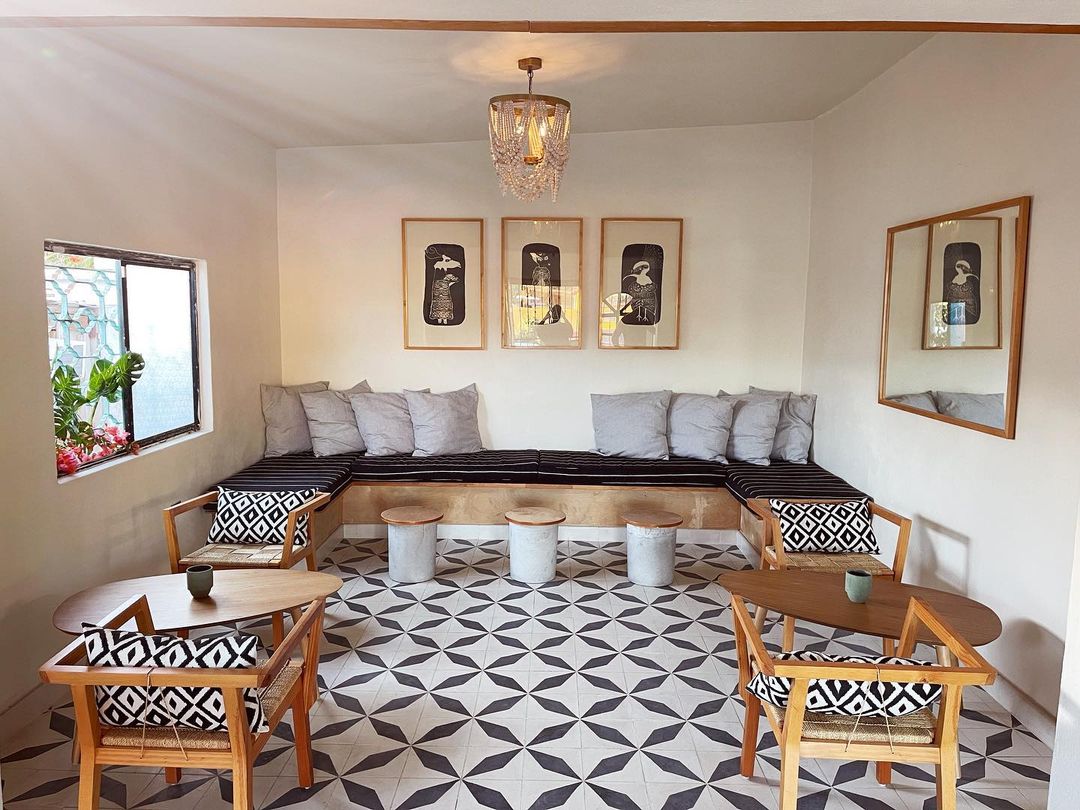 Teatro 6. This relatively new nighttime cocktail bar is the perfect place to grab a drink before dinner. (If they opened any earlier, you could probably find me there at lunchtime saying, "it's 5 o'clock somewhere!") The owner of Teatro 6 is known for creating unique cocktails with fascinating combinations that you won't experience anywhere else. The setting is just as spectacular as the drinks, with brightly colored tile, comfortable sofas, and beautiful art on the walls. This place could make a killing in a place like Los Angeles, so it's special to find it tucked away in Todos Santos.
Benno (again!). On our honeymoon, we ate two incredible dinners at the in-hotel restaurant, Benno. It's on the pricier side, but the cost is worth it to experience creative, elevated Mexican cuisine like you've never had before. Sample lots of small plates, and be sure to save room for dessert!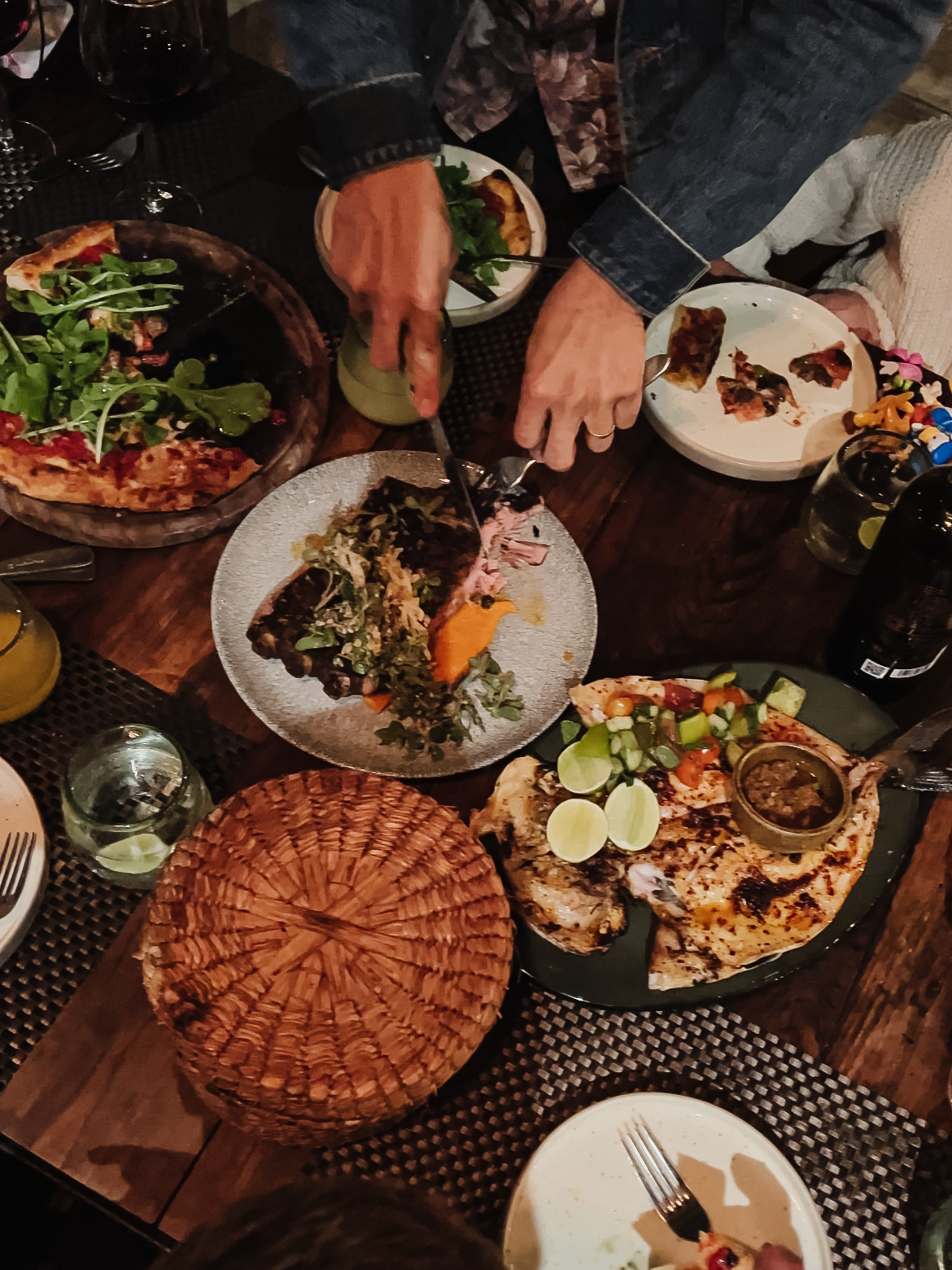 Jazamango. Make a reservation at Jazamango, a highly acclaimed farm-to-table restaurant in Todos Santos owned by the same chef-proprietor as Jazmango Cafe. Perfect for a large group or celebration, Jazamango offers big, family-style platters served hot from their wood-burning oven. It's an ideal spot for a big, festive feast (think whole fish, juicy chicken, crispy pizzas). We had my birthday dinner here, and I couldn't have been happier. All seating is outdoors in the garden, so be sure to bring a sweater if you go on a breezy day. 
Oystera. Located in a stunning old sugar mill, Oystera is the spot for a date or a special occasion dinner. The classically trained, 4th generation Mexican chef has a refined and elevated style that's still very hearty and enjoyable. Oysters, of course, are the main event here (accompanied by some champagne and special cocktails), but the rest of the menu is full of local seafood, meats, and produce. They also have a fantastic daily brunch (with mimosas, naturally).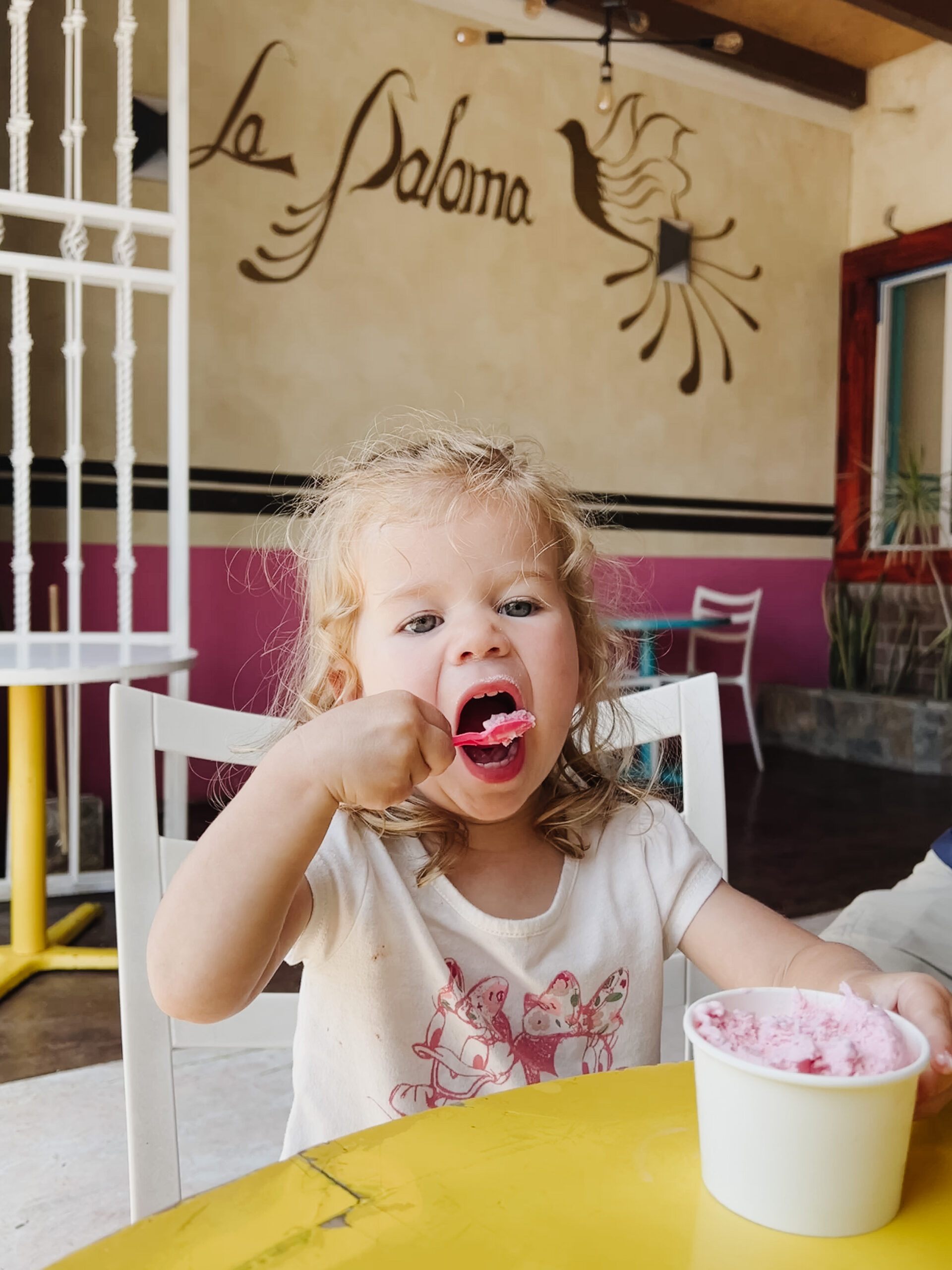 Paleteria la Paloma. If a sweet craving hits, grab an ice cream at Paleteria la Paloma. It's not easy choosing from the zillions of flavors, so thankfully, the kind staff will let you sample until you find just the right combo for your cone! 
Rancho Pescadero. Finally, Rancho Pescadero gets tons of online mentions. It lands somewhere between Benno and Hierbabuena on the price spectrum, and it's a solid bet for food (though I didn't leave feeling like I needed to rush back for a return visit). The setting is very romantic, with fire pits throughout the restaurant, and the service was terrific.
I hope this Todos Santos travel guide has inspired you to try some of the best food in Todos Santos! Have you traveled to Baja lately? Share some of your favorite spots in the comments, so I can check them out next time I head down!