Our dining room has long been overdue for an update! When we first moved into our home, we gave it new floors and a coat of white paint for a fresh slate. Our table and chairs went in immediately after so we'd have a place to eat. But I then focused my attention on other areas of the house, and the dining room languished unfinished. Until now, that is! Because in honor of the new year, I've layered in all the finishing touches I needed to create the Japandi dining room of my dreams.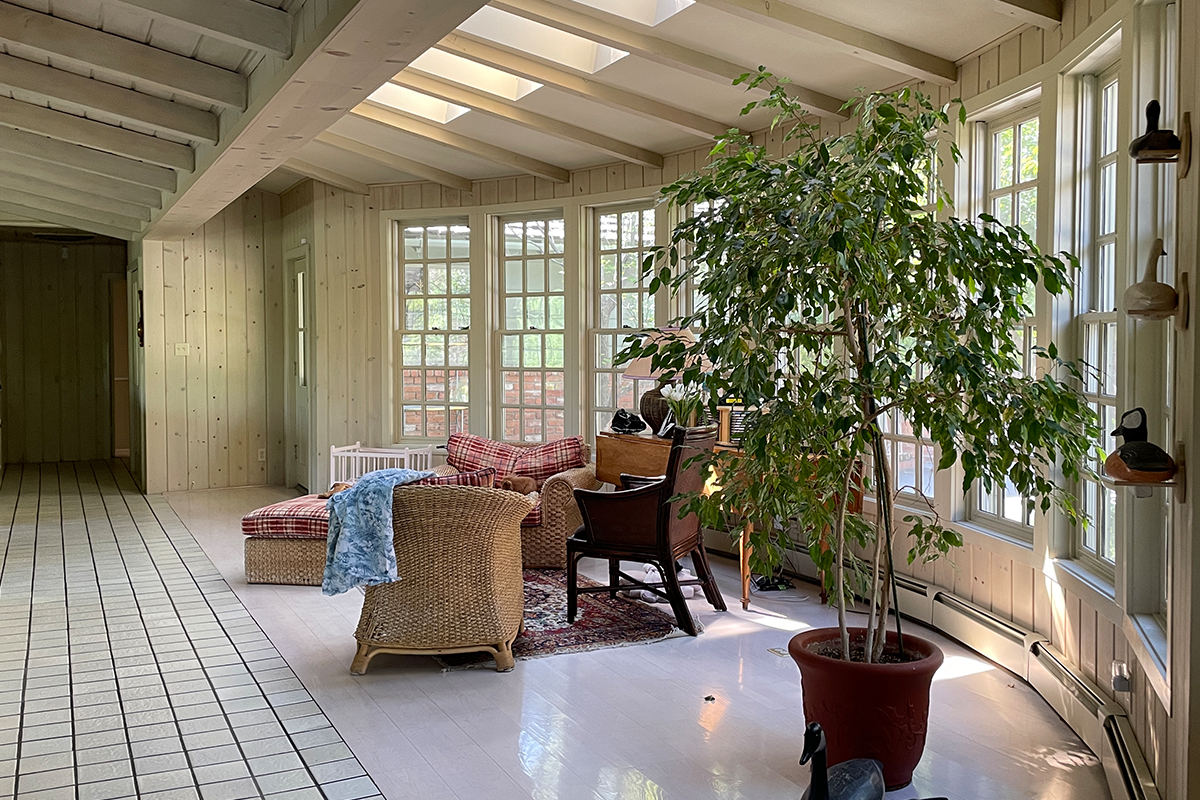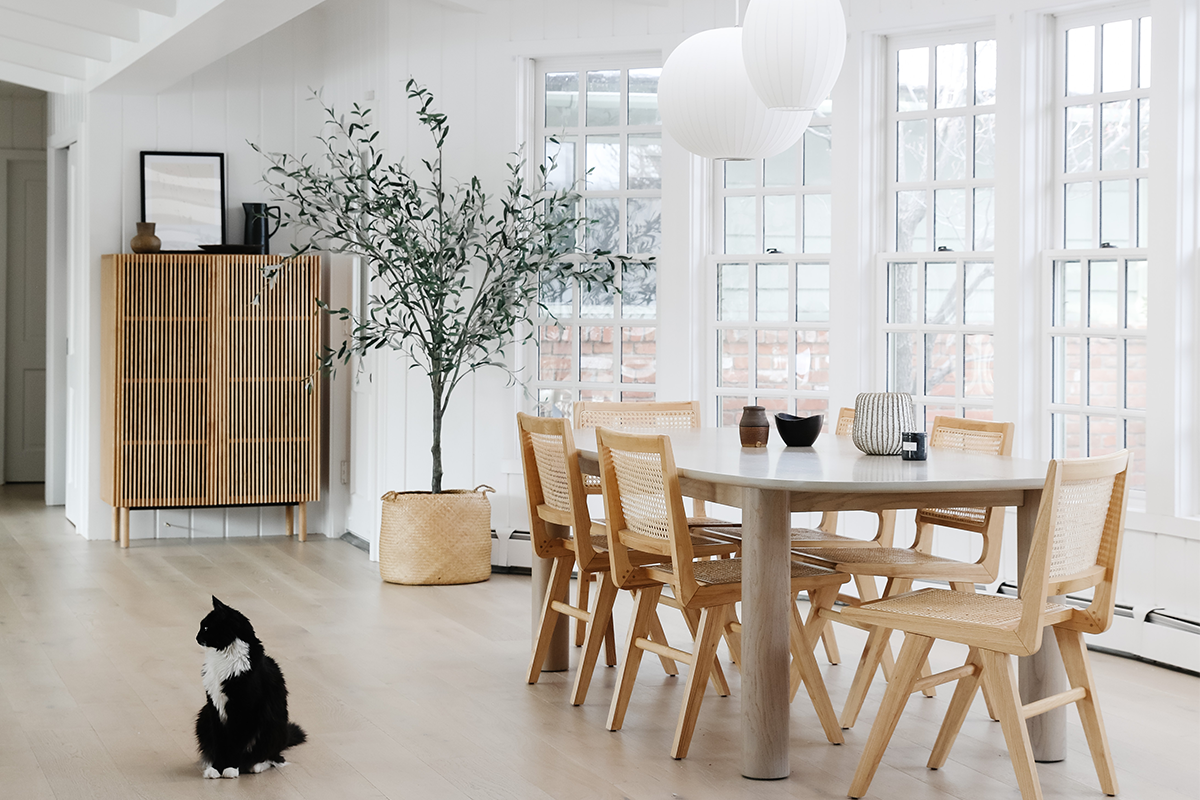 As you can see from the above before and after photos, our dining room is in an area that was used as a sitting room prior to our occupancy. The architecture lends itself beautifully to incorporating all the hallmarks of Japandi dining room design! With tons of natural light, it has a calm and peaceful feel to it—one of the signature elements that characterize the Japandi style. Here are the other pieces I chose to complete the space, and how you can create this warm, modern look for yourself using timeless finds from AllModern!
How to Design a Japandi Dining Room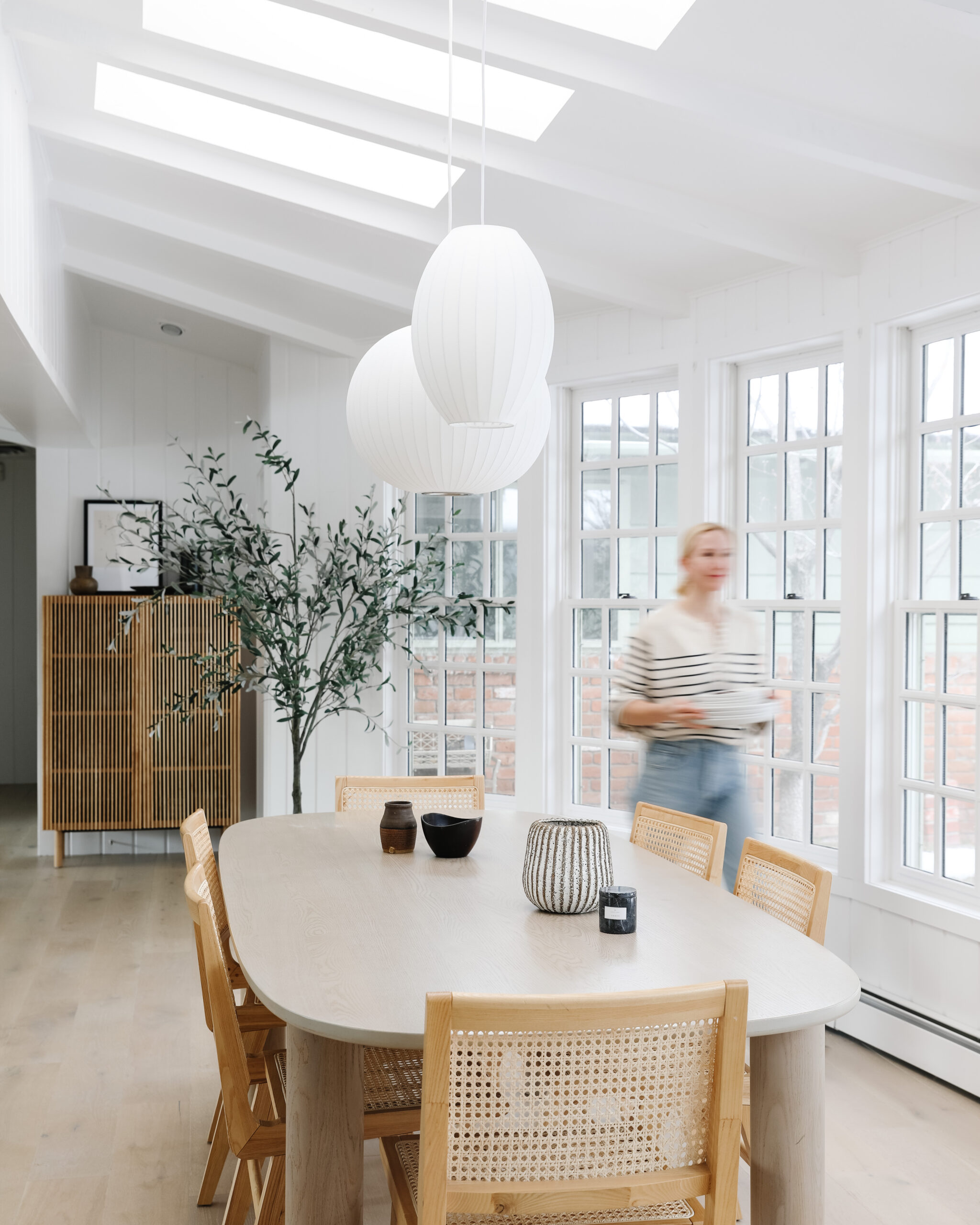 1. Choose Shapes with an Organic, Sculptural Vibe
One of my first choices for this dining room refresh was the lighting. With only skylights in the ceiling, the room gets quite dark at night. Selecting pendants to suspend over the table was not only essential for functionality, but it was the perfect opportunity to incorporate lighting that doubles as art!
I selected a globe lantern pendant light and cigar shaped pendant light that call to mind both traditional Japanese paper lanterns and iconic Midcentury Scandinavian shapes! The rounded silhouettes soften up the grid of the window mullions in the background. Plus, as a pair they create an arresting asymmetry that draws the eye to the table area. I was off to a good start!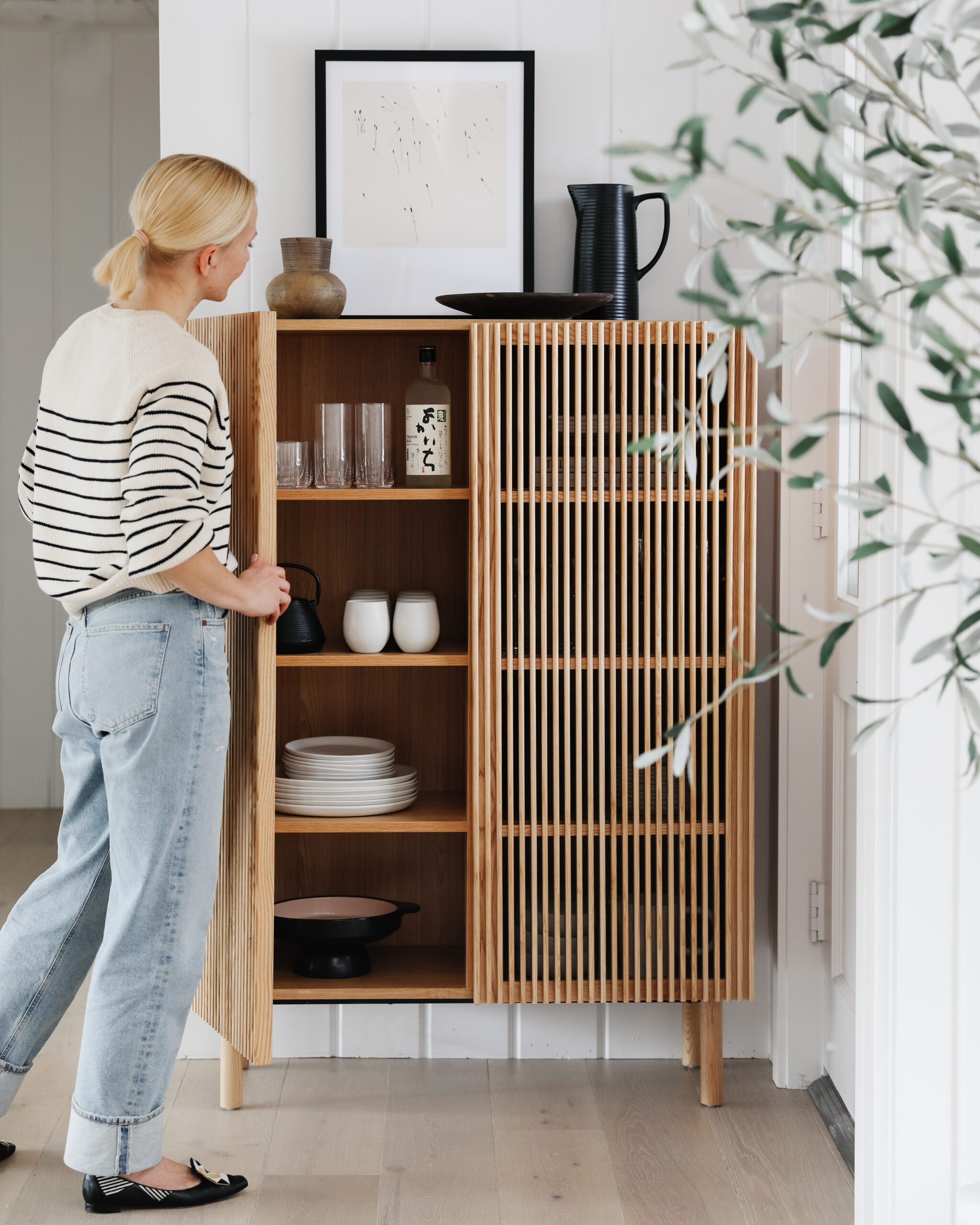 2. A Celebration of Craftsmanship
Every Japandi dining room needs elements that honor the style's blend of Japanese minimalist aesthetics with Scandinavian utilitarianism. In other words, every piece must look at once elegant and easygoing—and play a functional role as well. This slatted wood cabinet is the epitome of Japandi chic!
The cabinet's eight internal compartments provide ample storage for dishes and glassware. And the textural effect of the woodworking on the doors is truly striking—but in a quiet, goes-with-anything way. I especially appreciate how the vertical lines of the cabinet complement the board-and-batten construction of our Midcentury home's walls. The little details make all the difference, don't they?!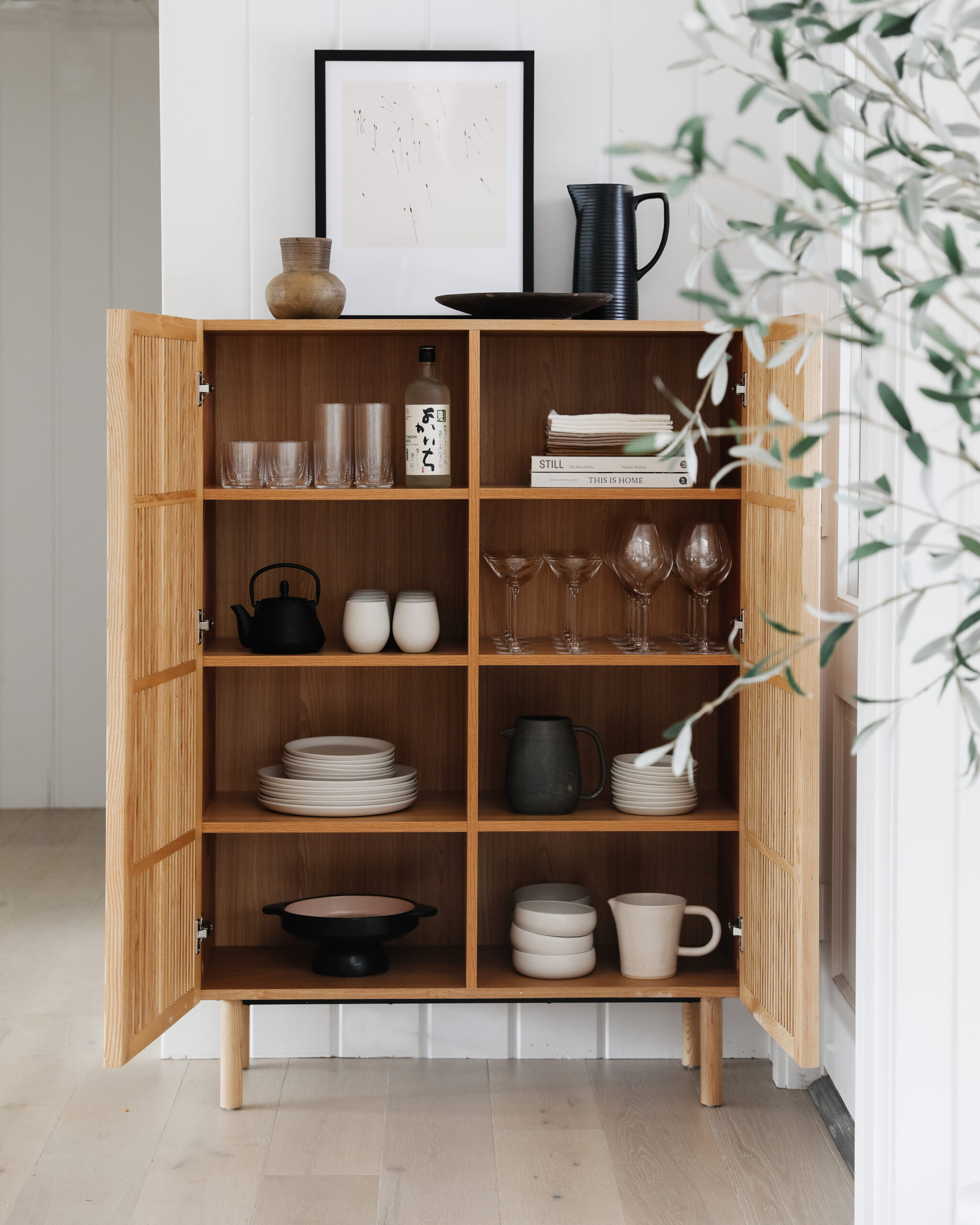 3. Curate High Quality Essentials
The spare, pared-down ethos of a Japandi dining room requires that even the small pieces contribute to the room's sense of effortless sophistication. It had been a while since I'd refreshed our dinnerware and glassware, so I took this opportunity to stock the storage cabinet with a collection of sleek, simple dining essentials.

For barware, I chose every hostess's must-haves: high ball glasses, whiskey glasses, all-purpose wine glasses, and cocktail coupes. All are handmade of lead free crystal; I wish you could hold them to experience how lightweight and perfectly balanced they are! Our new dishes are equally exquisite. The kiln-fired stoneware features a matte chalk white glaze ideal for everyday and special occasions alike—and they came in a set of six pieces so all my needs are covered!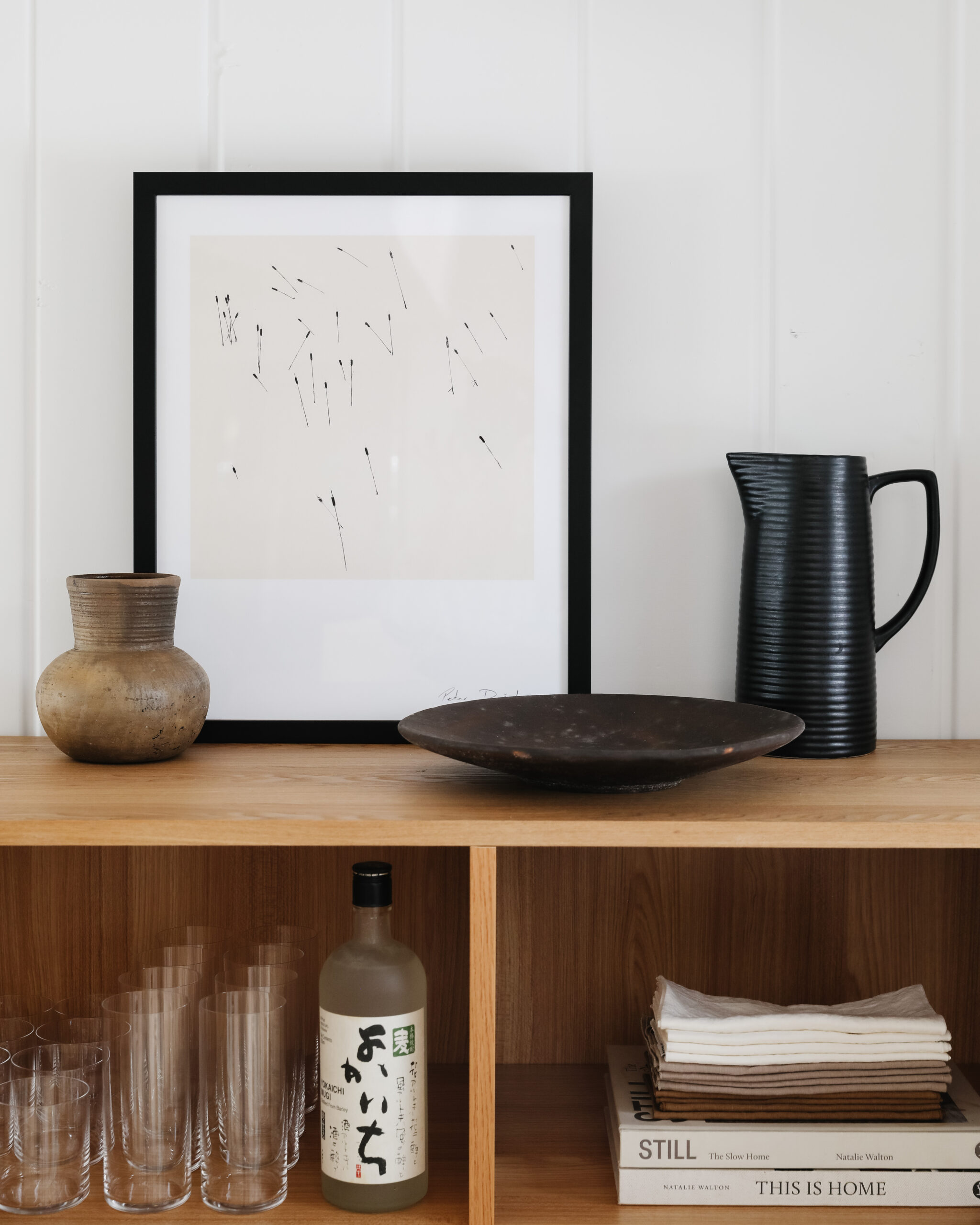 4. Layer In Earthy Contrast
A light, bright palette comprised of natural materials like ash and beech woods lays the foundation for an inviting Japandi dining room. However, a few carefully chosen dark accents add contrast as well as a rustic quality for a truly dynamic space. I placed framed artwork and some earthy ceramics atop the storage cabinet for a lovely finishing touch!
The artwork is an abstract print from award-winning photographer Peter Dusek. Notice how the warm ivory backdrop so beautifully complements the pale wood tones of the cabinet, table, and chairs—while the bright white matte and black frame make it pop! The tall black pitcher has a coiled texture that evokes the ribbing in the pendant lights. But my favorite? The stone bowl has a deep sienna finish and a worn patina that make it an heirloom treasure for sure!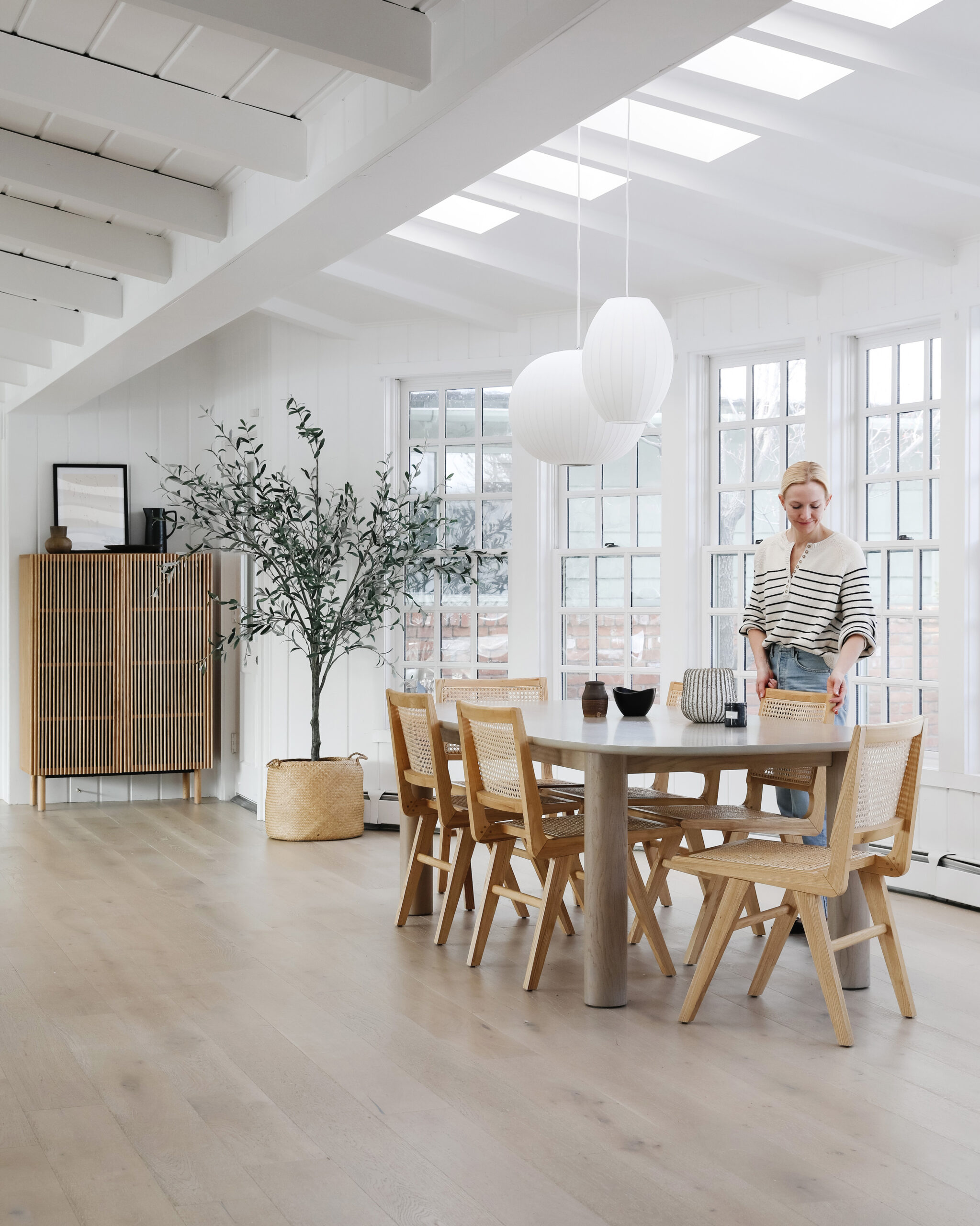 As a final nod to the eco-minded tenets of Japandi style, I relocated the faux olive tree from our living room into the dining room and the soft grey-green hue of its leaves brings a welcome presence of nature. An oversized seagrass basket with handles doubles as a planter!
It's so nice to have this room feeling complete at last. And with spring feeling months away, still, the airy, Zen vibes are just the breath of fresh air I need to get me through the remaining months of winter. Below are links to all my favorite Japandi dining room finds on AllModern—shop them and recreate this warm, modern look in your own home!

Disclosure: I partnered with AllModern to concept, style, photograph, write, and share this post. All opinions are and always will be my own. Thank you for supporting the brands that allow me to bring you fresh inspiration!